Zakir Hussain, Shankar Mahadevan, John McLaughlin, and Béla Fleck will all be in Atlanta!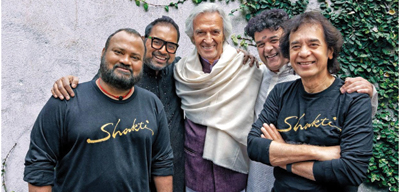 To commemorate the international fusion group Shakti's 50th anniversary, John McLaughlin and Zakir Hussain's Shakti announced tour dates in North America. The band will feature special guests guitarist Bill Frisell and banjoist Béla Fleck on a few dates of their first U.S. tour in 16 years, which will be in support of their first studio album in 46 years, This Moment (Summer 2023).
It's Shakti again! With their groundbreaking fusion ensemble in the 1970s, Indian tabla player Zakir Hussain and British guitarist John McLaughlin created the model for "world music." They currently continue their musical adventure with the help of violinist Ganesh Rajagopalan, vocalist Shankar Mahadevan, and percussionist V. Selvaganesh (son of Shakti's original ghatam player, T.H. Vinayakram).
Béla Fleck praised the renowned international band, saying, "Hearing Shakti was a revelation, and I started listening straight when they started." " Something about Shakti and also playing music with Zakir was really relatable—maybe like the violin and acoustic guitar. But I didn't begin to understand what they were doing until I started working with Zakir and Edgar Meyer [on 2009's Melody of Rhythm: Triple Concerto and Music for Trio]. I'll be striving to produce a solo set that mesmerizes and stimulates while keeping in mind the band's virtuoso and energetic level.
Fleck will also work with Shakti, which will begin its 50th anniversary tour in Boston on August 17 and make a stop at the Capitol Theatre in Port Chester, New York, on August 19. The group currently consists of guitarist John McLaughlin, tabla player and percussionist Zakir Hussain, vocalist Shankar Mahadevan, violinist Ganesh Rajagopalan, and drummer Selvaganesh Vinayakram. Glenside, Pennsylvania, and Newark, New Jersey, both have additional Northeast performances. The event is planned to take place on August 25 at Atlanta's Cobb Energy Center.