10 Commandments for a Dashing Dulhan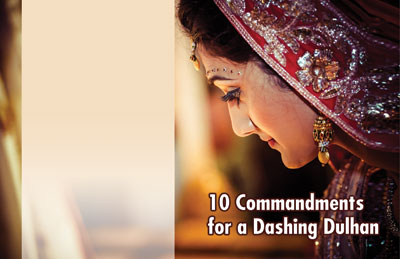 Snap into Shape
It has been proven that getting your heart rate up, working your muscles to capacity, and eating healthily can kick your brain into "I'm a superstar!" gear. So even if you won't have 300 eyes staring at your bare biceps on your wedding day, fitting in regular pre-matrimonial workouts can keep you focused and feeling great. Do not go on crazy diets to loose weight but eat healthy.
Ring ready Manicure
As soon as you get engaged you are in limelight. Everyone wants to see your ring so this is the time you start keeping your nails well buffed & polished. Apply hand lotion regularly to keep your hands & cuticles soft.
Make sure you get a gel Manicure for your wedding this will avoid any chipping and will last long.
Mane Mantra
Start collecting pictures of the hairstyles you like few months in advance.
Must have a consultation 3 months prior to your wedding date to evaluate your style, have trial discuss any options like Keratin treatment, color highlights you may need for your wedding hairstyles. Settle for a perfect look for wedding, mehendi & sangeet. Try to have different looks for different occasions. Depending on your dress selection. Take a picture of your trial hairstyle so that you & your stylists are on the same page.
Keep your hair moisturized & conditioned to look healthy & shiny.
Remember your hairstyle is going to enhance your clothes, expensive Jewellery & makeup.
Go For the Glow
Check a dermatologist if you have any skin issue
6 months before wedding Check with a Dermatologist if you have skin issues. Start laser hair removal or waxing depending on your preference. This way your skin gets use to hair removal. Do not try new treatments last minute this may cause problems. Get with a good esthetician & start getting facials on regular bases. All the Peel & heal facials need to be done way ahead of time to avoid any last minute surprises. keep your skin hydrated & radiant with good home care.
Luscious Body treatment
modern brides were very beautiful sarees & lehanga with deep necks & backs. Please be sure to exfoliate your body on a regular basis. If you have back acne then start getting back facials.
Stress relief massages are a must to keep you distressed
Makeup Tricks & tips
Your make up should be an enhancement of what you normally wear. For example, if you usually go for the natural look, stick to natural colors but slightly stronger. You don't want to try out blue mascara and red lipstick! Remember your fiancé is marrying you, so he should at least recognize you! Saying that you should define your features stronger than what you usually do, so they show up in photographs. You should feel comfortable in the make up you are wearing; this is not the time to try out anything drastic. If you are having your make up done professionally, make sure you have a practice run before your big day. A good idea is to have a dress rehearsal and take photos, so you can then check that it will look good.
A dear friend of mine who recently got married, she cried the whole way through. Waterproof mascara is a must!
You want your make up to last all day. Artificial lashes give a glamorous look. fabulous long lasting make up items around, which will ensure that you don't need to "touch up" during the day. Believe me you won't have time to re-apply your make up.
Shape your brows
Visit a specialist, especially if you want to reshape your brows, Over plucked brows will need time to grow in. Try threading (hairs are wrapped with thread and pulled), or find an aesthetician who pairs waxing with tweezing to shape brows better. Go for follow-ups every three weeks.
Brighten your smile
First, get a teeth cleaning, even if you're not due for one. Drugstore whiteners, like strips and gels, take about three weeks to work.
Pack an emergency kit
Fill a cosmetics bag with supplies: tissues , a nail file, dental floss, breath mints, and bobby pins. Ask your makeup artist for pressed powder, lipstick, and concealer to put in a custom makeup palette. Also, bring your nail polish for quick fixes.
Enjoy your wedding you paid for it
Pareen Merchant
Cosmetologist/
laser Specialist CCE, CME
Sanctuary Salon & Day Spa
www.sanctuarysalondayspa.com
407-909-1011