100 Years of Cinema in India
by Jaya Ramanathan India Perspectives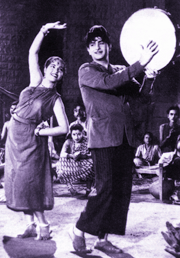 When the Lumiere Brothers' first films were shown at Bombay's Watson's Hotel in 1895 or when Dadasaheb Phalke released his epochal feature film Raja Harishchandra in 1913, it is unlikely that either the exhibitors or the pioneer film maker realized they were unleashing a mass entertainment medium that would hold millions in sway for the next hundred years; that they were spawning an industry that in years to come would overtake the rest of the world in film production!
For most Indians, cinema is integral to their lives; it is not a distant, two to three hour distraction, but a vicarious life-style for them. The large screen provides an alternative, an escape from the realities of daytoday life. The protagonists are totally identified with, the hero is applauded, the virtuous is worshipped and the villain is condemned. The actors and actresses are household names; there is no escaping their omnipresence, from the Paanwa1a (betel vendor) to the most revered Indian painter – they are all caught up with the magnetism of screen personalities.
A study of the vicissitudes of Indian cinema would throw light on the progress of technology, especially cinematography, and the changing political scene and social mores and attitudes. The silent films launched by Phalke, which had titles in English, Gujarati, Hindi and Urdu, by and large related to myths and legends. The stories were familiar to the audience and required minimum commentary. Historicals also proved very popular; Harsh, Chandragupta, Ashoka and the Mughal and Maratha kings strode the silver screen amidst cardboard pillars and in tinsel costumes. Strangely enough, while in the nineties we are still arguing over whether or not `kissing' should be
shown on screen, in the first decade of Indian cinema, with the British paying scant attention to censorship except when the Establishment was attacked in any way; leading heroines of the day kissed their leading men without inhibitions, like Lalita Pawar in Pati Bhakti (1922)!
With the advent of Gandhiji came the plea for according a better status to women, the removal of untouchability and a cry for religious harmony. The silent era of Hiralal Sen, Baburao Painter and R. Nataraja Mudaliar came to an end when Adershir M. Irani produced his first talkie, Alam Ara in 1931. If Phalke was the father of Indian cinema, Irani was the father of the talkie. The classic Hollywood musical Singing in the Rain exemplifies the cynicism with which people first regarded the talking movie and this holds good for India too. There were too many gargantuan problems to be tackled; there were no dialogue writers, no lyricists; songs had to be sung during the filming as prerecording facilities were yet unknown. Minimum instruments were used as the instrumentalists had to be camouflaged behind the singer. A quaint story goes that during the filming of a song the actress was getting agitated as the tabla beat was too fast. Finally the shooting had to be stopped and a hapless tabla player was pulled out of the pool where he had been hidden. "What can I do," he cried, "a fish got into my dhoti (loin cloth)".
But the talking film had come to stay. Considering that even the silent film had a preponderance of songs, the talkie came to be more of a singie; the heroes and heroines sang their way through the threefour hour movie. Histrionics and appearances counted less; a singing talent was all that mattered.
To this day the Indian film song has a unique thrill. The music director, the song writer and the playback singers have an unparalleled status in India's cinema.
If Bombay was the hub of early cinema the other centres were not far behind; Calcutta and Madras with their own patriarchs were also making path breaking films. Chandidas a film glorifying the Bhakti movement and castigating casteism, directed by Debaki Bose in 1932 for New Theatres, was lauded for its use of background music and dramatic narrative. K. Subrahmanyam's Thyaga Bhoomi (1939) and Seva Sadan both advocated women's rights and selfdependence. Seva Sadan also introduced to the world through the silver screen, the great singer M.S. Subbulakshmi, who came to be immortalized for her role in and as the poetsaint Veera both in Hindi and Tamil.
While it is almost impossible to even list all the luminaries of Indian cinema over ten decades, the Wadia Brothers deserve special mention, before going into the different genres. JBH and Homi Wadia were the forerunners of the stunt film _ the thirties was a period in Indian cinema when `Wadia' and `Nadia' were synonymous. Australian by birth, Mary Evans came to India with a dance troupe. She was asked to do a number for JBH's NooreYinan; she changed her name to Nadia. "Besides being a lucky name, it rhymes with Wadia", she is reported to have said, and through various circumstances she became stunt actress for the Wadias, earning the sobriquet "Fearless Nadia". The Wadias had a fixation for trains and made a number of films titled, Toofan Mail, Flying Ranee, Punjab Mail and so on. Nadia got so used to sitting on roof top of trains for her stunts that she became reluctant to step off and even demanded her lunch be sent up! The true stunt woman, she grappled with a lion, did the trapeze, carried a calf and a man over running trains — it is unlikely there could ever be another actress like Nadia. She married Homi in 1960, and breathed her last recently.
The forties was a tumultuous decade; the first half was ravaged by war and the second saw drastic political changes all over the world. Filmmakers delved into contemporary themes. V. Shantaram, the doyen of lyrical films, made Dr. Kotnis Ki Amar Kahani _ a tribute to Dr. Dwaraknath Kotnis who went out with a medical team to China and died there. Shantaram's other films were reformist but visually appealing, like, Do Aankhan Barah Haath, Pinjra, Chaani. But there were films where pure artistic merit supersedes social message as in Jhanak Jhanak Payal Baaje and Geet Gaya Paltharon ne. South Indian films also gained great footing. AVM and Gemini were two of the most prolific producers turning out social drama in the South Indian languages as well as in Hindi. While the thespian actor Shivaji Ganesan delivered mind boggling soliloquies on screen, many of the politically inclined writers and actors of the south Indian screen began to use the medium for reaching out to people. The DMK stalwarts, Annadurai, Karunanidhi and MG Ramachandran did not even resort to subtlety. "Naan anaittal adu nadandu vital…" sang MGR, (if I could be the decision maker, the poor of this world will not suffer….") The very titles of the films were chosen with care; Rickshakaran (Rickshaw Driver), Muttukara Velan (cowherd Velan) and En Kadamai (my duty) to convey his identification with the masses. No wonder he was hailed Makkal Thilagam (gem amongst people). Just how effective was the use of the medium was amply proved with the party coming to power and MGR getting voted Chief Minister of the state.
The other star who used the screen image to great advantage was N.T. Rama Rao of Andhra Pradesh. The veritable screen god, NTR played the role so often that he began believing in his divinity. Apparently so did a lot of other people in Andhra, which is why we had a second screen hero from south as Chief Minister.
While the south was busy wooing the public for votes, Bombay was either turning out escapist fare, light, happy, musical films with Dilip Kumar, Rai Kapoor, Dev Anand, Shammi Kapoor, Kishore Kumar, Nargis, Madhubala, Nutan, Geeta Bali, Mala Sinha and others or gave the audience absolute tear jerkers with social melodrama. This was the golden era of music. ShankarJaikishan, O.P. Nayyar, Madan Mohan, C. Ramchandra, Salil Chaudhury, Naushad, S.D. Burman – all had their distinctive sway. Each vied with the other to produce some of the most unforgettable melodies India has ever known. This was also the age of innocence; the screen was black and white, the vamp and the heroine did not merge, they had their domains, there were no shades to the hero, a man was all good or rotten to the core. No double entendres were woven into the songs and even the vamp was decently attired on the screen. This was the era of Raj Kapoor, of Shree 420, Awara, Boot Polish, Jagte Raho, Chori Chori and of course his magnum opus Mera Naam Joker – he was still making and acting in enduring films, the tramp who is not able to cope with the pace of the world. He caught up with times and his films changed with Sangam, Jis Desh Mein Ganga Behti Hai, Satyam Shivam Sundaram and Ram Teri Ganga Maili. Dilip Kumar and Guru Dutt were excellent foils to the chocolatefaced heroes as tragedy kings. So were Meena Kumari and Bina Rai amongst the heroines. But such was their versatility that they could also carry
off comedy effectively. Two outstanding Hindi films of the fifties that deserve mention are K. Asif's MughaleAzam (took 14 years to make and is one of the most lavishly produced historical of Indian cinema) and Mehboob Khan's Mother India which is said to have gained the status of Gone With the Wind.
In the meantime in Bengal, the man who was to take Indian cinema to the international arena and win accolades from the greatest filmmakers, Satyajit Ray, released his first film, Pather Panchali (1955). After his trilogy there was no looking back for him or for cinema from Bengal. Mrinal Sen conveyed his quiet commitment to socialism through films like Calcutta, Oka Orie Katha (Telugu) and Bhuvan Shome. Director Ritwik Ghatak gave us memorable films Meghe Dhaka Tara and Subarnarekha. Although Bengal also came up with films that asked for a willing suspension of disbelief, these were exceptions rather than the rule as in Bombay films, where the Mukherjis, Sippys, Chopras, Chakraborty and Manmohan Desai produced one bonanza after another for the masses and laughed all the way to their banks. There was no market for serious films, it was felt, and the classics that failed to break even like Gutu Dutt's Kagaz ke Phool and Raj Kapoor's Mera Naam Joker, only strengthened the conviction. The former committed suicide and the latter resorted to the populist fare with Bobby.
It was only after the government set up the Film Finance Corporation (FFC, which in 1980 came to be known as NFDC i.e. National Film Development Corporation) that several small but serious film makers got the wherewithal to make films, notable among them being Mani Kaul, Kumar Shahani and GV Iyer (with his maiden venture in Sanskrit, Adi Sankaracbarya). The Corporation also partnered the making of Attenborough's Gandhi and financed Satyajit Ray's
to be one of the last films of the master.
Like cinema in Bengal, Malayalam cinema too was meaningful but it took a longer time to get noticed. In fact it was Ramu Kariat's melodious tragedy Chemmeen winning the President's gold medal in 1965 that drew attention to Malayalam cinema. Adoor Gopalakrishnan (Swayamvaram) and others all gained similar recognition in the years to come. With actor Prem Nazir doing stellar roles in a record breaking 600 films, Malayalam films have come to be characterized by simple narration of powerful stories, authentic locales and low cost production.
The Karanth (BV) — Karnad (Girish) combine have produced two milestone Kannada films Vamsa Vriksha and Samskara, both essentially iconoclast in treatment. Though much talked about, the critique of caste brahmins, the theme of both films was later seen to be rather extreme. In this context it is worthwhile to mention two films made in Tamil on the same subject. Vedam Pudithu directed by P. Bharatraja and Ore Oru Gramathile by K. Jyothi Pandyan. Both carried strong indictments against caste hierarchy and the common man's struggle to overcome it, but retained a balance – rather unusual for Tamil films.
With government funds available for making films, the seventies saw an unhealthy divide between the existing commercial or mainstream cinema and the new parallel cinema or art films. The former was condemned unequivocally by the critics but continued to fill the coffers while the latter got rave reviews, bewildered the masses and created deep dents in government resources. Fortunately this situation did not last long, for soon there came a crop of film makers who realized that meaningful films need not necessarily incur heavy losses. Shyam Benegal, (Ankur, Nishant, Manthan) proved that there was an audience for films without frills but with a strong story and interesting narration. Govind Nihalani, Jabbar Patel, Mahesh Bhatt, K. Blachander, Bharati Raja, Adoor Gopalakrishnan, all fell into this category.
Around this time, the singular phenomenon, the angry young man with his dark looks, smouldering eyes and mesmerizing voice, Amitabh Bachchan, began to stride the scene like a colossus. He introduced to cinema for the first time as a cult, the negative or the antihero. Special screen plays were written for this hero seeking vengeance and taking on singlehanded an unsympathetic establishment and inadequate legal system.
The eighties saw the advent of women film makers, Vijaya Mehta (Rao Saheb), Aparna Sen (36, Chouwringhee Lane, Parama), Sai Pranjpye (Chashme Baddoor, Katha, Sparsh), Kalpana Lajimi (Ek Pal and, later the much acclaimed Walt), Prema Karanth (Phaniamma) and Meera Nair (Salaam Bombay). The most commendable thing about these directors is their individuality. Their films have strong content and are told with passion, (only Sai has tackled light hearted subjects).
In the nineties, Indian cinema faces tough competition from television; the cable network gives viewers any number of channels and though the most popular channels continue to be the filmbased ones, the cinema halls have taken a beating. Nevertheless, films like Aditya Chopra's maiden effort, Dilwale Dulhaniya Lejayenge and Suraj Barjatya's Hum Aapke Hain Kazin have broken all records, because they recall the innocence of the fifties, a novelty in this age of sex and violence. This gives hope.
Cinema in India can never cease, it has gone too deep into our psyche. It may undergo several reverses in fortune. With other mediums opening up, there will be a smaller market for films. Living as we are in a global village today, we are becoming a more discerning audience. No longer are we going to lap up every mediocre fare dished out by the moghuls of cinema; only the best will survive. And this is just as well.