2 Indian American Artists Win 3 Arts Awards in Chicago
Two Indian-origin artists based in Chicago have won the prestigious 3Arts Awards for their achievements in 2019. 3Arts is a Chicago-based non-profit organization, which awards Chicago's women artists, artists of color, and artists with disabilities for their indisputable contributions. This year 20 artists will be honored with unrestricted grants at the 12th annual 3Arts Awards Celebration on November 4.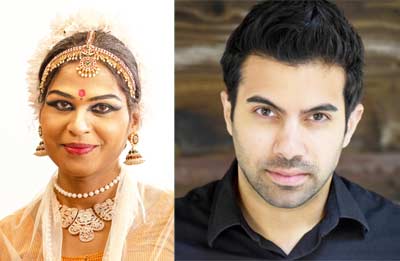 The two Indian Americans who will be conferred the honor at the event are – dance artist Laksha Dantran and theater artist Richard Costes. Ten 3Arts Awards recipients will receive $25,000 cash grants, and ten additional artists will get $2,000 cash grants through Make a Wave.
Laksha Dantran is a transgender artist who is trained in forms of Indian classical dance and theater. She is currently working with Mandala South Asian Performing Arts in Chicago on a modern dance theatre work Story of Ram, which will be staged on November 3. Apart from touring throughout the United States for performances, she has also been to India, Sri Lanka, Malaysia and Belgium.
Dantran has received critical claim as a performer, curator, and director. According to her bio on Chicago Arts Coalition website, she is the 2018-2019 Spark Microgrant recipient. The website said, "In her journey she is fascinated by blending all aspects of life into her visual art presentation, and breaking the boundaries of existing conversation in order to create an inclusive atmosphere among people of color, race, and gender."
Richard Costes is a deaf actor of color, who is a cast member of Mosquitoes at Steep Theatre that is running now through November. Apart from being an actor, he is also a director, playwright, and accessibility consultant. He received the 3Arts Make a Wave grant in 2017. He has performed at many Chicago theaters, including Chicago Shakespeare Theatre, Red Tape Theatre, Redtwist Theatre and more.
Spark Microgrant
3Arts Awards Celebration
transgender artist
Indian American
Indian-origin
Chicago-based non-profit organization
Richard Costes
Laksha Dantran