2015 Orlando MyShadi Bridal Expo: Vendor Profile The Straz Center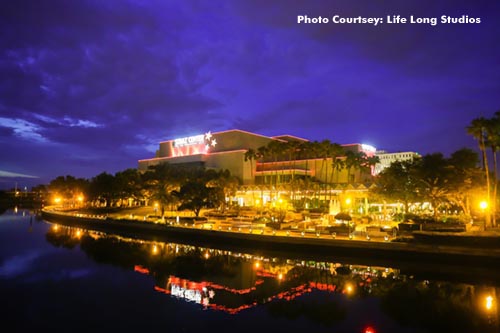 Congratulations to the Vendor Facebook raffle winner from the September 2015 Orlando MyShadi Bridal Expo. Many of the MyShadi Bridal Expo vendors are active participants on social media, be it Facebook, Twitter, or Instagram. The September winner of the vendor Facebook raffle was Lainey Dunn, Catering Sales Manager at The Straz Center.
In this issue, we chatted with Dunn to learn more about The Straz Center. Don't forget to check out the venue's social media sites!
Open since 1987, The Straz Center, located in downtown Tampa, Florida, is the largest performing arts center in the Southeast and the only one with an on-site performing arts conservatory. Quickly becoming a favorite wedding venue, The Straz Center offers brides and grooms-to-be a unique look and several space options. As Catering Sales Manager, Lainey Dunn works closely with couples and their families to ensure their wedding Dunn began her career as an intern for a wedding planner in Tampa and quickly fell in love with all things wedding. Learn more about the venue and about what Dunn and The Straz Center team can offer below.
DV: What are the most important factors couples should consider when choosing a venue?
I think some of the most important factors for couples to consider would be the overall look and feel of the venue along with their budget. We want the couples who come to us for their big day to be in love with the space and not be the second choice. We also do not want them to blow through their budget by spending too much in on space.
DV: What are your top three tips for couples scouting potential wedding venues?
My top three tips would be:
Tour multiple locations to make sure you are choosing the space that is perfect for you.
Strongly consider looking into venues that offer onsite catering and what is included to make things more cost effective.
If the venue you love seems a tad out of your budget, consider having your wedding on a non-peak season time. Many venues offer discounts on dates that are not in peak
DV: Indian weddings often involve multiple events and certain cultural requirements. How does your property ensure cultural weddings get needed support?
We have so much space! We completely understand the different cultural requirements and will do everything in our power to get them whatever they need to make it happen. We want to make sure that we can accommodate all cultural weddings and their needs
DV: What has been your favorite wedding moment that stands out to you and why?
My favorite wedding moment that stands out to me would be when the couple gets to see the room for the first time all put together. Seeing their reactions and how happy they are to have their visions and dreams come to life is something that I can never get tired of. For me this moment is pure happiness after they are married and before the party actually happens.