Monica weds Luv Indian Wedding at Renaissance Orlando at Sea World Photographed by Sona Photography
Monica and Luv met in medical school, just as Luv was beginning his second year. Monica was a new student, but the two began studying together and soon, their study dates turned into real dates. Almost two years later, Luv planned a surprise proposal with the help of Monica's sister, Lisa. No detail was forgotten: they used the clever ruse of shopping for a cousin to trick Monica into checking her ring size, Luv secretly went to Orlando to ask Monica's parents for their blessings, and he planned a surprise dinner with their friends and family. Luv took Monica to a beautiful outdoor area of their medical school campus, and instead of starting one of their regular study breaks, Luv asked the big question. They celebrated with their loved ones, and then got right to planning their big day.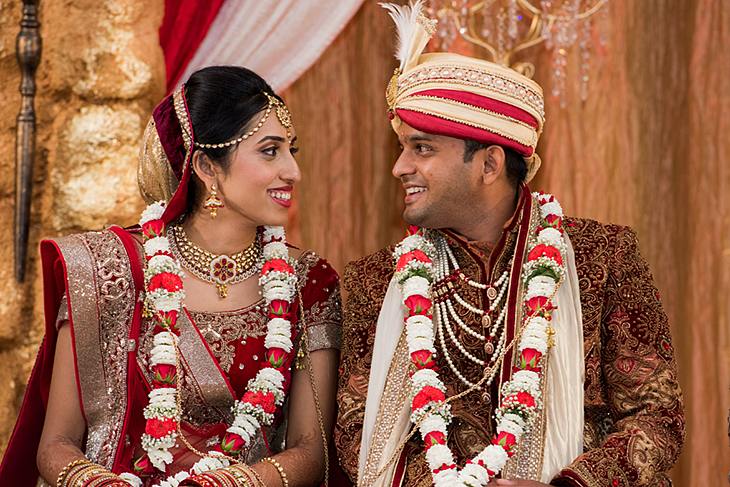 medical school
the grand Renaissance Orlando at Sea World
wedding planning
traditional Gujarati village
garba group
Dreams to Reality
historic Indian forts
Dreams to Reality
Saptapadi
Hindu wedding rituals
Arijit Singh
horse carriage
flower centerpieces
Instead of hiring a consultant, Monica and Luv used their parents' help to organize the event. The ceremony took place in the grand Renaissance Orlando at Sea World, and Luv's satak was in Parkland, FL. The two were busier than ever, balancing medical exams and wedding planning, so they relied on their family for everything. Their garba night was styled after a traditional Gujarati village, with charming centerpieces and a garba group directly from India performing music for their 650 guests. The equally large Orlando ceremony was designed to mimic historic Indian forts and castles, designed by Dreams to Reality, with shades of gold and red, chandeliers and floral arrangements. To match, the ceremony programs were red and gold, and included quotes from Saptapadi and explanation of the Hindu wedding rituals.
The bride's procession entered to "Tum Hi Ho" by Arijit Singh, and Luv rode in a horse carriage with his cousin, Prachi, during his baraat. After the beautiful ceremony concluded, the reception began. Monica and Luv chose elegant shades of ivory, champagne and gold, complemented by white flower centerpieces, candle rivers and gold chivari chairs. The couple's friends and family performed a reenactment of their first meeting, and it was charming and cute addition to the reception. Monica was happy to have everyone important in their lives under one roof, and she was grateful to be able to relax with their help, and enjoyed their company as their shared in their newlywed bliss.
Photos Courtesy:
Sona Photography
407-694-6032
www.sonaphotography.com
Vendors

BANQUET HALLS
Renaissance Orlando at SeaWorld
407-248-7344
www.renhotels.comBEAUTICIANS/COSMETICIAN
7th Day Spa at Phenix Salon Suites
407-455-3408
www.7thdayspasalon.comPreranas  Boutique
407-240-7353
www.preranasboutique.comDECORATOR
Dreams to Reality
www.dreamstorealityFlorida.com
407-592-9261GIFT ARTICLES
Our Photo Booth Rocks
407-509-9786
www.photoboothrocks.comHORSE
Orlando Carriage Rides Inc
321-278-5969
www.orlandocarriage.com

DISC JOCKEY
Rang Entertainment
941-545-8509
www.rangentertainment.com

PRIEST/WORSHIP SERVICES
Mahesh Gor
407-699-7966
maheshgor61@gmail.com

CAKE
Anas Cake & Supply
(407) 910-4150
www.facebook.com/Anas-Cake-and-Supply
FLORIST
Dreams to Reality
407-592-9261
www.dreamstorealityFlorida.comRESTAURANT/CATERING
Om Foods Catering
229-460-6634
www.facebook.com/Om-Foods-CateringTabla Bar And Grill
407-248-9400
www.tablabar.comPHOTOGRAPHER
Sona Photography
407-694-6032
www.sonaphotography.com

Evan R Photography
917.374.2077
www.evanrphotography.com

VIDEOGRAPHY
Fine Art Productions
888-494-7909
www.fineartproductions.net