2015 Orlando MyShadi Bridal Expo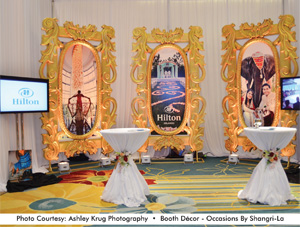 Half an hour before doors were set to open, excited brides, moms, and (even some dads!) were lined up in front of the ballroom entrance at the Hilton Orlando. The 2015 Orlando MyShadi Bridal Expo, which showcased the latest in South Asian wedding and event trends, kicked off to a great start as couples and their families filled the ballroom, complete with checklists and tote bags in hand.
Planning a South Asian wedding is no small feat, with multiple events and a large guest list to accommodate. Most families want to keep traditional components, while couples are likely looking for ways to infuse modern trends and flaunt their personalities. The MyShadi Bridal Expo offers couples and their families a firsthand look at the latest trends in event and wedding planning in one afternoon, without having to schlep across town for weekends on end.
Elaborate mandaps and upbeat music, provided by Dudha Productions along with Dholi Mitul Gandhi, created an elegant, yet energetic, ambiance as attendees perused over 100 vendor booths looking for ideas and hoping to finalize wedding details. Some couples attending this year's Orlando Expo were in the beginning stages of planning, so the show was the perfect place to get ideas and meet with a lot of different vendors. For couples further along in the planning process, they were able to focus on a select few preferred vendors and finalize plans.
A wide variety of vendors graced the floor of the exhibit hall displaying their products and services and inviting attendees to stop and learn more. From caterers serving delectable food samples to photographers poignant images, couples gained a true sense of what each vendor offered. Two designer fashion shows by Florida's own, Traditions Boutique and LeTrend Boutique, showcased the lastest in bridal and formal wear trends. The models looked gorgeous in their stunning outfits, and the perfect hair and makeup thanks to the Michele Renee The Studio team.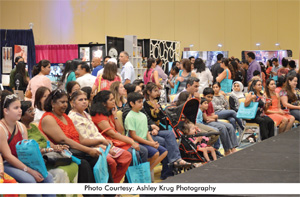 A highlight of this year's Orlando MyShadi Bridal Expo, was the Destination Wedding Pavilion hosted by Proficient Travel. Several venues, including Amresorts Hotels, Barceló Resorts , Hard Rock AIC, Palladium Hotels and Paradisus Resorts, were on hand to answer questions about planning destination weddings and honeymoons. The Pavilion was popular with Expo attendees, especially since more and more couples choose to plan their big days in exotic locales.
Last but not least, Desh-Videsh congratulates Nikun Events Company, winner of the Booth Decoration competition and the Straz Center for Performing Arts Center, winner of the Vendor Facebook raffle. Look for profiles of both winners in the next wedding issue.
Desh-Videsh thanks Platinum Sponsors Hilton Orlando, My Shadi, and The Arpan Group as well as all participating vendors for yet another successful MyShadi Bridal Expo! See you in 2016! Dates and locations to be announced soon.