2015 Amit Talati Award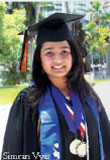 The South Florida Community and South Florida Hindu Temple (SFHT) lost a great friend and teacher three years ago. Amit Talati's untimely passing at the age of 43 left the entire community in shock and utter disbelief. Over the past five years, Amit Talati was a sevak (teacher) in South Florida Hindu Temple's Education program touching the lives of so many students and connecting them with the values of Sanatana Dharma. His mild mannerism, unassuming nature, attention to detail, love and dedication to inspiring the young adults of our Hindu community is a legacy he leaves behind and lessons from which we can all learn.
There are no words to express the emptiness that our program will face due to the loss of Amit; however, we do want to remember his contribution to the program and ensure his legacy carries on. We have created a very special award for that student that embodies all the qualities for which Amit stood. One student who best represents the qualities and values of Sanatana Dharma will receive this Amit Talati Award along with $500 each year. A fund has been created for this award with a seed donation of $5,000.

This year's recipient of this special award is Simran Vyas. Simran joined the SFHT education program rather late in her life while in high school, but made up for it with her loving nature and enthusiasm. The family values that have been instilled in her along with the classes she partook during the three years in the program, made her one of the best candidates for this most prestigious award given at SFHT. She embraced the values of Santana Dharma. She is a sincere and pure soul who has a compassionate heart and a helpful nature. She is constantly thinking of others and how she can help instead of herself. She became a valued member of the education team as a teen sevak after graduation from the Yuvak Class. As a teen sevak, she inspired the younger children and helped on Passage to India project as well as many other events for the education program. We wish Simran the best of luck in college and congratulate her on receiving this year's Amit Talati Award.