2017 Scripps National Spelling Bee: Indian Americans Continue to Succeed
2017 Scripps National Spelling Bee:
Indian Americans Continue to Succeed
As with preceding years, not a dull moment was to be found during the 2017 Scripps National Spelling Bee. All of the spellers amazed the audience with their breadth of knowledge and passion for spelling. Incredibly, the winner Ananya Vinay is the 13th consecutive Indian-American to win the bee and the 18th of the past 22 winners with Indian heritage. Of the top 15 finalists, 13 were Indian-American, an incredible feat!
Ananya Vinay, 12, from Fresno, California, was declared the champion in round 36 when she correctly spelled "marocain," which is defined as "a dress fabric that is made with a warp of silk or rayon and a filling of other yarns and is similar to but heavier than canton crepe." After a long day of spelling correctly, Vinay earned a $40,000 cash prize.
Rohan Rajeev, 14, from Edmond, Oklahoma, placed second after misspelling "marem." Mira Dedia, whose mother Lekshmi Nair competed in the 1988-1990 national bees, placed in third when she misspelled "ehretia."
Desh Videsh Media Group congratulates all the accomplished spellers in this year's Bee.
---
Desh-Videsh had a chance to chat with two of the spellers. Learn more about Ananya and Mira.
Ananya Vinay, 12, 1st place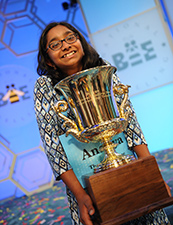 Hometown: Fresno, California
Sponsor: The Fresno Bee
School: Fugman Elementary School (6th Grade)
Family: Anupama Poliyedath and Vinay Sreekumar; brother Achuth, 7
How did you prepare for the spelling bee?
I used the computer to study words. I would type them up, listen to them in the online dictionary, and try to understand all the information. Another thing I would do was try to understand all the language patterns and roots of the word. I could see, hear, and feel the word in that way. I would divide the words by language of origin so that I can understand the patterns. I would always look up the stories behind words which was great fun! One of the words I was asked came from my Social Studies text book! So you could find words anywhere! Reading is the always the basics for good spelling. It is important to make connections between words as it is impossible to memorize all words. For example, the root Pano means bread and I would connect it with Panera bread!In the final moments of the competition, what were you feeling?
I was feeling a little tense, but excited to spell my words. I was just trying to keep focused in my mind so I could spell my words correctly. It is an amazing experience. I just focused on the word and the pronouncer Dr. Bailly, and did not worry about other things.What is your favorite subject in school?
Science because I enjoy finding out why things happen. My main interests are biology and chemistry. The tiny particles that make things function are very interesting to learn about.

What are your favorite activities outside of school?
Playing volleyball and basketball, reading, and writing. I also love playing with my brother and hanging out with my friends and watching movies.

Who do you consider to be a mentor?
My biggest support is my family.They are always there for you and keep me motivated and help me always.

What relevance does being Indian American have to you? Has it given you an edge?
I am proud to be an Indian American. I love the values, fun festivals,food and stories. I think anybody can win if they have a talent and if they are ready to put the work in and pursue their dream! My family supported me tremendously and I am sure all families would do the same for kids whether in sports or music or dance or any field. I also believe prayers from my family and grandparents helped me!

Many people feel that a young achiever is made of a sheer spark and plenty of luck. How much of a role did hard work made in your pursuit? Is there a mantra that you would like to share with other young aspirants?
I think sheer spark and plenty of luck will come to you only if you work hard.Super hard! I had a knack for spelling and loved language. I made a silly mistake in 2016 when I panicked on stage and that made me even more motivated. I took that as a challenge, worked on staying calm and focusing on my word while I am on stage. I made a plan and divided the words into small groups by language of origin and worked hard every single day regularly. The recipe for success is straightforward whatever your dream is. Believe that you can do it. Do more than required. Stay focused until the finishing point!

Favorite Indian Book: Malgudi Days
Favorite Non-Indian Book: All the Light We Cannot See
Favorite Indian Movie: Bahubali 2, Dangal, Dhoni
Favorite Non-Indian Movie: Sully and Hidden Figures
Favorite Sports Team: Golden State Warriors/Indian Cricket team
Mira Dedhia, 14, 3rd place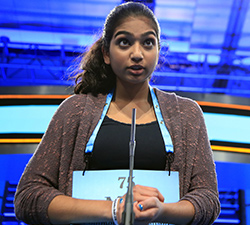 Hometown: Western Springs, Illinois
Sponsor: Commonwealth Edison
School: McClure Junior High School (8th Grade)
Family: Lekshmi Nair and Sunil Dedhia; sister Divya, 2
How did you prepare for the spelling bee?


I prepared both by studying with my mom and by doing independent work, mostly on the computer. When I was working with my mom, she would ask me the words or the word roots, and I would spell them for her or say the root's definition. When I was working independently, I was quizzing myself on online tests that my mom and I made or products we bought.In the final moments of the competition, what were you feeling?
I was just feeling thankful and extremely blessed that I had made it to the finals. I was definitely overwhelmed by all that had happened in the past 24 hours, but I was trying to stay calm. I was trying to picture in my head that my mom and I were back at home spelling in our office.

What is your favorite subject in school?


Math because it universal and most of the time you can only have one right answer. The subject itself is very objective and there are not too many ambiguous, gray areas with math. Math is also needed in the majority of fields of work that you go into, and math is applicable to everyday life as well.

What are your favorite activities outside of school?
Outside of school, I love playing the piano. I have played for seven years, have played in many recitals and competitions and gone to a few music camps. I play classical songs as well as modern pop songs that you hear on the radio. Playing the piano for me is relaxing, and I have especially used it as an outlet when things have become stressful with the bee.

Who do you consider to be a mentor?
I consider my mother to be my mentor. She has been my spelling coach the past two years, and I have learned so many invaluable lessons from her. I have learned various aspects of spelling and words, but more importantly, she has taught me many life lessons, and she has always been my role model. She is hardworking, tenacious, and she was willing to dedicate and sacrifice everything to help me with the bee.

What relevance does being Indian American have to you? Has it given you an edge?
I am proud to be Indian American, but I don't think that saying that gives me an edge in the competition. Indian Americans have won the bee for over 10 years in a row—that might motivate future Indian American students to work harder because they know that people similar to them have won in the past. It definitely doesn't make us smarter with the words, however.

Many people feel that a young achiever is made of a sheer spark and plenty of luck. How much of a role did hard work made in your pursuit? Is there a mantra that you would like to share with other young aspirants?
It is true that there is an element of luck involved in the bee. Having said that, I think you increase your chances of getting lucky on stage by working hard and amassing as much knowledge as you can about words and their etymology. I think one message that I would want to spend to young students is that you should always believe in yourself. Even though your goal may seem impossible, you just have to tackle it with passion and give it your all.

Favorite Non-Indian Book: I Will Always Write Back: How One Letter Changed Two Lives
Favorite Indian Movie: The Lunchbox
Favorite Sports Team: Chicago Cubs
Photo Courtesy: Mark Bowen/Scripps National Spelling Bee