Editorial September 2020
Dear Readers,

We find ourselves in a strange new reality as our world was upended this spring. So far, social distancing has kept us safely at home, but now it is time to begin thinking ahead, planning, and dreaming for your incredible wedding in 2021! We noticed that a record number of brides have registered on our website myshadi.com and taken advantage of receiving a free Indian wedding planning checklist. So I definitely hear the sound of the dhol coming from all over!

Trying to plan a wedding during this time is challenging as you consider the social distancing guidelines in place as well as the health and well-being of your guests. Difficult decisions will need to be made, and we know that future weddings will look and feel different than those before. Maybe you will decide to host only one event with just a few family members, or instead a civil ceremony followed by a reception once it is safe to do so. Whatever you choose, couples can still follow their dreams and use this time to plan accordingly.

As you all know, I love traditional Indian weddings and cannot wait until we can get back the multi-day extravagant celebrations! This issue is a chance for us all to move forward and start planning for when that day returns. So with that said, I'm more excited than ever to present you with an issue full of inspiration from three real weddings, two of which were destination weddings in Florida. Usually when we think of destination weddings, we immediately think of Mexico, Jamaica or other Caribbean countries and quickly forget what our own sunshine state Florida has to offer!

As you begin looking for inspiration and ideas, your vision will start to come into focus. Color plays a big role in Indian weddings. This month's article "Top 5 Color Trends for Winter Wedding Events" will guide you with ideas on how to incorporate winter wedding colors into your events. Don't miss this issue's "Must Have Photo Moments," which will inspire you as you plan your wedding photography. The print edition of Desh-Videsh includes a sampling of 25 photos across five pages, but our digital edition and website www.myshadi.com features over 70 photos, so do check it out.

As you know, I always enjoy discussing the importance of traditions and rituals in Hindu weddings. In the past few wedding issues, I have written articles on these topics. This issue includes a focus on the Grah Shanti. Grah means planet, specifically nine planets (Navagraha), and Shanti means peace. Since ancient times, Hindus believe that the nine planets control the lives and destiny of people. This is why before two people embark on their wedding, praying to the Navagraha becomes quite essential to bring happiness and prosperity in the lives of the couple and the families.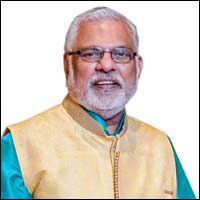 Let me close with one piece of advice for young couples ready to embark on their new journey. Whether you plan a small or big wedding, opt for a destination wedding or traditional, or have multiple events or just one, one thing never changes – you and your life partner have each other. That in and of itself is worth celebrating each and every day of your lives ahead!
Here's to happy days of wedding planning ahead! For the rest of us, stay safe and healthy!
Raj Shah
Managing Editor
Grah Shanti
Planning incredible wedding
Dreaming for your incredible wedding in 2021
Myshadi.com
Free Indian wedding planning checklist
Sound of the dhol
Social distancing guidelines
Plan accordingly social distancing guidelines
Traditional Indian weddings
Multi-day extravagant celebrations
Destination weddings in Florida
Top 5 Color Trends for Winter Wedding Events
Must Have Photo Moments
Incorporate Winter Wedding Colors
Wedding Photography
Traditions and Rituals in Hindu weddings