A cappella group Penn Masala perform Bollywood songs at White House before PM Modi's arrival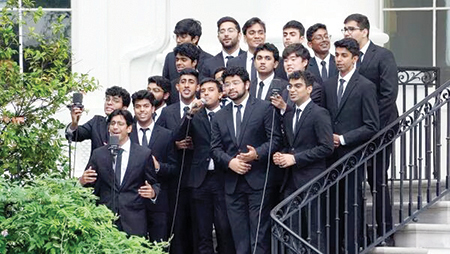 The University of Pennsylvania's prominent a cappella group, Penn Masala, performed a captivating rendition of popular Bollywood songs at the White House ahead of the arrival of Prime Minister Narendra Modi. The group, consisting of South Asian students, entertained a large crowd of approximately 2000 to 3000 people who gathered on the South Lawns to witness the ceremonial welcome for PM Modi. Penn Masala began their performance with "Chaiyya Chaiyya" from the 1998 movie Dil Se.., starring Shah Rukh Khan, and followed it up with "Jashn e Bahaaraa" from the 2008 historical drama Jodha Akbar, featuring Hrithik Roshan and Aishwarya Rai Bachchan. In addition to these Bollywood tracks, they also delighted the audience with their rendition of Coldplay's hit song "Viva La Vida" from the album of the same name, released in 2008.
Formed in the 1990s by University of Pennsylvania students who grew up listening to Bollywood classics, Penn Masala is known for their unique compositions and harmonies that encompass both Eastern and Western influences. Their performances have taken them all around the world, including appearances at the IIFA Awards and in the Hollywood film and soundtrack for Pitch Perfect 2, which received an American Music Award for Best Soundtrack in 2015.
Penn Masala's talent and reputation have earned them previous invitations to perform at the White House, and this time they were joined by American violinist and conductor Joshua Bell to entertain the attendees of the State dinner held in honor of Prime Minister Narendra Modi.
Prime Minister Modi arrived in the United States for his maiden state visit and engaged in bilateral talks with President Joe Biden. Their discussions aimed to further strengthen the strategic relationship between India and the US, particularly in areas such as defense, space, and critical technologies. Prior to their high-level talks, PM Modi and President Biden had a one-on-one meeting in the Oval Office of the White House.