A New and Balanced You: Recipes for a Healthy Lifestyle
A New and Balanced You:


Recipes for a Healthy Lifestyle
In January and at the start of any new year, many of us were enthusiastic about making lifestyle changes, but it's likely that enthusiasm has worn off significantly by now. It is never too late to make changes, whether at the start of a new year or during any month of the year! Habits are certainly hard to break, and change can be hard, but it is crucial, particularly in the South Asian community, that we embrace a well-balanced lifestyle to ensure good heart health and overall well-being.

Start by taking small steps. Eliminate one unhealthy item in your diet – for example, reduce the amount of sugar in your morning chai, and after 1 week, continue reducing. Before you know it, you will probably prefer your chai without that added sweetness! You can also start by changing habits for at least one meal. Start drinking a vegetable-laden juice in the morning with breakfast.

Whatever steps you can take are better than not taking any. We share a few recipes in this issue to help you take that first step.
Detox Green Juice
Filling and nutritious, this soup is sure to warm your soul without adding inches to the waistline.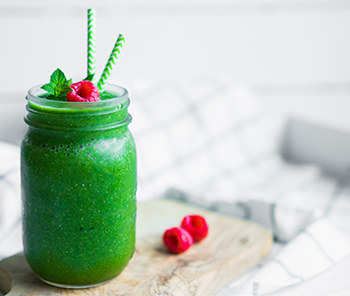 Ingredients
1 medium green apple, chopped
1 large seedless (hothouse or English) cucumber, chopped
1-inch length piece fresh ginger, chopped
2 cups packed baby spinach leaves
Handful parsley leaves and stems (or fresh mint for a fresher taste)
Juice of 1 medium lemon
Directions
Place all ingredients into a juicer or high-powered blender and blend. Taste and add more lemon juice if you like.
Hearty Lentil Soup
Yes, it's green, but trust us – your body will thank you! This juice has a natural sweetness and can easily be adapted to make it to your taste.
Ingredients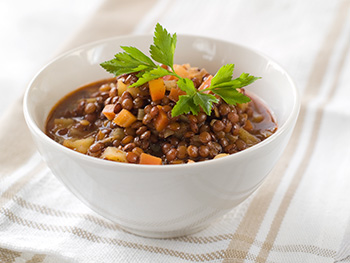 2 tablespoons olive oil
1 cup yellow onion, diced
4 cloves garlic, minced
2 cups rainbow color carrots, diced
1 15 ounce can diced tomatoes (no salt added)
1 cup green lentils, rinsed
6 cups of low-sodium vegetable broth
Salt and pepper, to taste
Pinch of crushed red pepper
2 teaspoons ground cumin
1 tablespoon dried oregano
1 cup spinach, finely chopped
Juice of 1 lime
Directions
Heat soup pot, and add olive oil. Once oil is heated, saute onions until translucent. Add garlic and carrots and cook for 2-3 minutes.

Next, add the tomatoes and lentils. Stir all ingredients, and add the vegetable broth.

Add all seasonings, except the lime juice, and stir to combine.

Over medium heat, bring to a boil. Once boiling, lower heat, cover, and simmer the soup for at least 45 minutes.

At the end of 45 minutes, check if lentils are cooked and add additional hot water or broth if the soup is too thick for your liking.

Once lentils are cooked through, stir in the spinach. Once the spinach is wilted, serve the soup with a squeeze of lime juice.
Tropical Arugula Salad
This salad is refreshing while still packing a punch. Chock full of needed fiber, vitamins, and minerals, this salad is a great side dish to any meal.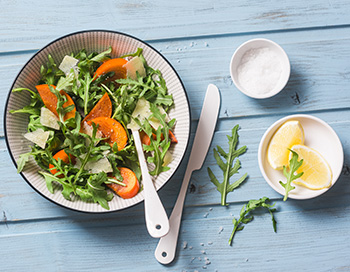 Ingredients
10 ounces arugula
2 firm persimmons, diced
1 jicama, diced
¼ cup pomegranate seeds
2 tablespoons, finely chopped cilantro
2 tablespoons finely chopped mint leaves
2 tablespoons lemon vinaigrette (lemon juice and your favorite olive oil)
Salt and pepper, to taste
1/4 cup crumbled feta, optional
Directions
Layer arugula in a large, flat salad bowl. Add persimmon, jicama, and pomegranate seeds on top of arugula.

Add cilantro, mint, salt, and pepper.

Toss all ingredients with lemon vinaigrette.

Serve with feta cheese, if desired.