Alia Bhatt and Salman Khan in Sanjay Leela Bhansali's Inshallah

Alia Bhatt and Salman Khan in Sanjay Leela Bhansali's Inshallah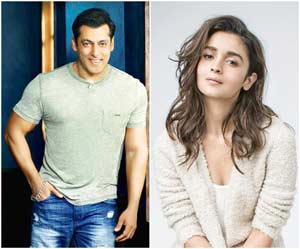 From new movies to fresh pairings, March has been quite a month for announcements in Bollywood. The biggest was made by actors Salman Khan and Alia Bhatt, who will come together in director Sanjay Leela Bhansali's upcoming movie, Inshallah.
As soon as the pair was finalized, an overwhelmed Alia took to Twitter and revealed, "Dream with your eyes wide open they say and I did. Sanjay sir and Salman Khan are magical together and I can't wait to join them on this beautiful journey called Inshallah." Even Salman tweeted, "It's been 20 years but I am glad Sanjay and I are finally back in his next film, Inshallah. Looking forward to working with Alia and inshallah, we will all be blessed on this journey."
The romantic comedy will be co-produced by Sanjay Leela Bhansali Productions and Salman Khan Films. Inshallah brings Bhansali and Salman back together after two decades. Their last film together was Hum Dil De Chuke Sanam in 1999.
While not is known about the film as yet, it is expected to release on Eid 2020.