Kesari: Patriotic and Inspirational

Kesari: Patriotic and Inspirational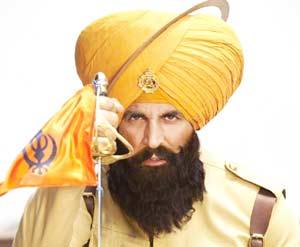 Akshay Kumar is back on-screen with another tale of bravery and patriotism. Kesari is set against the backdrop of the Battle of Saragarhi, a stunning historical war of valor and freedom.
Set in 1897, Kesari follows the events in the epic battle where 21 Sikh regiment soldiers of the British army fought against thousands of Afghans at the outpost of Saragarhi in the Khyber Pass. Akshay plays the lead role of Havildar Ishar Singh, the man who led the battle. The film is about his sacrifice and martyrdom.
The movie is filled with a typical Akshay Kumar style of patriotic fervor, inspirational dialogue, and daring fight sequences. Kesari has received mixed reviews, but most critics and audiences have praised the film for bringing forth a lesser-told story of courage and nationalism.
Along with Akshay, the film also stars Parineeti Chopra. Anurag Singh, who is well known for Punjabi films like Punjab 1984, Jatt and Juliet, and Yaar Annmulle, directed Kesari. Released on March 21, the film did well and had a strong box office opening due to its Holi release.