Amitabh Bachchan Announcing the New Season of KBC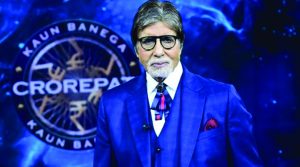 The Big B will be back with his well-known show Kaun Banega Crorepati to be telecast on Sony TV. On Saturday, June 11, his announcement of Season 14 of KBC was shared on Sony TV's social media handles. The bright and jovial presence of the host carried a funny but very important message for all the viewers. The message was communicated through a small enactment of the show where a woman named Guddi was the participant with Amitabh Bachchan as the host.
After the introduction of the contestant, Big B asked Guddi a question. The question was: Which has GPS technology? The choices given were typewriter, television, satellite, and ₹2000 note. Guddi answered that it was the ₹2000 note that has GPS technology. After Bachchan announced that the answer was incorrect and that the correct answer was a satellite, Guddi was not ready to believe him. She said that he must be joking, as she had read in a newspaper about this.
Bachchan told her that it was she who made it a joke. He further added that the news person made a mistake, but it was she who faced the loss. After that, he passed on an important message to all the viewers, saying that one should verify any information before accepting it. The message and the presence of Big B have created a great response among the viewers. However, the channel has yet to announce any specific date for the telecast.
Back in 2016, there was a rumor that currency notes would have a Nano GPS chip. However, it was cleared later as there was no such chip in the notes.