An Enchanting Evening With Violin Player Sanjana
An Enchanting Evening
With Violin Player Sanjana
By Sunitha Raj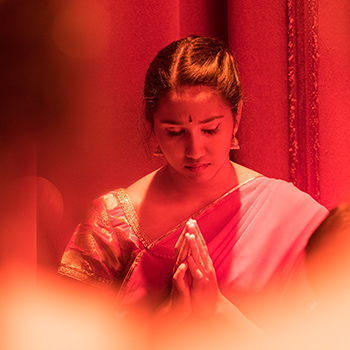 When I planned to attend Sanjana Chandran's Violin Arangetram, I already knew she was a gifted young talent from South Florida. Little did I know just how enthralling the evening was going to turn out!
The Rose and Alfred Miniaci Performing Arts Center at Nova Southeastern University was packed on June 17, 2017, as Sanjana began her concert. Accompanying and supporting her with zest were Dr. Subramanian Ramakrishnan on the mridangam and Dr. Ravi Balasubramanian on the ghatam. She was joined by her cousin, Agastya Sridharan, melodiously on the flute during the second half of the concert.
She opened the concert with a varnam in Ragam Todi and followed it with Sri Managanapathi Ravathumam, a Ganesha stuti in Ragam Gowlai, journeying through rapid and complex kalpanaswara patterns in Misra Chapu thalam. Then followed a beautiful, slow paced rendition of Muthuswamy Dikshitar's Akhilandeshwari in Ragam Dwijavanthi. It is interesting to note that the Hindustani raag Jai Jaivanthi was introduced to Carnatic music as Dwjavanthi by Dikshitar. This krithi was followed by a rendition of Gnanamosagaradha in Raagam Purvikalyani. It was evident that her Guru (also her father), Sanjay Chandran has trained Sanjana well enough to explore Hindusthani Raagas too. Sanjana effortlessly weaved a few Hindustani phrases into her Raga delineation (Alapana) in both Dwijavanthi and Poorvikalyani (Hindustani equivalent Puryakalyan). She embellished this piece with creative neraval (lyrical improvisation) on the line "Paramatmudu Jeevatmudu" and crisp kalpanaswara passages. This was followed by a flawless rendition of the fast paced Swathi Thirunal krithi, Bhogindra Saayinam, in Ragam Kuntalavarali, set to Khanda Chapu Thalam. One of my favorite pieces of the concert was Papanasam Sivan's composition Kaa Vaa Vaa in Ragam Varali. This krithi had several intricate lines with the kalpanaswara passages ending with complex korvais involving tisra (3), chatusra (4) and khanda (5 notes in a beat) nadai swara patterns, left the audience spell bound. For the main piece, Sanjana chose the Syama Sastri magnum opus Saroja Dala Netri in Ragam Shankarabharanam. She effortlessly played through the alapana that brought out the varied aspects of this rich ragam. Her creative neraval on the line "Sama Gana Vinodini" and complex kalpanaswaram passages, featuring the Misra Koraippu and culminated in a grand korvai. Both percussionists added flair to the concert by their captivating tani avartanam (percussion solo), with several imaginative rhythmic patterns and ended the first half of the concert on a spectacular note!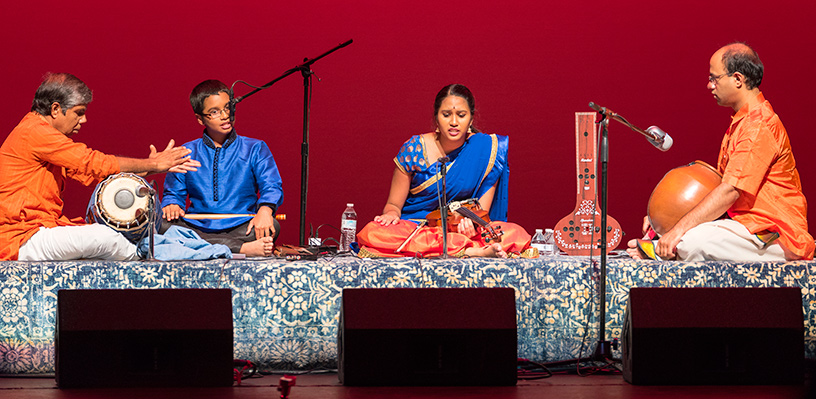 The second half began with the popular Thyagaraja krithi Manavyalakinchara in Ragam Nalinakanthi, presented in a nice, fast paced tempo. This paved a grand path to the Ragam-Thanam-Pallavi (RTP), the most complex and elaborate piece of a Carnatic music concert. The RTP was in Ragam Keeravani and was set to Khandajathi Triputa talam, a rhythmic cycle of 9 beats. Keeravani sounded sweeter on Sanjana's violin. She brought out the nuances of Keeravani beautifully in the Alapana and her Hindustani touches were very refreshing. The thanam was excellently executed with staccato and double string bowing and incorporated a tasteful variety of slow and fast phrases. The audience pleasantly experienced a glimpse of her melodious voice as she sang the Pallavi line to introduce the lyrics, in praise of Goddess Kamakshi.

Agastya's melodious flute, matching Sanjana note for note, was mesmerizing. It was a treat to watch the cousins interact and play their instruments with much poise.

The following krithis included the immensely popular Krishna Nee Begane Baro and Bharathiyar's Chinnanchiru Kileye, both of which were presented beautifully and appealed to the audience personally and emotionally. The concert drew closer to conclusion with an energetic and fun "English Note" followed by the Purandara Dasa composition "Bhagyada Lakshmi Baramma."

It is fair to say that, an "Arangetram," which means ascending the stage by debutants, felt more like a concert! Sanjana is definitely a prodigal pride of Florida!

A truly enchanting evening by a 14 year old!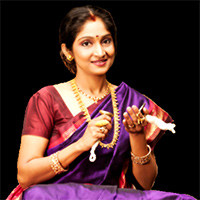 About the Author
Mrs. Sunitha Raj, a well-known exponent of Indian Classical dance, received her training in the Vazhuvoor style of Bharathanatyam from world renowned Guru Sri Padmashree Vazhuvoor Ramaiyya Pillai and his son, Sri Kalaimamani Vazhuvoor R. Samaraj. Prior to moving to USA, Mrs. Raj has played a lead role in numerous South Indian movies. She is known as 'Kodai Mazhai Vidya' and 'Vidyashree' and has paired with stars like Mamooty, Mohan Lal, Jayaram, Ambarish, Anant Nag, Shivraj Kumar and has performed Stage shows with Amitabh Bachchan.
She currently resides in Greenville, SC and is the Artistic Director of Nrithyanjali School of Dance. She has produced and directed Dance Drama Ballets like Ramayana, Shiva Shakti, Sivagamiyin Sabadham, Krishna and Dasavathar.
ACCOMPANYING ARTISTS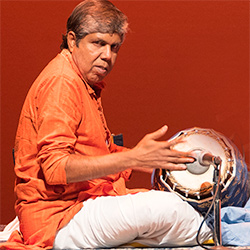 Dr. Subramanian Ramakrishnan – Mridangam Player
Dr. Subramanian Ramakrishnan is a professor of mathematics at the University of Miami, and has always passionately pursued South Indian percussion as a serious hobby. He learnt mridangam from his uncle, Sri R. Hariharan of Kolkata. Ramakrishnan also plays kanjira and tabla.
Over the years, Ramakrishnan has accompanied a large number of eminent artistes and has participated in a variety of percussive projects. Some of his mridangam students have performed in the Cleveland Aradhana and in Chennai sabhas during the music season. Ramakrishnan has been teaching mridangam for a number of years at the Shiva Vishnu Temple of South Florida, where he is a trustee for life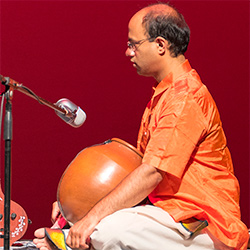 Dr. Ravi Balasubramanian – Ghatam Player


Dr. Ravi Balasubramanian is the most sought-after Ghatam artiste in North America. With over five hundred concerts, Ravi has extensive experience in Carnatic percussion, including performing the Ghatam at top musical institutions such as the Chennai Music Academy and the Cleveland Aradhana for nearly twenty years. He received the title Yuva Kala Bharathi in 2003 from Bharat Kalachar, a music organization in Chennai, for excellence and dedication in the art of Ghatam. Ravi has expanded the envelope of using the Ghatam in music, when he presented special "GhataTarang" concerts with seven Ghatams as the lead melody and percussion instrument for the first time outside India.Ravi has performed with leading artistes including San- githa Kalanidhi vocalists, violinists, flautists, and mridangists. Ravi received his initial tutelage from Palghat Sri P. K. Sekar and Sangitha Kalanidhi Dr. T. K. Murthy and later pursued advanced training from Sri V. Suresh in Chennai, India.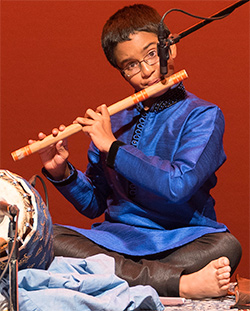 Agastya Sridharan – Flute Player


Agastya, who is Sanjana's cousin, learns the flute from Shri Radhakrishnan Ramachandran of San Diego. He also learns vocal from Sangeetha Seva Ratna Dr. C.M. Venkatachalam in San Diego and Vidwan S. Shankar in Bangalore. He has won awards at the Cleveland Aradhana for flute and vocal categories and was the winner of Carnatic Idol 2014 in the 'Melody Instruments' category. He received the "Young Artist Award" at the Carlsbad Purandara Dasa Aradhana in 2017. Recently, he was awarded the 2017 IndianRaga Fellowship. He also loves playing basketball and badminton.