Anushka Sharma wears producer hat for new series Paatal Lok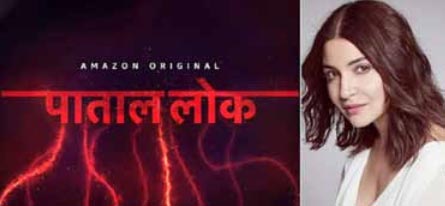 The famous NH10 actress takes a turn at producing for the upcoming TV series Paatal Lok that is to be aired on Amazon Prime starting May 15. This marks the debut of Anushka Sharma in the digital world. The actress shared two teasers of Paatal Lok on social media though the recent teaser finally flashed the release date of this much awaited series.
Anushka shared Paatal Lok's teaser on Instagram where she tagged almost the entire cast and crew. The actress mentioned that this crime underbelly nor thriller will change people's perception about the world they live in.
The logo was also revealed in the last teaser that showed a dark world named Paatal Lok. A voice at the beginning of the teaser announces that "shastras talk about a world where justice is only attained by bloodshed. In this world demons mask themselves as humans and jungle rules prevail." The concept of the intriguing underworld or the parallel universe is brought in this narration. Interestingly, the series deals with major four pillars of democracy – executive, legislative, press and judiciary. As expected the teaser gathered a lot of interest and anticipation.
If you have seen the popular Netflix series Stranger Things then Paatal Lok will remind you of it. The underworld concept and red branches streaming out of the logo draws a good parallel to red lightning sky of the American series.
The Pataal Lok series was created by Sudip Sharma (Udta Punjab fame). The series stars Jaideep Ahlawat, Gul Panag, Swastika Mukherjee, and Neeraj Kabi, among others.
NH10 actress
upcoming TV series
Paatal Lok
Amazon Prime
Anushka Sharma
digital world
Paatal Lok on social media
Paatal Lok's teaser
Instagram
crime underbelly
thriller
shastras talk
four pillars of democracy
executive
legislative
press
judiciary
Netflix series Stranger Things
lightning sky
American series
Jaideep Ahlawat
Gul Panag
Swastika Mukherjee
Neeraj Kabi