Asha Bhosle The Timeless Wonder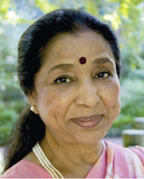 The 75-year-old Asha has never been shadowed by her more illustrious sister, Lata Manageshkar, popularly known as the "Nightingale of India," and has been able to create a niche for herself through her mesmerizing rendition of all genres of music. It would not be an exaggeration to say that versatility is the middle name of this immensely talented singer, for whom the nature of songs is hardly a challenge for her vocal range.Her father Pandit Deenanath Mangeshkar, a small time theater actor and a classical vocalist from a small hamlet in Maharashtra, trained Asha in classical music. With music flowing through her genes, naturally Asha chose music as her profession. Asha made her playback debut in 1s948 in the film Chunariya. It took an extremely long time for Asha to make it to the top. Indian film music at that time was dominated by singing maestros Shamshad Begam, Geeta Dutt, and her own sister Lata. It was reasonably difficult for a newcomer like Asha to make a mark for herself as directors and lead actors preferred established names.
Bhosle was set back after her failed marriage with Ganapat Rao, an event that alienated her from the family, Asha was never daunted by the struggles she faced. It took an enormous amount of perseverance for her to make it to the top. Her hard work and efforts paid off when she was given her first big break in the movie C.I.D (1956). Asha rose to fame only under the guidance and patronage of celebrated music director O.P Nayyar, with whom she got the most offers. She tasted success with the movie Naya Daur (1957) and belted out hits after hits like Aaiye Meherban, Deewana Hua Badal, Isharon Isharon Mein, Aao Huzur Tumko, and Ude Jab Jab Zulfein Teri.
After the phenomenal success of these songs, other music directors like S.D. Burman noticed Bhosle. Together with S.D. Burman, Bhosle went on to create many hit soundtracks for movies like Kaala Pani, Kaala Bazaar, Insaan Jaag Utha, Lajwanti, Sujata and Teen Deviyaan. After the mid 1960's, Asha collaborated with S.D.'s son, R.D Burman, and it was then that she reached the peak of her career. The movie Teesri Manzil (1966) shot her to fame permanently, and it was then that she won popular acclaim. The duo of Asha and R.D. Burman produced hit after hit, and their collaboration went beyond the professional arena and culminated in Asha's marriage with R.D.
However, the name Asha is almost synchronous is that of Helen, one of the most graceful dancers of that era. Some of her successful hits featuring Helen include Piya Tu Ab To Aaja (Caravan), O Haseena Zulfon Wali (Teesri Manzil), Yeh Mera Dil (Don), and Jaane Jaa (Jawaani Diwaani).
Despite her success in several genres of film music, Asha was usually associated with light,peppy, and romantic numbers until 1980, when she proved critics wrong by lending her voice to beautiful ghazals for the movie Umrao Jaan under the musical direction of Khayyam. Since then, Asha Bhosle has surpassed previous successes by cranking out hit numbers one after another, all of which represent all genres of music.
In a world so much in awe of elder sister Lata Mangeshkar, Asha is able to touch the heart of every music listener. On one hand, she can please pop lovers with rap and remix, and at the same time, she has the ability to match the likes of Ustad Ali Akbar Khan. Playful love songs, lusty cabaret numbers, soulful ghazals or funky pop, Asha has given all genres a chance with much aplomb. To a large degree, her success can be attributed to her versatility.
Most importantly, Asha is not a person with which to be contended given what she has achieved to date. Asha continues to mesmerize awestruck music lovers with her grace and versatility. Still belting out hits like "Yai Re, Yai Re," "Tanha Tanha," "Rang De," and "Kambaqht Isqh," Asha is still a strong competitive force of which singers of this millennium should be aware.
Since the 1990s, Asha has further widened her horizon by successfully coming out with albums in the Indipop arena while also beating out Indian pop artists on their own turf. Her versatility is self-evident in the fact that besides her Indian colleagues, she has collaborated with a spectrum of musicians from various genres in the West including Boy George, Michael Stipe (REM), and most recently The Kronos Quartet on the album You've Stolen My Heart which was nominated for a Grammy award.
Asha remains in her crooning best as she released her second solo album on Times Square Records, The Real R.D., a tribute to her late husband R.D. Burman which follows on the heels of her successful debut on the label, Love Supreme. The album is enhanced, including the video of 1, 2, Cha Cha Cha which has been filmed with all the opulence of a Bollywood scene.
At the same time, Asha has spruced up the unknown talent of some known celebrities in her album Asha and Friends, Vol. 1 where she sings duets with actor Sanjay Dutt, actress Urmila Matondkar, and the s Australian pacemen Brett Lee. In fact, Brett Lee has joined up with Hindi singer Asha Bhosle in a music video that hit number four on Indian charts in its first week, and inspired by the success, they have teamed up for more. Following the achievement of Vol. 1, Asha Bhosle is all set to sing with international pop singer Robbie Williams for the second volume of this album.
For this prodigal singing daughter of India, who has recorded more than 12,000 songs in 14 languages and been involved in more than 900 films, Asha Bhosle has been consistently blessed with awards and accolades. Winner of eight Filmfare awards and two National Awards apart from numerous other accolades, the biggest feather in Asha's already crowded cap has been the Dada Saheb Phalke Award for her contribution to Indian Cinema.
While many of her contemporary artists have already passed away or sunk into oblivion, Asha Bhosle's ever increasing popularity is just an indication of her talent, perseverance, and determination to challenge the odds. She is the reigning diva of all times, and as far as Indian film music is concerned, the inimitable, the rebel, and the one and only Asha Bhosle!