Sanjiv Anand
About the Author :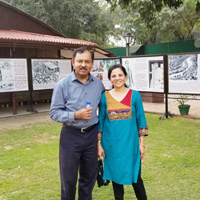 Sanjiv was born and raised in Delhi. He graduated from School of Planning and Architecture, New Delhiin 1984. Right after his graduation, he worked for a highly acclaimed architect Mr. Raj Rewal,who put him in charge of an exhibition of Vernacular Indian Architecture in Paris, France under the auspices of Festival of India initiated by then Prime Minister Mr. Rajiv Gandhi. The project required the team to visit places in India, collect information of the architecture in those places, organize it on presentation boards, etc. We successfully carried this exhibition in Paris in December1985.
In 1987 and at the age of 25, he was hired by Government of India to design and manage the Indian Science and Technology exhibitions in Leningrad, Moscow and Tashkent, in the former U.S.S.R. once again under the auspices of Festival of India under the leaderships of Mr. Sam Pitroda, an advisor to PM and Mr. K. R. Narayanan, the Science & Technology Minister and would-be President of India.
In 1988, he joined the Master of Architecture and Urban Design program at SUNYAB (State University of New York at Buffalo), NY. Following that he worked for two years as construction manager in California. Then he came to Florida with his wife to take a job as architectural designer.
In 2005, he started a private practice in building design. One of his projects is Shantiniketan – a senior Indian community in Orlando, Florida.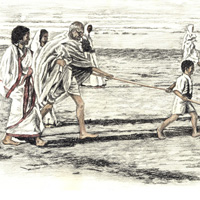 by Sanjiv Anand It is our honor to present the unique accomplishments of our own Sanjiv Anand, an accomplished architect, building designer, dreamer and soft spoken leader from South Florida. With his exhibition of Ganhdiji's sketches, he has accomplished something many of us can only dream of. The exhibition took place on January 30, 2020, Gandhiji's Punya Tithi (Death Anniversary) …