Remembering Gandhi ji: An Exhibition of Charcoal Sketches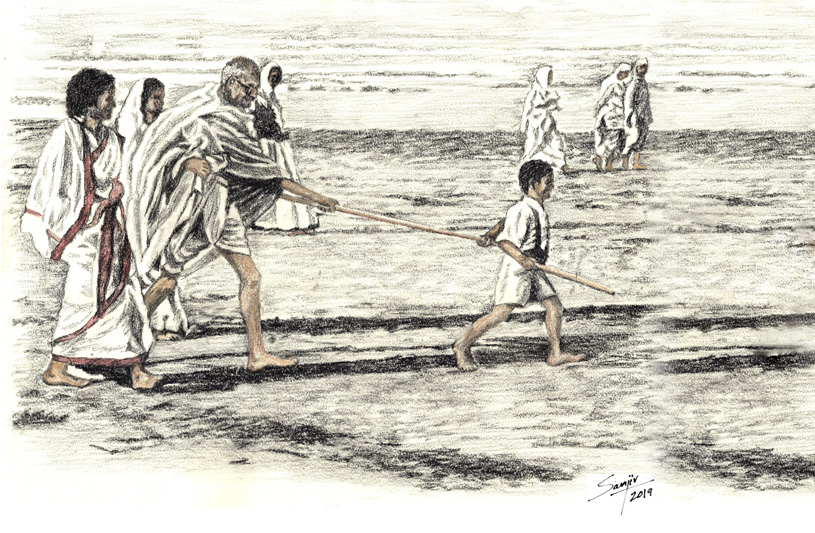 by Sanjiv Anand
It is our honor to present the unique accomplishments of our own Sanjiv Anand, an accomplished architect, building designer, dreamer and soft spoken leader from South Florida. With his exhibition of Ganhdiji's sketches, he has accomplished something many of us can only dream of. The exhibition took place on January 30, 2020, Gandhiji's Punya Tithi (Death Anniversary) at Kirti mandap, a few feet away from where Gandhiji took his last breaths.
Smt. Tara Gandhi Bhattacharjee, former Vice Chairperson Gandhi Smriti and Darshan Samiti( GSDS ) and present Chairperson of National Gandhi Museum inaugurated a fifteen-panel exhibition of free-hand charcoal sketches on prominent historical incidents from Mahatma Gandhi's life in Kirti Mandap, Gandhi Smriti. Director GSDS Shri Dipanker Shri Gyan, Programme Officer, Dr. Vedabhyas Kundu, Dr Manju Aggarwal and a host of other dignitaries along with the artist Sanjiv Anand were present at the inauguration.Desh-Videsh had the opportunity to sit with Sanjiv and discuss his new passion.
Raj Shah
Managing Editor
How did you come up with the idea of creating Gandhiji's sketches and the exhibition?
Not only for me, as a Gandhi admirer but for millions of people, 2019 and specifically October 2, 2019, was a memorable year and day. It was the 150th Birth anniversary of a saint, Mahatma Gandhi ji, freedom fighter and Father of Nation (India).
Not only for India, but also the entire world was preparing for the celebration of the 150th birth anniversary of Gandhiji. Florida Atlantic University (FAU) in collaboration with several South Florida organizations also coordinated for this event. For me this was a perfect opportunity to present my skill and my admiration of Gandhiji.
My daughter, Sonali, who recently came to know of my childhood hobby of portrait sketching, gave me the idea of creating freehand sketches of Gandhiji instead of photographs and developing an exhibition.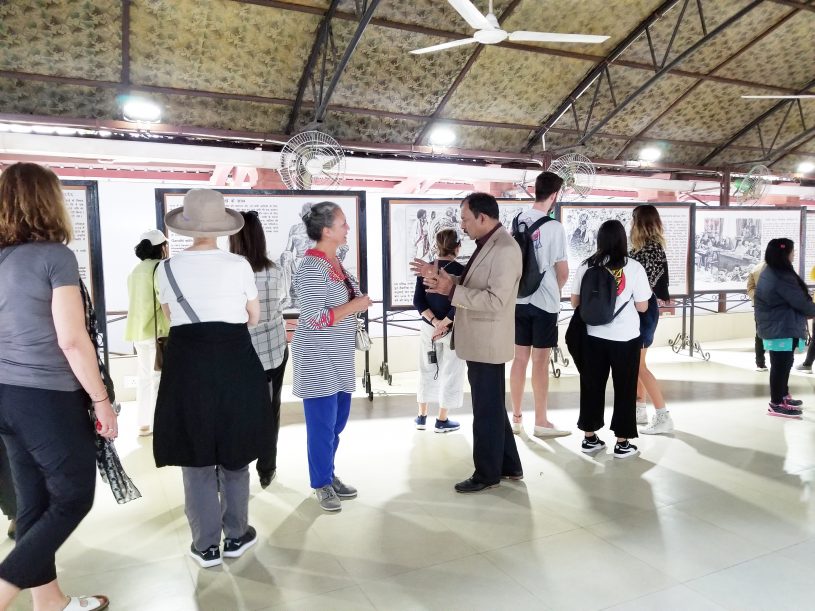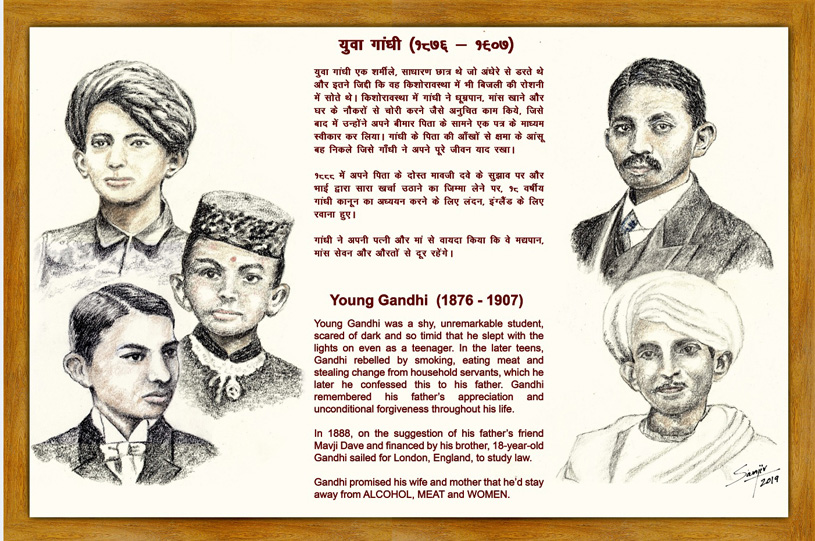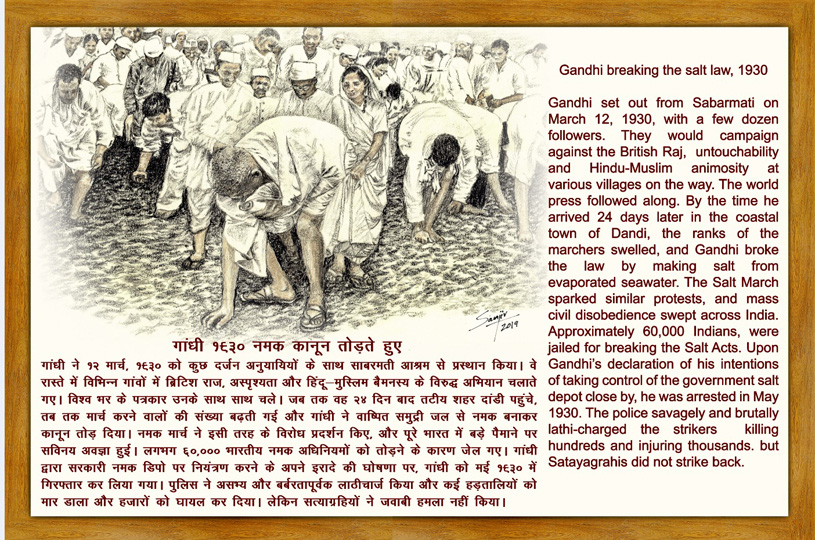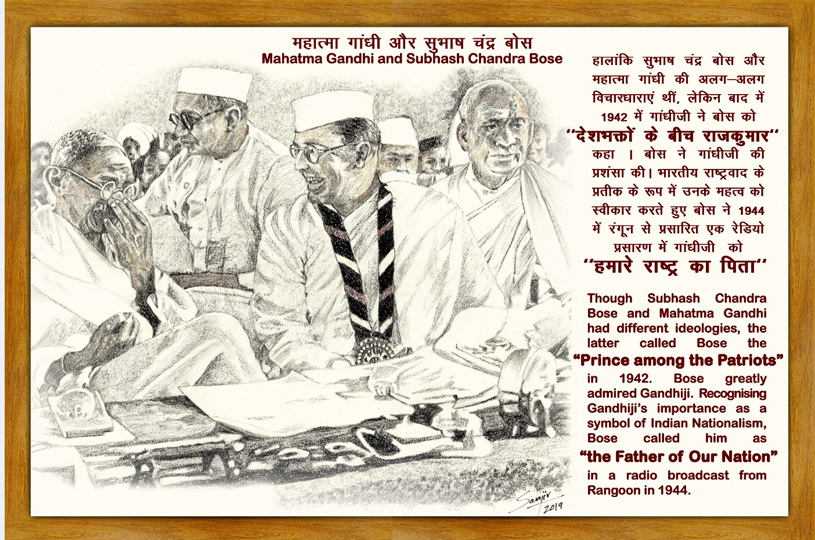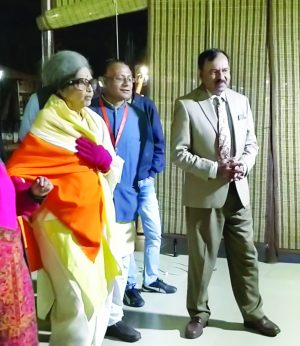 What was the next step in your new adventure ?
After experimenting with various drawing tools like sketch pens, pencils, watercolor and acrylic paints, I decided to try black and brown charcoal sticks. I had a feeling that charcoal black and brown sketches would give the right feel to these historical images.
I decided to create 15 sketches based on the most memorable events in Gandhi's life and write corresponding text to go with these sketches.
October 9, 2019, was a big day for me. It was the first day of the 150th Birth Anniversary of Gandhi celebration at FAU along with my exhibition of 15 sketches of Gandhi ji.
How did you end up taking the exhibition to Delhi?
At the end of 2019, I was planning a trip to India to visit my family. I explored the idea of putting this exhibition in an art gallery in Delhi. I found that almost every art gallery was booked for months in advance. Meanwhile a friend suggested that I talk to Gandhi Smriti and Darshan Samiti (GSDS ). I began my correspondence with the GSDS Director, Mr. Dipankar Shri Gyan, and he welcomed the idea of my exhibition. He agreed with the proposal to have the display start on January 30th, the day of Gandhi's martyrdom and in the hall next to the place of Gandhi's assassination. What could be a more appropriate place!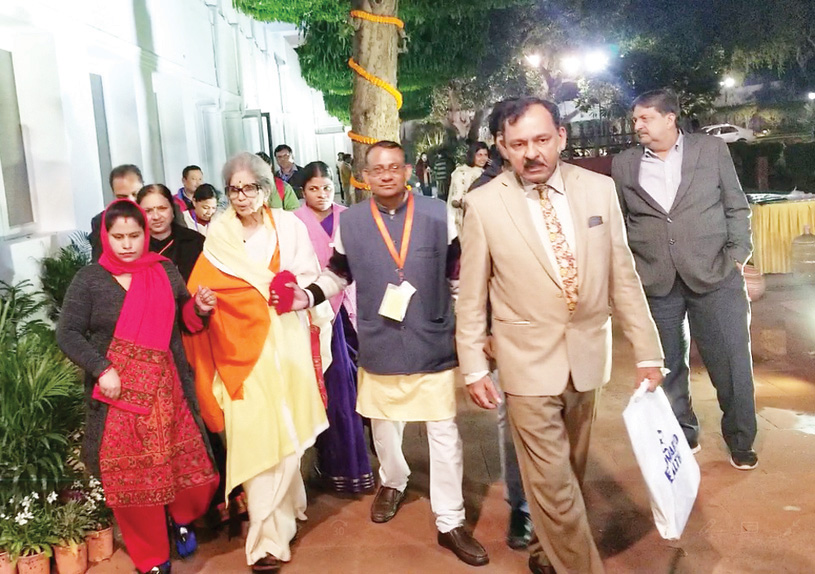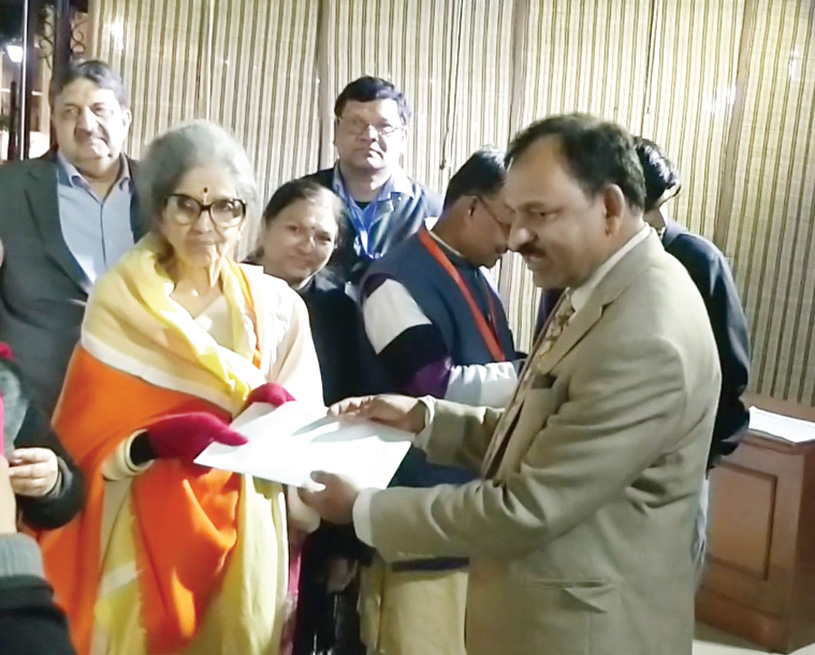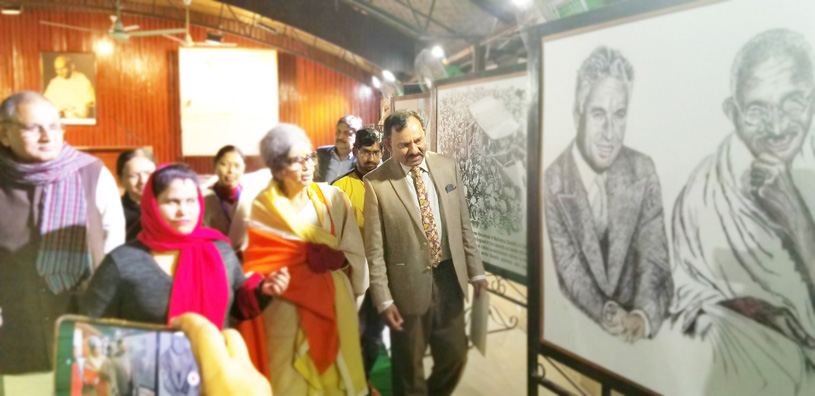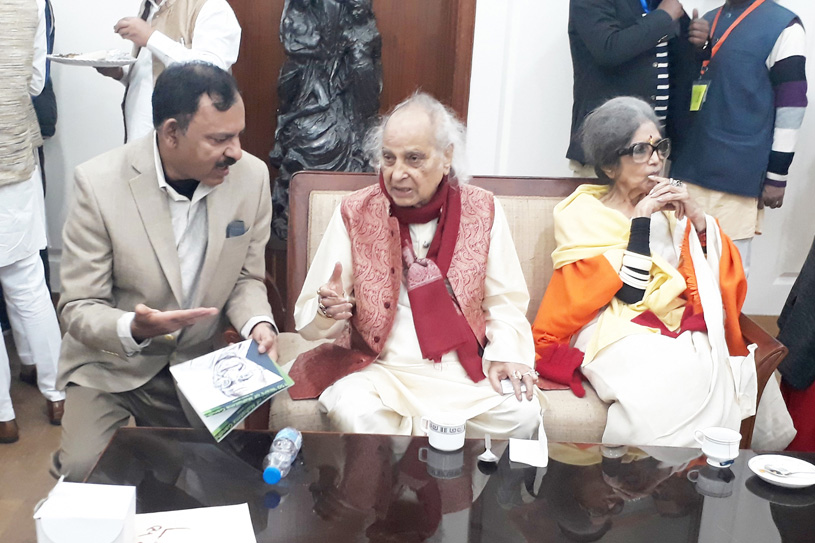 He made a proposal to have it co-inaugurated by none other than Gandhi's granddaughter Mrs. Tara Gandhi Bhattacharjee and Padma Vibhushan Sangeet Martand Pandit Jasraj who would be there singing prayers and devotional songs. At the event, Indian Prime minister Mr. Narendra Modi, Vice President, Mr. Venkaiah Naidu, former PM Dr. Manmohan Singh, and former Vice President Mr. Mohammad Hamid Ansari were to be the guests of honor.
I landed in Delhi on January 17 and made my first visit to the Gandhi Darshan on January 19. I realized that I had only five working days to manage the graphic design of all the panels, including verification of written material, its Hindi translation, sending the images to the printer and the panel's delivery.
Please explain the steps you went through to convert your small sketches to large 6 ft. x 4 ft. panels.
The GSDS Director told me that my exhibits should be received at the venue by January 28 after which the control of the complex would be given to the PM's security team, and there would be no movement of any goods in the complex.
I had my work cut out as there were a lot of things I needed to carry out. Finalizing the English text, translating the English text to Hindi, and creating high resolution 6 ft. x 4 ft. panel graphics for the printer.
Thanks to all the dedicated workers at GSDS my task became very easy. All along I was really surprised and honored that my sketches are going to be displayed at Kirti Mandir. So I could not help asking one of the employees at GSDS the real reason why they decided to display my exhibition at such a prestigious place and on such a memorable date. His answer was that they have seen a lot of exhibitions of pictures and posters, but this is the first time they saw sketches that resembled the real Gandhi. Wow what a great honor!
To my surprise all fifteen 6 ft. x 4 ft. panels were delivered to the venue on January 29.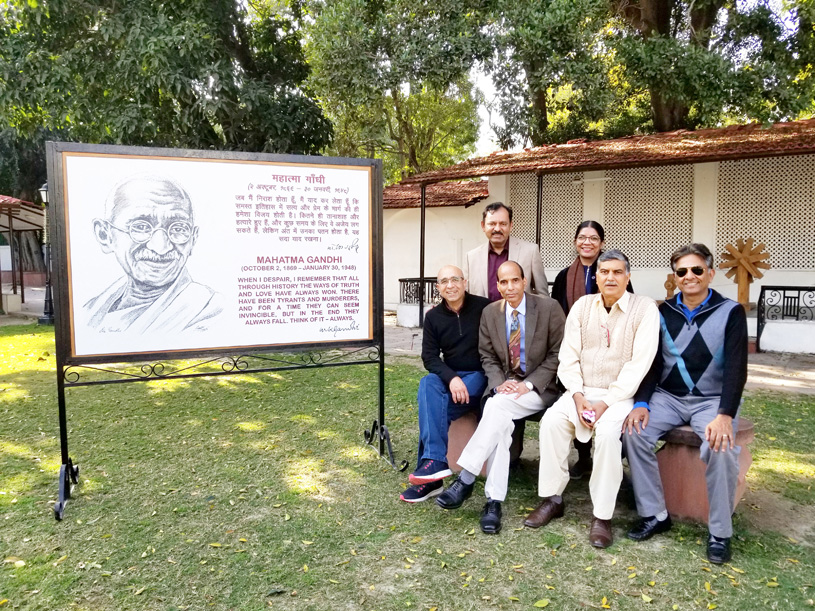 Please describe the day of prayers and the opening of your exhibition.
Finally the long awaited day came – the day the whole world remembers Gandhiji and all of India remembers Martyr Day.
The day began with prayers. Soon after the completion of prayers and devotional songs, the time came to meet the chief guests of the day, Mrs. Tara Gandhi and Pt. Jasraj. I had an opportunity to chat with Pt. Jasraj and I offered him as a token of appreciation a set of postcards with Gandhi's Sketches. Mrs. Tara Gandhi and various officials walked with me to the Kirti Mandap where the exhibition was held. She expressed her admiration of every panel expressing her own views about the incidents depicted in these images. She was very much surprised to see the sketch of Gandhiji with Charlie Chaplin since she had never seen that photograph.
The next day she invited me to an informal meeting over tea and snacks at her home. I was curious about her childhood and memories of her grandfathers: Mahatma Gandhi and Mr. C. Rajagopalachari. She very passionately described the life in the ashram where she witnessed being in the presence of many freedom fighters all of which I had only known through history books.
What do you plan to do next?
After receiving such a big honor, the sky's the limit. Raj Shah, Managing Editor of Desh-Videsh, encouraged me and joined my dream project and explained that we should show Gandhi's fight for India's independence through my sketches to every Indian child living in the US. With his help, we are creating a travelling exhibition we will bring to every big city in the US.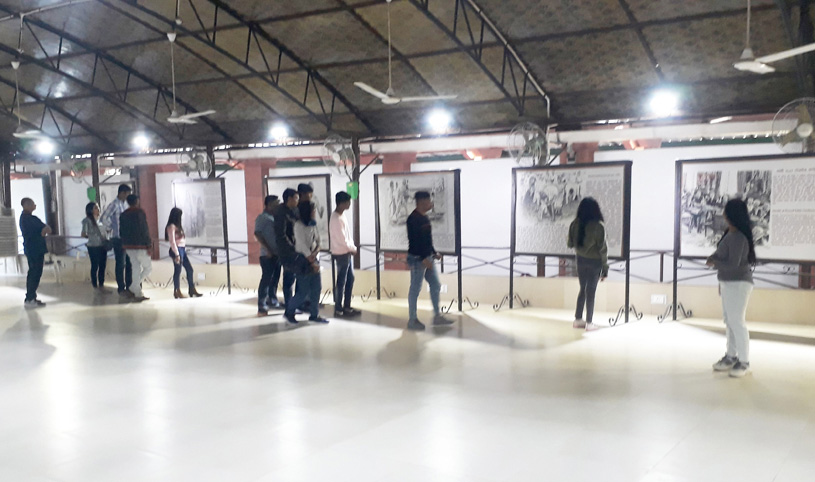 ---
About Sanjiv Anand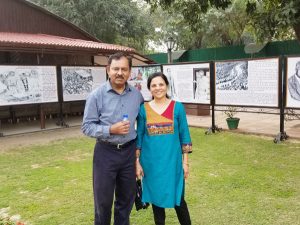 Sanjiv was born and raised in Delhi. He graduated from School of Planning and Architecture, New Delhiin 1984. Right after his graduation, he worked for a highly acclaimed architect Mr. Raj Rewal,who put him in charge of an exhibition of Vernacular Indian Architecture in Paris, France under the auspices of Festival of India initiated by then Prime Minister Mr. Rajiv Gandhi. The project required the team to visit places in India, collect information of the architecture in those places, organize it on presentation boards, etc. We successfully carried this exhibition in Paris in December1985.
In 1987 and at the age of 25, he was hired by Government of India to design and manage the Indian Science and Technology exhibitions in Leningrad, Moscow and Tashkent, in the former U.S.S.R. once again under the auspices of Festival of India under the leaderships of Mr. Sam Pitroda, an advisor to PM and Mr. K. R. Narayanan, the Science & Technology Minister and would-be President of India.
In 1988, he joined the Master of Architecture and Urban Design program at SUNYAB (State University of New York at Buffalo), NY. Following that he worked for two years as construction manager in California. Then he came to Florida with his wife to take a job as architectural designer.
In 2005, he started a private practice in building design. One of his projects is Shantiniketan – a senior Indian community in Orlando, Florida.
Exhibition of Charcoal Sketches
Remembering Gandhi ji
Sanjiv Anand
Gandhiji's sketches
freedom fighter and Father of Nation
Florida Atlantic University
150th Birth Anniversary of Gandhi
Mrs. Tara Gandhi Bhattacharjee
PM Dr. Manmohan Singh
Vice President Mr. Mohammad Hamid Ansari
Martyr Day
Mr. C. Rajagopalachari
Managing Editor of Desh-Videsh