BENAZIR BHUTTO – A Unique Saga of Life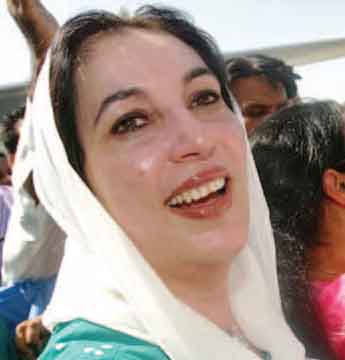 Benazir.  Can any other name be more appropriate for the daughter of Pakistan's ex-Prime Minister Zulfiqar Ali Bhutto?  There is no doubt the answer is no.  Benazir Bhutto, the first woman prime minister of the Islamic country Pakistan, certainly lived up to her name, which in Urdu, means unique or unprecedented.Though Benazir led quite a roller-coaster life, she no doubt had a privileged childhood.  She was born on June 21, 1953, in Karachi, to Zulfikar Ali Bhutto, the fsziery and magnetic founder of the Pakistan People's Party (PPP) and scion of the prominent Shia Muslims family of Larkana, and Begam Nusrat Ispahan, who hailed from a distinguished Kurdish family from Iran.  Benazir attended the Lady Jennings Nursery School, then the Convent of Jesus and Mary in Karachi, and subsequently, the Jesus and Mary Convent in Murree.  She then went on to complete her A-Levels at the Karachi Grammar School.
Benazir pursued higher studies abroad.  She attended Radcliffe College at Harvard University, where she obtained a Bachelor of Arts degree with an honors distinction in comparative government.  In the United Kingdom, she completed courses in Philosophy, Politics, and Economics at Lady Margaret Hall, Oxford, along with additional courses in International Law and Diplomacy.
In late 1977, Bhutto returned to Pakistan where her father, Zulfikar Ali Bhutto, was elected prime minister, but days after her arrival, the military seized power and her father was imprisoned by General Muhammad Zia-ul-Haq.  She found herself placed under house arrest in the wake of her father's imprisonment.  He was subsequently executed in 1979.  Later, Bhutto was jailed and placed in solitary confinmement for a long time.  In 1984, she was allowed to return to the United Kingdom, and it was here that she became a leader in exile of the PPP, her father's party, though she was unable to make her political presence felt in Pakistan until 1986.  She succeeded her mother as leader of the PPP and the pro-democracy opposition to the Zia-ul-Haq regime.  In the midst of all this, Bhutto married Asif Ali Zardari in 1987.
The unnatural death of General Zia in an explosion on board his aircraft in 1988 gave Benazir new hopes and possibly a way to establish democracy in Pakistan.  In November 1988, in the first open election in more than a decade, Bhutto's PPP won the largest bloc of seats in the National Assembly.  Bhutto was sworn in as Prime Minister of a coalition government, becoming the youngest person (at age 35) and the first woman, to head the government of a Muslim-majority state in m
However, Benazir's stint as Prime Minister was hardly an easy journey, though her accomplishments during this time were initiatives for nationalist reform and modernization.  Some conservatives characterized these moves as Westernization.  Only two years into her first term, President Ghulam Ishaq Khan dismissed Bhutto from office for "horse-trading for personal gain." Soon after, in November 1990, Zia's protégé Nawaz Sharif, campaigning on an anti-corruption platform, became Prime Minister.
Three years later, Sharif was felled by his own corruption scandal and Bhutto, who initiated an anti-corruption campaign against Sharif, was re-elected as Prime Minister in 1993.  However, the second coming to power for Bhutto was as tumultuous as the first.  While she made some efforts to modernize the nation and bring stability to Pakistan, she was plagued by her fractious coalition, unkept promises, Islamic fundamentalism, and most importantly, corruption charges.  This was taken to new levels by the involvement of her husband Asif Ali Zardari.  In fact, during both her stints in power, the role of Zardari proved highly controversial as he played a prominent role in both her administrations and was accused by various Pakistani governments of stealing millions of dollars from state coffers, charges he denies, as did Ms. Bhutto herself.  Many commentators argued that the downfall of Ms. Bhutto's government was accelerated by the alleged greed of her husband.
In 1996, President Leghari of Pakistan dismissed Benazir Bhutto from office, alleging mismanagement, and subsequently, dissolved the National Assembly.  Bhutto's re-election bid failed in 1997, and the next elected government, headed by the more conservative Nawaz Sharif, was subsequently overthrown by the military and General Pervez Musharraf in 1999.
In the meantime, Bhutto's husband was imprisoned, and once again, she was forced to leave her homeland.  Zardari was in jail for eight long years.  Bhutto left Pakistan in 1999 to live abroad, but questions about her husband's wealth continued to follow her. For nine years, she lived with her children in exile in London and Dubai, where she continued to advocate for the restoration of democracy in Pakistan.  She was joined by Zardari in 2004 after his release from the prison.
It was only in the autumn of 2007, in the face of death threats from radical Islamists and the hostility of the government, she returned to her native country.  This is where Bhutto's final chapter begins, with the popularity of the Musharraf regime collapsing and the world looking warily at the future of Pakistan and the threat of radicalism.  Bhutto struck a deal with Musharraf, who was under pressure to restore democracy.  With US approval and the favored candidate to restore democratic credibility to a moderate Pakistani government, Bhutto returned to reclaim what she always believed was hers.  Thousands showed up to welcome her and nearly 100 well-wishers died when the parade was attacked by unknown bombers.
The final months of 2007 was filled with political maneuverings between herself, Musharraf and Nawaz Sharif, who had also returned from exile.  Even after being placed under house arrest when Musharraf imposed emergency rule, she seemed set for another triumph at the polls.  In the end, the violent cycle of Pakistani politics claimed another victim. On December 27, 2007, Bhutto was killed when leaving a campaign rally for the PPP at Liaquat National Bagh where she had given a spirited address to party supporters in the run-up to the January 2008 parliamentary elections.  Unknown gunmen shot her, and at the same time, a suicide bomber blew himself up near the vehicle in which she was travelling.
Benazir Bhutto excelled at asserting her right to rule.  In a male-dominated, Islamic society, she rose to become her slain father's political successor, twice getting elected as Prime Minister of Pakistan. She was a staunch supporter and promoter of democracy much like her illustrious father.  Just like him, Benazir died in an effort to establish democracy in Pakistan.  Even in death, there is no doubt that Benazir Bhutto will continue to rally people to her cause.
BENAZIR BHUTTO – A Unique Saga of Life