Bollywood Today
Ajay Devgan gets back to Santoshi fold
After aborted projects like Saamna and London Dreams, Rajkumar Santoshi and Ajay Devgan will finally have a release to their name in the form of Halla Bol. The combination of Devgan and Santoshi has often been referred to as a very successful pairing, especially following the success of Lajja, The Legend of Bhagat Singh, and Khakee. Subsequent planned films having not taken off successfully, so it was a great relief for all concerned when the talented duo came together for this recent release.
The grand plans of the Santoshi-Devgan team will continue with their next project, Ashoka the Great, based on the three phases in the life of Emperor Ashoka as well as two subsequent generations. An interesting aspect of the project is that super actor, Ajay Devgan, is likely to be seen in a triple role, young Ashoka, the sixty plus Ashoka, and also as the son of Ashoka, Kunal. He will have for company the dusky beauty, Bipasha Basu.
Shah Rukh Khan receives prestigious French honor
Another feather on the Badshah's cap! The number one superstar of Bollywood, Shah Rukh Khan, was given the French honor 'Insignia of Officer in the Order of Arts and Letters' by the Ambassador for France in India, Jerome Bonnafont. The award was constituted to reward artists who have gained fame for their work in the field of art and literature, and those who have contributed to promote it in France as well as throughout the world. An elated Shah Rukh exclaimed that he feels very honored and humble to receive the award, and also lucky to spread Indian cinema throughout the world. Arundhati Roy is the only other Indian to have received the award, while other recipients include international celebrities like David Bowie, George Clooney, Tony Curtis, Celine Dion, Leonardo Di Caprio, Bob Dylan, Clint Eastwood, Jude Law, Gong Li, Meryl Streep, and Bruce Willis.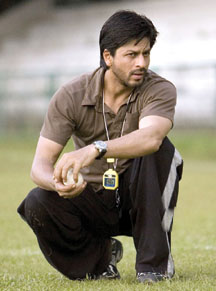 Om Shanti Om selected for Berlin Film Festival
It seems that Shahrukh Khan's fame is truly going global. His latest blockbuster Om Shanti Om has been selected for Berlinale Special at the Berlin Film Festival 2008. The program shows works of contemporary filmmakers being honored during the festival. The festival shows extraordinary new productions to honor great cinema personalities by showing their films and to immerse audiences in cinematic history by screening film classics.
Om Shanti Om is among 11 films selected this year and will have a German Premiere at the festival, which will be attended by Shah Rukh Khan. The distributors of the film, Eros International, will be releasing Om Shanti Om theatrically in Germany soon after the Berlin Film Festival.
Bollywood personalities bestowed with Padma awards
It was a rewarding time for Bollywood this year when the prestigious Padma awards were announced in late January. The most prominent winner was singing legend, Asha Bhosle, who received the nation's second highest civilian honor, the Padma Vibhushan Award, for her contribution to the field of cinema.
Among recipients of Padma Shri award for contributions in the field of art include film personalities Madhuri Dixit, Manoj Night Shyamalan, and Tom Alter. The award is truly meaningful for artists who have enthralled audiences for so many years.
Bipasha Basu turns grey in "Race"
Having played the negative role in Ajnabee and Jism, sensuous and sizzling Bipasha Basu is again all set to play a grey character in Race. Directed by Abbas-Mustan, Race is a story about two brothers, played by Saif Ali Khan and Akshaye Khanna, who try to outdo each other. Race deals with revenge and the games people play to win. A TIPS production, the film boasts a huge cast starring Anil Kapoor, Katrina Kaif, and Sameera Reddy.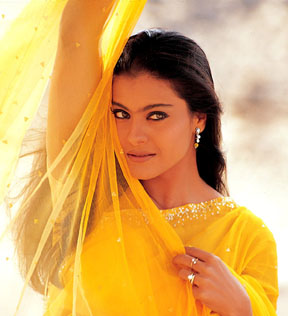 A busy year ahead for Kajol
This year has brought with it a busy schedule for Kajol. Besides doing U, Me Aur Hum with hubby Ajay Devgan, Kajol will also be seen with Shah Rukh Khan in Karan Johar's next film Mr. Khan. Now, the latest news is that the actress has claimed the female lead in Rajkumar Hirani's next film Idiots, which also stars Aamir Khan and may also cast Saif Ali Khan and John Abraham for different roles. The film is to begin shooting in a few months' time.
It's eastward ho for Bollywood now
The appeal of Indian cinema is growing across the world and the burgeoning industry is wooing fans in Southeast Asia and in the Far East. Earlier ventures were restricted to finding exotic locales for shooting the films, but nowadays, it has extended much beyond that and Bollywood is trying to capture newer pastures out East.
Bombay to Bangkok produced by industry warhorse Subhash Ghai, is a perfect example of Bollywood beginning to make efforts to capture those markets. Similarly, music and entertainment major Saregama is producing a period film that hopes to make some noise in Japan. Directed by Aparna Sen, The Japanese Wife features Rahul Bose, Raima Sen, and Japanese actress Chigusa Takakoo. The trilingual film, based on a novel by Kunal Basu, is in Japanese, Bengali, and English. Set in the Sunderbans and in Japan, it is a long-distance love story between Rahul Bose and his Japanese pen friend. As if that was not all, Hollywood-based studio Warner Brothers is foraying into Bollywood with a movie called Made in China that will be shot in China. Known for its business acumen, Warner Brothers is hoping to make profits Indian and Chinese markets with a film starring Akshay Kumar and Deepika Padukone. It remains to be seen whether the eastward vision of Bollywood truly yields the desired benefits.
Sajid Nadiadwala all set to release Kambakth Ishq
Having consistently delivered hits like Jeet, Judwaa, Har Dil Jo Pyaar Karega, Mujse Shaadi Karogi, and Heyy Babyy, the prodigal filmmaker Sajid Nadiadwala is all set to roll out his next magnum opus, directed by newbie Sabir Khan, in Los Angeles in May. However, the most interesting bit of news is that Nadiadwala is all set to go international with Kambakth Ishq and is said to have managed a casting coup with Arnold Schwarzenegger, who has agreed to play an interesting cameo in the film. Pop sensation Beyonce has agreed to do a sensual act in the film. It is also heard that apart from the said two, a host of other big Hollywood names will also be signed shortly for the film. As the lead pair, the film stars Akshay Kumar and Kareena Kapoor. No doubt, Kambakth Ishq will truly be India's first international film.
Jodhaa Akbar to be released in Tamil and Telugu
Ashutosh Gowarikar's much-hyped magnum opus Jodhaa-Akbar starring Aishwarya Rai Bachchan and Hritik Roshan is the subject of new tidbits of information and developments every other day. The latest buzz is that the much awaited film will now be released in three Indian languages. Apart from the Hindi version that is scheduled for a February 15 release, the film will also be dubbed in Tamil and Telugu to cater to the demands of the South Indian audiences.
Filmmakers' corner
The latest from the stable of Karan Johar is that his next venture will be directed by his assistant, Tarun Mansukhani,, and the cast will include Bobby Deol, Abhishek Bachchan, John Abraham, and Priyanka Chopra. As per the schedule, the comic caper will be wrapped up within six months and is likely to release in October 2008, either during Eid-Ul-Fitr or Diwali.
Noted director Apoorva Lakhia is all set for his next directorial venture Mission Istanbul. The film is a Balaji Motion Pictures Limited presentation, produced by Popcorn Motion Pictures Pvt. Limited and will feature Viveik Oberoi, Zayed Khan, Shriya Saran, Shabbir Ahluwalia, Nikitan Dheer, and Shwetta Bharadwaj. Abhishek Bachchan will star in a guest appearance along with Sunil Shetty. In fact, Sunil Shetty, Shabbir Boxwala, Shobhaa Kapoor, and Ekta Kapoor are the producers of Mission Istanbul, the story is by Suresh Nair, and music is by Annu Malik.
Beyond Dreams Entertainment Limited's CEO Yash Patnaik and Light of Asia Foundation Chairman Mr. Navin Gooneratne are all set to produce a historic film to be directed by esteemed filmmaker Shyam Benegal based on Gautam Buddha. Talks have also begun to persuade actor Hrithik Roshan to star in the film. The film is expected begin filming mid-2008 and is slated for a mid-2009 release.
Speaking of Shyam Benegal, the illustrious filmmaker is now gearing up to make a comedy for the first time. The film titled Mahadev Ka Sajjanpur is a take on modern Indian villages where gadgets like the television and cell phone are no longer unique substances. The story of revolves around a freelance letter writer in a village post office and makes an attempt to invoke the interest of urban audiences in present day village life. The cast of Mahadev Ka Sajjanpur includes Shreyas Talpade and Amrita Rao in lead roles.
The showman of Bollywood, Subhash Ghai is going to wield the megaphone once again for his film, Black & White, the theme of which is said to be terrorism. Black & White marks the launch of newcomer Anurag Sinha who plays a central protagonist in the film along with Aditi Sharma, Anil Kapoor, and Shefali Shah. Incidentally, it is after Taal (1999) that Anil Kapoor, once an automatic choice with Ghai, returns to his productions. Arriving under the banner of Mukta Searchlight Films, Black & White includes lyrics by Ibrahim Ashq and music by Sukhvinder Singh. Shot extensively in Delhi, the film is aiming for a March 7 release.
Actor and perfectionist Aamir Khan is presently enjoying the critical and commercial success of his directorial debut venture, Taare Zameen Par. Not one to rest on his past laurels, Aamir is now focusing on his next project, Delhi Belly, a film to be made in English and for the International market. Come March, Aamir will launch Delhi Belly, which will feature Indian actors but will have some key foreign crew as well. Robert Nylund, a young and talented director from Sweden will lead the team of Delhi Belly.
Director Vikram Bhatt is all set with his latest venture titled 1920, produced by ASA Films Pvt. Ltd. The director has now turned producer by joining hands the production company in this venture. The film launches two new talents, Rajneesh Duggal, a well-known model, and Adah Sharmam. Set in the year 1920, the film traces the love story of an Indian boy and an English girl. The two get married despite heavy opposition, and the story unfolds on the premises of a supernatural thriller.
Reputed filmmaker Sajid Nadiadwala has his hands full in 2008. First on the list is the Akshay Kumar-Kareena Kapoor film, Kambakth Ishq, which is said to have roped in international stars Arnold Schwarzenegger and Beyonce. Next, Sajid's production house rolls with an animated version of the Salman Khan hit Judwaa, which is then, followed by a film with Siddharth Anand starring Salman Khan and Saif Ali Khan. The next project after that will be Sajid Khan's second film starring Akshay Kumar and (rumor has it) Kareena Kapoor and Vidya Balan together. Another project with David Dhawan is on tap, which again stars Akshay Kumar. Finally, an action film with Salman Khan called Sankee! Indeed, what a list for this prodigal filmmaker!