Biden-Sanders Unity Task Force Designates Six American Indians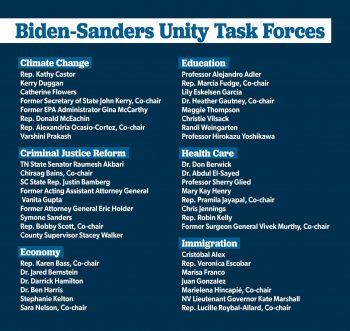 Senator Bernie Sanders endorsed Joe Biden, presumptive Democratic Party presidential nominee's campaign and the multi-purposed Unity Task Force is one of the outcomes. It is a matter of pride that six well known Indian Americans from different areas of expertise have been chosen by the Unity Task Force to join. They have jointly selected a group of leaders and experts for their Unity Task Force with the goal of policy initiatives in six areas. These are climate change, economy, education, criminal justice reform, immigration and healthcare. The task force is expected to have a meeting ahead of the Democratic National Convention and put forward recommendations to the DNC Platform Committee and to Biden. The ultimate goal is to craft a possible agenda for Democrats in 2020.
Former Surgeon General Vivek Murthy and Seattle Congresswoman Pramila Jayapal get to co-chair the Health Care Task Force.
Varshini Prakash, 26, co chairs the Climate Change Group along with former Secretary of State John Kerry. At 26, she is the youngest member and executive director of the Sunrise Movement, an organization targeting young people and their involvement in climate change. She gives credit to Bernie Sanders for the appointment. She is of the opinion that the movement can begin a Green New Deal under Biden if he is elected President. The country, she is alleged to have said, cannot afford another four years of Trump. Fox News latest poll survey finds that Biden leads Trump by 48-40 per cent. The race for the November polls is evenly poised.
Chirag Bains, a rising legal luminary, co chairs the Criminal Justice Reform Task Force.
Sonal Shah, a leading economist and former lobbyist is inducted into the Economy Task Force.
Senator Bernie Sanders
Joe Biden
Unity Task Force
Indian Americans
Democratic National Convention
Vivek Murthy
Seattle Congresswoman
Pramila Jayapal
DNC Platform Committee
Democrats in 2020
Former Surgeon General
Former Secretary of State
Criminal Justice Reform Task Force
Sonal Shah
Economy Task Force
Chirag Bains
Varshini Prakash
Sunrise Movement
Green New Deal
Fox News
latest poll survey
John Kerry
Bernie Sanders
Health Care Task Force