Seema Verma's Medicare Plan for Cap on Insulin Bills for Senior Citizen Earns Her Thanks from Trump
Seema Verma heads the Centers for Medicare and Medicaid Services and is a health policy consultant. She evolved a Medicare plan for seniors to cap their insulin bills at US$ 35 per month. This came in the wake of her being appointed a key member of the White House Coronavirus Task Force set up by President Trump in March.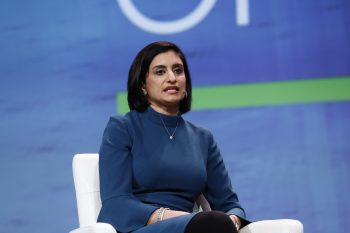 Her plan is the Senior Savings Model that should see insulin prices drop to USD 35 per month starting next year but only for those people who are on Medicare, according to a White House statement released Tuesday. The reduction is arrived at after an agreement was reached between the Trump administration, insurance companies and insulin manufacturers. According to the White House there are 3 million Americans on Medicare who must use insulin to control diabetes
President Trump, in his Rose Garden speech said that it was a big day for seniors and he hoped they would remember it. He made it a point to thank Seema. "I want to thank you because you brought this to my attention a long time ago and you worked very hard on this day," he said. "Thank you very much for the job you've done helping achieve the incredible victory for Medicare patients nationwide." Verma, in turn, thanked the President for his commitment to reducing cost of the drug and protecting the Medicare program. The plan to cap insulin price will have more expensive premium starting at US$ 17 per month compared to the basic plan premium. Those who opt for the higher premium get the maximum fixed co-pay of US$ 35 per month's supply of insulin. This will lead to saving of 66 per cent on insulin cost for seniors.  She went on to say that if this plan succeeds then the administration will initiate further plans for other expensive drugs.
It is one of Trump's pledges to reduce cost of prescription drugs but Congress does not see eye to eye with him.
Seema Verma
Medicare Plan for seniors
Medicare program
White House Coronavirus Task Force
Senior Savings Model
Rose Garden speech
Medicare patients
cap insulin price
insulin costs for seniors
Centers for Medicare and Medicaid Services
health policy consultant
higher premium
basic plan premium
fixed co-pay