Bigg Boss 14 food waste controversy
No, it is not just Rubina Dilaik, even Nikki Tamboli joins her to slam Sonali Phogat's habit of throwing food into the garbage showing that actions are open to criticism on the show.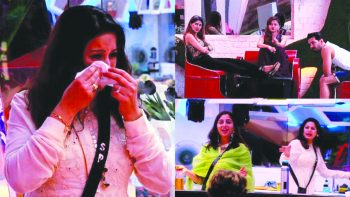 The camera pans to the kitchen where viewers see Arshi busy cooking food and Sonali as she munches on breakfast. Arshi tells Sonali that food is limited, and then yells that he gave Sonali the share of parathas that should go to Rakhi Sawant and that he also gave up his share and that Sonali has already had four parathas. How much does she want, he wails.
Understandably, this upsets Sonali so much so that she stands up and hurls the food into the garbage and breaks down into a flood of tears. Arshi, the good chap that he is, does not console her, but goes to Nikki, Rubina and Abhinav Shukla and tells them what Sonali did to the food. Understandably, they all howl in protest at this act without knowing that Arshi had, in the first place, yelled at her.
Rubina states that Sonali gives herself airs and that they are adjusting to her nature, but it does not give Sonali the right to disrespect food. For good measure she tells Sonali to go home and dump food in the garbage there. Nikki too jumps in to lambast Sonali and yells at Sonali that she is shamelessly wasting food. Millions do not get food and here she is, wasting food and that she is totally stupid.
This possibly enrages Sonali who grabs Nikki by her hand, but Vikas Gupta and Aly Goni jump in. Sonali asks Bigg Boss to intervene and send her home. She declares she does not wish to continue. Throwing food seems to be second nature to Sonali. Earlier, she had thrown food after her altercation with Nikki.
The audience watches all these going-ons with bated breath.
Click Here for More
Bigg Boss 14
Rubina Dilak
Nikki Tamboli
Sonali Phogat
Rakhi Sawant
Bigg Boss House
Abhinav Shukla
Vikas Gupta
Aly Goni