Sanjana Sanghvi begins filming for Om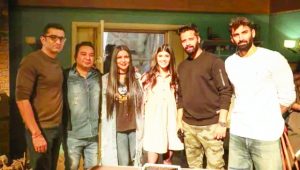 Sanjana Sanghvi wooed the world with her impressive portrayal as the love struck girl with a deadly disease in the cinematic adaptation of the smash hit book by John Greene, Fault in our Stars. The film Dil Bechara was also co-star Sushant Singh Rajput's last movie, earning good results at the box office. Currently, the actress is working on a completely different genre of film, Om: the Battle Within, which stars Aditya Roy Kapur. As of now, film makers are not sure about release dates given the pandemic situation in India.
Sanjana was also seen in Guru Randhawa's latest song "Mehendi Wale Haath." The hit video features a soulful love song about a soldier who has to leave for his patriotic duties leaving behind his new bride. The picturesque song was shot in Himachal Pradesh and stars Guru Randhawa along with Sanjana.
The actress also shared an Instagram post recently about the late Sushant Singh Rajput whose birthday was January 22. Sharing a picture of the two of them happily grinning on sets, the actress posted that she wished for Sushant to keep smiling forever wherever he was. In an earlier interview, Sanjana mentioned that she used to balance shooting and education when she began working and was glad that she had a supportive school environment.
The actress was a mere 13 years old when she appeared in Imtiaz Ali's Rockstar with Ranbir Kapoor and Nargis Fakhri. The actress revealed that her practice papers used to be posted to her! "It is this kind of support that has helped me secure my future," reveals Sanjana.
Click Here for More
Sanjana Sanghvi
John Greene
Fault in our Stars
Dil Bechara
Sushant Singh Rajput
Aditya Roy Kapoor
Guru Randhawa
Mehendi Wale Haath
Imtiaz Ali
Rockstar
Ranbir Kapoor
Nargis Fakhri