Bollywood Bachelors
As an invariable outcome of romance quite a few of such relationships do end in marriage. Even still, the number of such bachelors in Bollywood is not a miniscule figure and on its own, these stars can themselves create a multi-starring blockbuster.
Take the case of Salman Khan. Sallu Miah does not require any introduction, as he has been part of Bollywood's top star bracket ever since he featured in Maine Pyar Kiya in the early nineties. This humble, benevolent yet highly controversial star has had his share of romantic hook-ups from Sangeeta Bijlani, Somy Ali, Aishwarya Rai, and currently Katrina Kaif. To date, marriage for this 43-year-old hunk is a distant reality. News agencies often flash the story of his marriage with Katrina, only to follow up with a denial from one of the two stars.
Another top-ranked bachelor star of the industry is Akshaye Khanna. This prodigal son of Vinod Khanna has enthralled his fan following with a number of hits in both comic and serious roles. The cleft-chinned, soft-spoken actor is not only intense and intelligent but also charming in his own right. Few on and off romantic relationship have been heard about this star, and wedding bells are yet to be heard for this extremely talented actor who gave us hits like Hungama, Dil Cvhahta Hai and the off-beat Gandhi My Father.
Vivek Oberoi, another star-son, has been able to make his mark in the industry through memorable movies like Saathiya and Omkara. More often known for his love affair with Aishwarya Rai and the subsequent break-up as well as for flaunting his silken hair and his charming personality, no doubt Vivek has stolen the hearts of many, but ultimately when he is going to tie the marital knot still remains to be seen.
John Abraham is another name that comes up along with his beau the dusky Bengali beauty, Bipasha Basu. Their relationship, according to industry sources, has seen many ups and downs following the alleged hook-ups with their co-stars, but somehow the bond has remained firm to date. Both talk about the stability of their relationship and marriage, but when that will actually be carried out remains a big mystery. In the ever-changing world of Bollywood relationships, girls can have some hope as the suave, good looking and macho-man John Abraham is still one of the most eligible bachelors of Bollywood.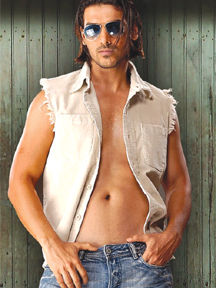 Another actor with a Bipasha Basu connection, for whom the "I do' is yet to be uttered is Dino Morea. This actor might not have blockbuster hits under his belt, but he still pulls a huge fan following owing to his unique style. Extremely good looking, polite and no doubt a good actor, this star with his Italian lineage was once all set to tie the know with Bipasha, but after the break-up he still remains unmarried. Probably waiting for the best to come!!
Young and spirited Aftab made his debut as an actor in Ram Gopal Verma's Mast where he played the boy next door. His real hits came with comedies, Awara Pagal Deewana, Hungama, and the biggest hit of his career Masti. He is popularly known for his charming dimpled smile, innocent looks and his affairs are always the talk of the town. Still a bachelor, Aftab also commands a place in this discussion on his own merits.
While these were some of the Bollywood bachelors who crossed the 30-year age mark, there is a handful from the young brigade who needs special mention. They may be in their formative years, but given their charm, aura and popularity, they are constantly in the news owing to the alleged hook-ups with their co-stars and certainly, the hope and aspirations of many a million females.
Imran Khan has caught the attention of the cine-audience following his cool, caring and boy next door, performance in his debut Jaane Tu Ya Jaane Na. The chocolate-faced American-Bollywood actor oozes enough confidence in his performances and has a great future ahead in the industry. Though barely in his youth, there is no dobut that Imran features are in the dreams of not only thousands of female fans, but also in some of his co-stars' as well. He happens to be one of the most eligible bachelors from the Mumbai film world.
Now Imran to Shahid. What can one say about such a sweet and charming personality? Following his much hyped break-up with Karena Kapoor, Shahid has learned to move on and move on with style. The heart-throb of every girl in town, Shahid came to prominence after his spectacular performance in Ishq Vishq, which he followed up with roles in Fida, Vivaah and the super successful Jab We Met. His charming personality and cute looks can make any lady fall for him and now that he is again single, he is a great prospect.
Kunal Kapoor is another eligible bachelor from the film industry, for whom if looks could kill, he would have been sentenced to 1,000 years in jail. His role in Aamir Khan's blockbuster Rang De Basanti swept many hearts off their feet and made him a sensation overnight. Kunal is a film buff and enjoys everything that goes in filmmaking. A model turned actor, he fits into the mould of hard-bodied heroes with an edge and promises to make it very big in Bollywood.
And, as they say, the best is saved for the last. We have one more name on our list of eligible bachelors, one that will make all women from 10 to 60 go ga ga. Coming from a lineage which produced the finest actors and stars of Indian film industry and with parents both being pillars of Bollywood, Ranbir Kapoor needs no introduction. His debut vehicle Saawaariya may have fallen flat at the box office, but this prodigal son of Rishi Kapoor and Neetu Singh mesmerized one and all with his electric performance. While, his present affair with Deepika Padukone remains the favorite topic of all film magazines, Ranbir continues to regale his fan following both on and off the screen.
In the dreamworld of Bollywood, these stars remain in the dreams of millions of unmarried girls who yearn for them, fantasize about them, and hope that someday, maybe this star of the galaxy could be hers. And on their part, these eligible bachelors of Bollywood continue to remain an enigma in their relationships.