NRI Success Stories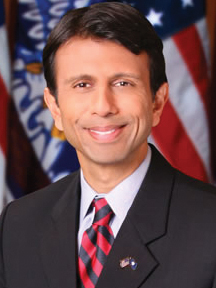 Bobby Jindal
The political history of the United States has seen many iconic figures make an indelible mark in the minds of the people through their work and identity. The list includes several first generation and second-generation immigrants, who came from foreign shores and made the United States their adopted home. Unfortunately, until recently, the list did not include any significant Indian-American name. Now, we have someone who not only have made a stronghold for himself in the US politics, but is also touted as a potential contestant for the next presidential elections in 2012.
Bobby Jindal, born Piyush Jindal (1971) in Baton Rouge, Louisiana, to Punjabi Indian Agrawal immigrants Amar and Raj Jindal, made a huge uproar in the United States and India, when he was elected governor of Louisiana, winning a four-way race in October 2007. In the process, he became the first non-white to serve as governor of Louisiana since Reconstruction, the first Indian American elected to statewide office in U.S. history, and only the second so in Congressional history after Dalip Singh Saund, who served as a Democrat between 1957 and 1963.
Jindal, whose parents hailed from the village of Khanpura in India, was a Hindu by birth but converted to Catholicism while in high school. He graduated from Brown University with honors in biology and public policy. Afterwards, he received a master's degree in politics from Oxford University as a Rhodes scholar. Thereafter, he joined the consulting firm McKinsey & Company, where he advised Fortune 500 companies. In 1996, Jindal married Supriya Jolly and the couple have three children Selia Elizabeth, Shaan Robert, and Slade Ryan.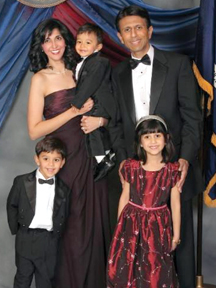 Jindal's brush with public services began in 1996, when he was appointed as Louisiana Secretary of Department of Health & Hospitals. Thereafter, he has been the Executive Director of the National Bipartisan Commission on the Future of Medicare (1998) and Assistant Secretary for Planning and Evaluation in the U.S. Department of Health and Human Services (2001). He was also the youngest ever president of the University of Louisiana System. Before being elected governor, he was a member of the United States House of Representatives from Louisiana's 1st congressional district, to which he was elected in 2004. Jindal was re-elected to the House in the 2006 election with 88 percent of the vote.
While Jindal took everyone in the political circle by surprise when he announced his candidature as the Governor of Louisiana, poll data showed him in the lead from the beginning and he went on to defeat eleven opponents in the nonpartisan blanket primary, who included some reputed names. He finished with 54 percent of the vote. In his gubernatorial job, Jindal continues to serve the people of Louisiana with his intelligence, reputation for integrity, earnestness, religiosity and conservatism that has become his trademark. Chosen by Scholastic Update magazine as "one of America's top 10 extraordinary young people for the next millennium," Jindal has been extremely honest with issues that are close to his heart and never lets political diplomacy rule his actions.
It is a matter of great pride and prestige for the Indian American community that Jindal is often mentioned as a potential candidate for the 2012 presidential election, though the man himself begs to differ. President or not, Bobby Jindal will always stand out as a man of Indian descent who has shown what it takes to be on the top of the charts in the United States political arena.
---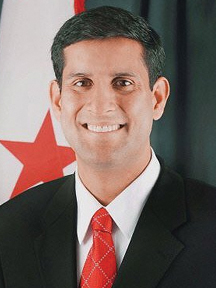 Vivek Kundra
Barack Obama ascension as President of the United States has been received with jubilation from the Indian American community as well as those in India who love to keeping track of U.S. politics. As he was about to assume office, Obama appointed a sizeable number of Indian Americans to his transition team, either as a well-calculated move to win over this huge immigrant block or simply to vindicate the faith placed on him. The list included names like Parag Mehta, Arti Rai, Anjan Mukherjee, Rachana Bhowmik, Subhasri Ramanathan, Natasha Bilimoria, and Puneet Talwar among others.
The most notable appointment came shortly after Obama took charge of the White House when he selected New Delhi-born Vivek Kundra, 34, to the new administrative position of the Federal Chief Information Officer (CIO). This prestigious and highly responsible post directs the policy and strategic planning of federal information technology investments and is in charge of the entire technology budget of the federal government. The CIO establishes and oversees enterprise architecture to ensure system interoperability, information sharing, and ensure information security and privacy across the federal government.
Vivek Kundra, though born in New Delhi, was raised in Tanzania, a country to which his parents immigrated. Later, he moved with them to the United States and grew up in Gaithersburg, Maryland. Kundra earned a degree in psychology and a master's degree in information technology from the University of Maryland. He is also a graduate of the University of Virginia's Sorensen Institute for Political Leadership.
Prior to accepting the position as the new Federal Chief Information Officer, Kundra served on Barack Obama's transition team. He served as the Chief Technology Officer (CTO) for the District of Columbia. He was appointed to that position in March 2007. In D.C. Mayor Fenty's cabinet, Kundra was responsible for the technical operations and strategy of 86 agencies. He has also served as Assistant Secretary of Commerce and Technology for the Commonwealth of Virginia. He was appointed to that position by Governor Timothy M. Kaine. In addition to his government positions, he has held positions in the private sector and academia.
Kundra was among the top 25 CTO's in the country and was recognized as the 2008 IT Executive of the Year by reason of his pioneering work to drive transparency, engage citizens and reduce disbursements on government operations. Also, Kundra is recognized for his leadership in public safety communications, cyber security and IT portfolio management. He is well known for his work in developing programs to spur open source and crowd sourced applications using publicly accessible web services from the District of Columbia with an initiative called Apps for Democracy. His efforts to use cloud-based web applications in the District government have been considered innovative within government.
President Obama's faith in the capability of Kundra is best manifested in his own words, when he said, "Vivek Kundra will bring a depth of experience in the technology arena and a commitment to lowering the cost of government operations to this position. I have directed him to work to ensure that we are using the spirit of American innovation."
It is quite obvious that the entire Indian American community is now looking up to Kundra as the man who can make it big in the government. And why not? If the President can have full faith in him, Kundra is sure to be successful.