Bollywood Celebrity Couples On the 2019 Wedding Watch List
Bollywood Celebrity Couples On
the 2019 Wedding Watch List
Wedding bells began ringing loud last year for Bollywood and the faint echoes are still tinkering into this year. With #couplegoals trending since 2018 the last year literally marked itself as the "Celebrity Year of Marriages in Bollywood" with Priyanka Chopra and Nick Jonas, Deepika Padukone and Ranveer Singh, Sonam Kapoor and Anand Ahuja having taking holy vows. Stepping into 2019 isn't going to be sans chatter-mutter-rant from Bollywood celebrity couple marriages. In fact, this year is going to be bigger and better with the anticipation and excitement of larger than life Bollywood weddings. Here are the celebrity couples expected to make it to the wedding hall colloquially known as the "Mandap!"
Ranbir Kapoor and Alia Bhatt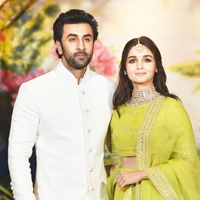 The most touted celebrity couple is rumored to be getting more serious about their relationships. Their bonding reflects in their involvement in each others families last year when Alia Bhatt reportedly spent a lot of time with Ranbir's family in New York during father Rishi Kapoor's medical treatment. Recently, on being asked about marriage with Ranbir, Alia reportedly said, "I think people should now take a break. We have had two beautiful weddings last year. I think we can chill now, watch movies, work in movies, and rest can be seen later." Will they make it to be alter before the trilogy of Brahmastra production ends?
Varun Dhawan and Natasha Dalal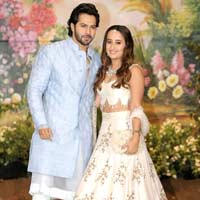 While nothing is confirmed or made public, it is believed that the childhood sweethearts are going to be ringing in weddings bells in the month of November this year, the rumored date is November 2. According to tabloids, bride-to-be Natasha has already started wedding shopping. Varun continues to maintain silence and has not yet confirmed his plans. He did however speak about Natasha in Karan Johar's show Koffee with Karan about dating her!
Ali Fazal and Richa Chadha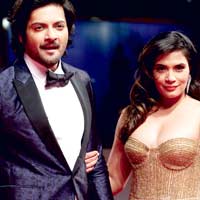 This simple but much in love Bollywood couple has been closed lipped about their marriage plans. Their relationship started on the sets of Fukrey and is still going strong. Richa Chadha on being questioned about her marriage said that they have not planned anything as yet as both Ali and her are focusing on their career. Ali, on the hand, said that, if it happened it wouldn't be hush hush! The couple seems to be going strong and has no qualms about declaring their love for each other. Will they make it or no?
Rajkumar Rao and Patralekha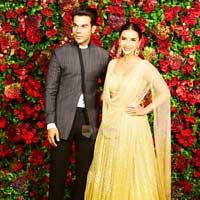 The rustic charmer Rajkumar Rao known for this critically acclaimed roles and movies is open about his love and relationship with actor Patralekha. This Bollywood couple has been steadily dating each other for quite a while. On being asked about marriage recently, Rao said that marriage with Patralekha is on the table, but not now as they are currently focused on there career goals. Guessing that wedding bells will ring in a little for this lovely couple!
Nargis Fakhri and Matt Alonzo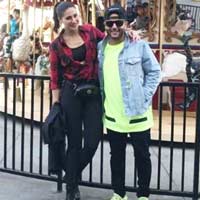 This good looking couple hasn't really confirmed anything about their plans like all the others. But, recently the two showed some PDA on social media featuring tattoos with their initials MN on a king and queen crown. While Nargis commented on the picture saying, "meant to be," Matt, an American director posted emojis of engagement rings in response to her. Emojis are a new language these days, no?
Arjun Kapoor and Malaika Arora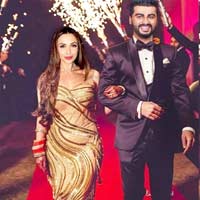 Arjun Kapoor and Malaika Arora are all over the place and are painting the town red. The couple has been spotted at parties, events, and dinners together. Arjun even went on air on Karan Johar's show saying he was open to the idea of marriage. Rumor mills are rife that the couple is planning to tie the knot in April 2019. Adding to the fuel, recently Malaika Arora has dropped 'Khan' from her social media handles…hmmm! This couple sure seems to be in the mood to bring in 2020, but married!
Arjun Rampal and Gabriella Demetriades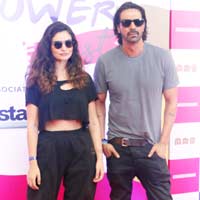 Arjun and Gabriella have been in a relationship after Arjun's divorce from his 20 year old marriage with Mehr Jessia. While this couple may not be tying the knot soon they sure could be hinting at things. Recently, Arjun posted a picture of both of them having attended a wedding. Social media noticed this fun and cheeky post when Arjun posted a photo with Gabriella that said, "at a wedding, not mine!" Wedding may not be on the cards but could be on the mind?
Farhan Akhtar and Shibani Dandekar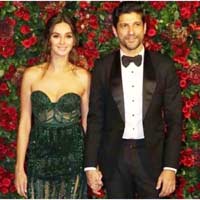 Recent rumors suggest this power couple have just secretly tagged themselves as "engaged!" Supposedly tying the knot as soon as March or April 2019, the couple has been shying away from making their relationship public. The couple has been dating for a while and reportedly Farhan's kids are now opening up to Shibani as well. Of late, the two have been showing up at parties and events together as well as expressing their love quite a bit on their social media profiles! For the moment they are looking out for wedding planners and caterers for the upcoming celebrations!
Freida Pinto and Cory Tran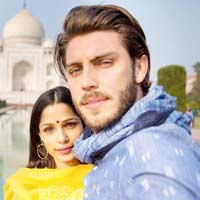 The much in love and serious couple Freida and Cory are planning to tie the knot this year. Apparently sources suggest that Frieda was thinking about marriage and Cory has also proposed to her. The two are expected to marry with close family and friends in an intimate ceremony. They have been going strong in a long standing committed relationship. Rumor mongers suggest they could even be engaged!
Posted on: 02-20-2019 by: Deshvidesh
Ranbir Kapoor and Alia Bhatt Wedding
Varun Dhawan and Natasha Dalal Wedding
Ali Fazal and Richa Chadha Wedding
Rajkumar Rao and Patralekha Wedding
Nargis Fakhri and Matt Alonzo Wedding
Arjun Kapoor and Malaika Arora Wedding
Arjun Rampal and Gabriella Demetriades Wedding
Farhan Akhtar and Shibani Dandekar Wedding
Freida Pinto and Cory Tran Wedding
Bollywood Celebrities Weddings
Bollywood Celebrities Weddings Dates