Editorial
Dear Readers,
"My life is my message." Those words were written on a small piece of paper by Gandhi ji (my most favorite leader, hero and mentor) years ago when he was fasting and an American reporter asked what message he would like to convey to the American people. Those words are still true and applicable when you read any article or book written by Gandhi ji or written by anybody else about Gandhi ji. This year on October 2, 2019, we celebrate Gandhi ji's 150th birthday. As a board member of International Hindu University, I am very pleased to inform all of you that in collaboration with Florida Atlantic University, we will be hosting an International academic and cultural conference at the FAU Boca Raton and Davie campus in October 2019.  Please continue reading Desh-Videsh magazine and checking the Desh Videsh website for further details.
I am also pleased to inform you that several Gandhian scholars have suggested that Desh-Videsh publish one article by a different Gandhian scholar in every issue to celebrate the leader's 150th birth celebration. It is our honor to present two such articles this month. The first is by Dr. Douglas McGetchin, FAU professor and Gandhian scholar, and the second article is by Prasad ji, also a Gandhian scholar who is from Hyderabad, India. Keeping in mind that this issue is a special edition about Health and Wellness, Prasad ji has written an article on Gandhi's view on health. Please give us your feedback and also share your suggestions for any Gandhi scholars to whom we should reach out.
Now let me turn to the topic of our special edition, Health and Wellness. We have several timely topics for readers this month! We all know eating healthy and exercising is a must, but what about other aspects of our health? This issue includes articles about getting enough quality sleep as well as how to disconnect from technology mindfully. Contributor Saira Gillani discusses the benefits of stem cell therapy over knee surgery – a common ailment for many in our community. And contributor Nisha Jani tackles a tough subject, mental health, and she encourages readers develop awareness in their own families and the community overall.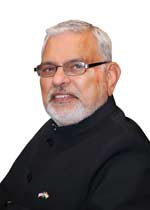 Before I leave, I want to thank everyone who joined us last month at our Atlanta and Raleigh MyShadi Bridal Expos. Aruna and I love meeting with couples as well as reconnecting with our vendors! The next show for the season will be in Orlando on April 28 at the Hilton Orlando. Our flagship show, the Orlando MyShadi Bridal Expo is not be missed! Join us from 12 – 5 pm to meet with event planning vendors and see the latest South Asian wedding trends in person. Register to attend online at myshadibridalexpo.com – admission and parking are both free! We hope to see all you newly engaged couples there!
Raj Shah
Managing Editor
Posted on: 02-4-2019 by: Deshvidesh
International Hindu University
Florida Atlantic University
International academic and cultural conference
FAU Boca Raton
Davie campus
Dr. Douglas McGetchin
Gandhi ji's 150th birthday Celebration
special edition about Health and Wellness
Saira Gillani
stem cell therapy over knee surgery
Nisha Jani
Atlanta MyShadi Bridal Expos
Raleigh MyShadi Bridal Expos
Orlando MyShadi Bridal Expo
South Asian wedding trends
Hilton Orlando