Bollywood Movie Review: Tanhaji: The Unsung Warrior
Cast: Ajay Devgn, Saif Ali Khan, Kajol Devgn, Sharad Kelkar, Jagapathi Babu, Luke Kenny
Director: Om Raut
Music Director: Ajay-Atul, Sachet–Parampara, Shankar–Ehsaan–Loy, Sandeep Shirodkar
Visually Enticing; Historically Adrift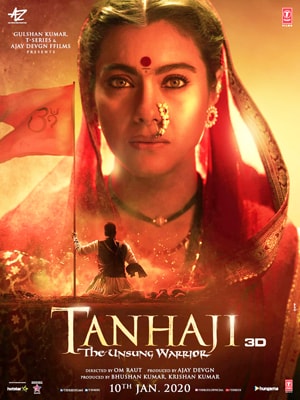 Rewriting history is perilous as it is often hard to portray characters, events, and locations with accuracy. A slight misrepresentation or loose facts can hurt the sentiments of a community, or it can present a distorted history. However, the makers of the movie Tanhaji: The Unsung Warrior have taken the liberty to never mind the historical inaccuracies. So keeping that aside, the movie appeals to cinematographic senses and presents an ode to another mighty Maratha warrior – Tanhaji Malusare – after last month's release of Panipat.
In the late 17th century, the Mughal Emperor Aurangzeb (Luke Kenny) strives to expand his empire down South with the only obstacle in his path, i.e., defeating the Mighty Marathas who are hell-bent on bringing their Swarajya back under the headship of Chattrapati Shivaji Maharaj (Sharad Kelkar). In a deceptive ploy, set up by Aurangzeb, Shivaji had to surrender 23 forts including the Fort of Kondhana – strategically important to rule the Southern part of India – to the Rajput General, Mirza Raje Jai Singh. Aurangzeb sends Udaybhaan Singh Rathod (Saif Ali Khan) armored with cannon 'Naagin' powerful enough to destroy the fort.
Ajay Devgn plays the eponymous Maratha warrior Tanhaji Malusare, a military leader (Subedar) in the army of Chhatrapati Shivaji Maharaj, known for his great valor and patriotism. Postponing his son's wedding, he led Maratha forces to recapture the Fort of Kondhana. Kajol portrays the ideal role of Tanaji's wife, Savitribai Malusare. Though not much space is given to highlight her character, it is still a treat to see her sharing the screen with her husband after a long time.
Saif's solid performance embraces a barbaric and ruthless role. The stellar performances by Saif Ali Khan as villainous Udaybhan, and Ajay Devgn as a brave warrior Tanhaji will keep you on the edge of your seat.
Directed by Om Raut, this thrill-packed action movie is credited with climactic sequences, picturesque locations, high on CGI, and 3D cinematographic, which is impressive and visually stunning to look at. The movie released on January 10, 2020.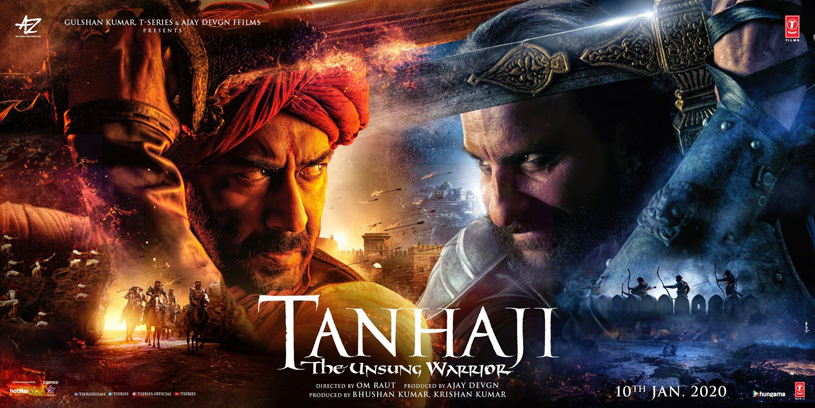 Other Bollywood News
Tanaji's wife Savitribai Malusare
Fort of Kondhana in India
Chattrapati Shivaji Maharaj
Mughal Emperor Aurangzeb
Tanhaji: The Unsung Warrior
Luke Kenny
Jagapathi Babu
Sharad Kelkar
Kajol Devgn
Saif Ali Khan
Ajay Devgn