Bollywood Today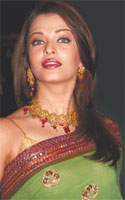 Aishwarya Rai to turn Kalyan Jewellers' brand ambassador soon
Beauty queen Aishwarya Rai Bachchan is making few toddler footsteps into the glamour world post-delivery. Reportedly, Aishwarya might soon turn the brand ambassador for Kalyan Jewellers, the gold major from Kerala. She is likely to shoot an ad soon for a contract amount of $2 Million.
Interestingly, Ash's father-in-law, Amitabh Bachchan will become the co-ambassador for the same brand. A senior executive of Kalyan Jewellers informed a leading daily that they are all set to sign the agreement with the Bachchans soon.
Aishwarya currently made her appearance at the Dubai World Cup to present the Most Elegant Lady prize to Carolyn Coe. Interestingly, Ash also carried her four-months old daughter Aaradhya Bachchan to Dubai but kept her away from the event.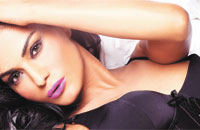 Veena trying to do a Vidya Balan!
Pakistani actress Veena Malik seems to be following Vidya Balan's footsteps. She has finished shooting for three Bollywood films, "Daal Mein Kuch Kaala Hai", "Zindagi 50-50" and "Mumbai 125 km", and says all are female centric movies.
"I have always tried to choose and sign such films which have a female-oriented character, where the script is based on the female protagonist," Veena told reporters here.
"Daal Mein Kuch Kaala Hai" is a comedy, "Zindagi 50-50" is an issue-based drama and "Mumbai 125 km" is a suspense-thriller.
Veena is now shooting for "Rajani Ki Lag Gai".
"I don't have a hero in any one of films I have signed till now except 'Supermodel'. Every film is the story of a girl and the whole story revolves around her." She has teamed up with Ashmit Patel in "Supermodel" – the two became close when they featured in the reality show "Bigg Boss 4".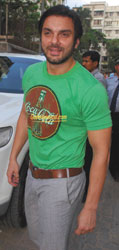 Sohail praises hardworking Rakhi Sawant
Rakhi Sawant has found a fan in actor-filmmaker Sohail Khan, who admires the item girl for her hard work and talent.
Rakhi appeared on the special episode of "Kahani Comedy Circus Kii" and Sohail couldn't stop heaping praises at her and appreciated her for what she is today, said a statement.
"Everyone hates Rakhi or says bad things about her because they are jealous of her. You are what you are today all because of your hard work and determination," Sohail told Rakhi on the show.
Rakhi also thanked him for his words of appreciation.
Raza Murad to play Shah Jahan in 'Veer Shivaji' (TV Snippets)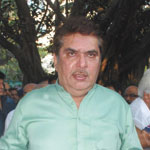 Veteran actor Raza Murad, known for playing negative roles in films, will be seen as Mughal emperor Shah Jahan in the TV show "Veer Shivaji". He feels the role will give him a chance to create a new image.
"I have worked on television and love the medium for its connect with the audience. I found 'Veer Shivaji' an interesting project as it showcases the life of the great Maratha warrior and takes you back to history," Raza said in a statement.
After keeping himself busy with regional cinema, especially Gujarati, Punjabi and Bhojpuri films, the veteran actor is upbeat about returning to the small screen and replaying a historical character
.
"I will be playing Shah Jahan and will enter the show when Shivaji seeks his support to release Shahaji Raje from Adilshah's custody," he said. The show is being aired on Colors.
"I am now working on my look closely with the production team and I hope the audiences like my work. I have played many negative roles in films and television gives me an opportunity to break this image and portray another side of me," he added.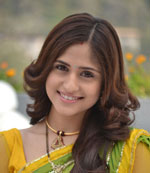 Hunar Hali admires Kajol's versatility
Like most TV actors, Hunar Hali too wants to do different kinds of roles and considers Kajol the best example of versatility.
"As an actress, I always want to be versatile. I don't want to be stereotyped where people say that she can only fit into a certain role. That's the reason I like Kajol because she is a person who is truly versatile," Hunar told IANS.
The 22-year-old, who bagged her first lead role with Colors' "Chhal – Sheh Aur Maat", says the thriller genre was interesting for her to take up.
"I should always do something new and different, and that's a challenge for me. This show was challenging, that's why I took it up," she said.
Hunar has earlier been seen in supporting roles in shows like "Grahasti", "12/24 Karol Bagh" and "Sasuraal Genda Phool".
She says it's easy to get stereotyped on the small screen.
"When you play a bhabhi or a mother, that's when you are typecast. Once a mother always a mother. I am a young girl, and I have so far played roles of young girls only…so I don't fear being typecast as of now," she said.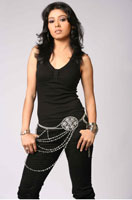 Bollywood needs people who can sing anything: Sunidhi Chauhan (Interview)
Her mother has bought 18 dresses for her trousseau, and Sunidhi Chauhan is highly excited about her wedding. But that hasn't stopped one of India's best known playback singers from touring the country for a reality show. She says Bollywood musicians are always on the lookout for a versatile voice.
"I think god has blessed me with everything as he allowed me to follow my passion that is singing. Singing is not a job for me because I can sing any time and anywhere. I am glad I am doing something which I love to do," Sunidhi told IANS.
The 28-year-old, who was previously married to choreographer Bobby Khan, is excited about a future with musician Hitesh Sonik, known for composing in films like "Pyaar Ka Punchnama", "My Friend Pinto" and "Stanley Ka Dabba".
"It is a big day for me. Though we haven't announced the date yet, it is going to happen very soon. It's really difficult to manage so many things as there is big anxiety about the big day. Also, the feeling is giving me sleepless nights – in a good way," she said.
So who is going to design the wedding trousseau?
"I am not a brand-conscious person. I am not into designing, but the designer who makes clothes for me, Joe Noorani, will do the wedding trousseau as well. Also, I have left everything to my mom. Whatever she buys for me, I am ok with that. She has already bought about 18 dresses," she said.
She is excited about her wedding and at the same time the singer is looking forward to judging the sixth season of "Indian Idol" and is currently busy taking auditions across India, including cities like Delhi, Lucknow, Ahmedabad, Rajkot, Aurangabad and Mumbai.
Asked what kind of singers Bollywood needs, she said "versatility" is all that filmmakers and music directors look for.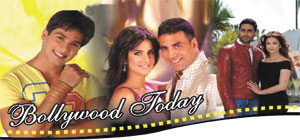 "Bollywood always needs versatile singers, a person who can sing anything under the sun. It's very important because if a music director likes a certain voice, he wants the singer to sing every kind of song – from soft ones to peppy numbers," she said.
"And this is what I am trying to do even after spending 17 years in the music industry. I am just trying to break the notion that Sunidhi is made for fast numbers. I had to actually think beyond and slow down," she said.
She is the winner of the singing reality show "Meri Aawaz Suno". She won it in 1996, but feels the definition of reality show has changed now.
"'Meri Aawaz Suno' was a musical show that was pure. There was neither a voting system nor an elimination round. It was the panel of judges who used to decide who is a better singer. So, I would say it was a rather tough and proper competition.
"Now a lot depends on voting. As a result, at times, good singers get eliminated while average singers win the show," said Sunidhi, who will be next heard in movies like "Joker" and "Vicky Donor".