Color Yourself Holi!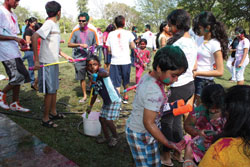 Bright colors, tasty treats, watergun fights, music, dancing and of course the lighting of the sacred fire. This is how we know the festival of Holi has come. For Hindus everywhere the coming of spring brings us the possibility of rebirth, new opportunities and an opportunity to engage in childlike fun.
On Saturday, March 10th, 2012 Broward Chapter of World Hindu Council of America held a joyous celebration in South Florida at C.B. Smith Park. Over 250 individuals joined in the celebrations from the supporting organizations of South FL Hindu Temple, Shiva Mandir, Shiva Vishnu Temple, Arya Samaj of South Florida, Ekal Vidyalaya, Hindu Swayamsevak Sangh, Sewa International, Eka Vidyalaya and Param Shakti Peeth of America. Many volunteers came together to prepare delicious Indian cuisine, and Woodlands of Ft. Lauderdale catered delicious dosas. The program was commenced with Sanskrit peace chants, followed by the lighting of Holika Dahan, after which everyone joined in the fun of decorating each other with vibrant colors.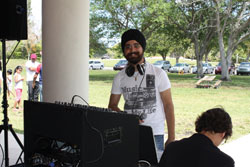 Holi, a festival spanning over centuries has not lost its significance as each spring Hindus in every part of the world gather together to celebrate. The festival of Holi finds its origins in several Puranic stories. One of the most widely known stories is of Prahalad and Hiranyakashyipu. Hiranyakashyipu was the father of Prahalad, a young and devout devotee of Lord Vishnu. Hiranyakashyipu did not approve of his worship and sent his demoness sister Holika, who was immune to fire to take Prahald into a fire and destroy him. Through a divine play Holika was burned instead and Prahalad was saved. The burning of Holika is significant and it is for this reason every year Holika Dahan is performed. The demoness Holika represents ignorance and lower tendencies that must be burned before we can secure firm devotion in God.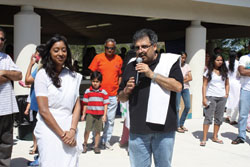 The story of Radha and Lord Krishna also lend great significance in Holi, where it marks the day that Lord Krishna delightfully applied color on Radha and the other gopis. Lord Krishna represents the Supreme Soul, and Radha the individual soul. The love they share is symbolic of the union of between mankind and God. The gopis who dance with Krishna represent the divine qualities we imbibe through devotion to God.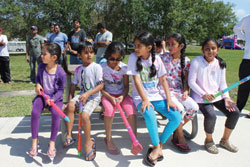 Holi also marks the day that Lord Shiva opened his third eye and burned Kamadeva to ashes. The story goes that Lord Shiva was deep in meditation during the time Parvati was performing great austerity to marry him. Kamadeva, Cupid or the god of Love was sent to interrupt him to help Parvati. As soon as Lord Shiva opened his third eye, Kamadeva was burned to ashes, but was allowed to live on in subtle form. This symbolizes the conquest of lower forms of passion and the attainment of divine love.
Overall, the significance of Holi in our lives is one of renewal. It is our opportunity as individuals to let the spring season color our lives in joy and laughter with the subtle understanding of God's glory that permeates it all.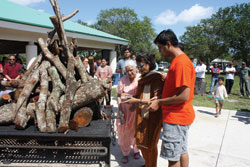 Bio:
Priyanka Ramlakhan is a Holistic Life Coach and the founder of Aspire to You, a forum for spiritual teachings (www.aspiretoyou.com). After spending over a year of intensive studies at the Chinmaya Mission Vedanta Course in Mumbai, India she moved to Miami to enrich her knowledge of Vedanta Philosophy under the tutelage of her lifelong Guru, Sri Swami Jyotirmayananda. She has dedicated her life to spreading the message of her Guru through lecturing and developing literature on the practical aspects of spirituality. Priyanka has earned a BA in Health Services Administration, and an MA in Public Administration. Having an extensive background in administration coupled with philosophy she is able to bring a fresh and modern approach to spirituality.