Bollywood Today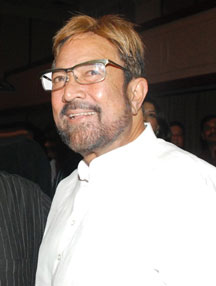 IIFA on the cards, Rajesh to get Lifetime award
Yesteryear's superstar Rajesh Khanna will be given the lifetime achievement award at the 10th International Indian Film Academy (IIFA) awards in Macao this month. Rajesh, who gave hits like Aradhana, Kati Patang, Anand and Amar Prem, will be felicitated at the award ceremony of the annual event. In the past, IIFA has awarded Bollywood stalwarts like Waheeda Raham, Asha Parekh, Yash Chopra, Dharmendra, Mumtaz and others for their contribution to Indian cinema. Over 500 luminaries from the Indian film industry are expected to watch Rajesh Khanna receive the award.
In the meanwhile, the 10th IIFA Weekend will be held at The Venetian Macau Resort in the mid of June and the three-day event will see a host of Indian celebrities as well as international film personalities including brand ambassador megastar Amitabh Bachchan and his family, actors Hrithik Roshan, Shahid Kapur, Neil Nitin Mukesh, Kangana Ranaut, Priyanka Chopra and Lara Dutta. Aishwarya Rai, Sonam Kapoor and Kareena Kapoor will be among the star performers at the event.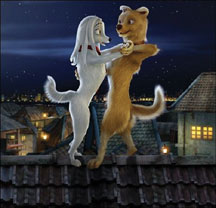 Yash Raj Films' animation flick gets international adulation
Yash Raj Films' animation flick Roadside Romeo has been selected for the Shanghai and Seoul Film Festivals. While the film will be screened as part of the Panorama section of the Shanghai fest, it has earned a place in the Invitation Section Out Of Competition category for the Seoul festival. Moreover, the movie has also received the Golden Cursor Animation (GCA) Award in five categories, the Screen Award for Best Animation Film, the 24 FPS Animation Award for the Best Animation Film and the FICCI BAF Award for the Best Animated Feature Film. Released Oct 28, 2008 worldwide, Roadside Romeo, written and directed by debutant Jugal Hansraj, is India's first three-dimensional (3D) mainstream animation project. It is co-produced by Yash Raj Films Studio and Hollywood studio Walt Disney Co. The film has voice-overs by Bollywood actors Saif Ali Khan, Kareena Kapoor and Jaaved Jaffrey.
New vistas for national and international Multiplexes
Joining the league of the national multiplex chain, PVR Cinemas which is also involved in film production, Inox Leisure Ltd is following suit with its own banner and a new film. The new arm Inox Motion pictures is ready for its debut release Morning Walk. Directed by Arup Dutta, the film stars Anupam Kher, Sharmila Tagore, Rajit Kapoor, Divya Dutta, and model-turned-actor Shayan Munshi. Currently operating 27 multiplexes and 97 screens in 20 cities across the country, the parent group Inox is already into film distribution in a big way, having distributed hits like Fashion, Heyy Babyy, Om Shanti Om, Namastey London, Rang De Basanti, and Garam Masala, besides others.
On the other hand, at a time when Indian multiplexes are going through a dry spell following a tussle with film producers, the world's fifth largest multiplex chain has announced its foray into India with 110 screens across eight cities. Cinepolis, the largest multiplex chain outside the US, will build the first set of theatres in India in the second half of 2009. The facilities will have more than 14 screens at one location, a senior company official said.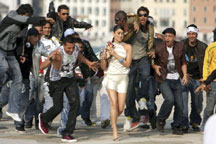 Strike over, Box Office has a beeline for new releases
The row between producers and multiplex owners over revenue sharing began in February. As a result, producers and distributors decided not to push any new releases in multiplexes after April 4. Now that the strike is over, Hindi movie buffs will have quite a few reasons to cheer since there will be an array of big budget Bollywood films on offer.
The first film to hit multiplexes June 12 post the strike will be Vashu Bhagnani's Kal Kissne Dekha that will see his son, Jackky Bhagnani, and model Vaishali Desai making their debut. To follow are Yash Raj Films' New York – directed by Kabir Khan starring John Abraham, Katrina Kaif and Neil Nitin Mukesh; Sajid Nadiadwala's Kambhakkht Ishq – a $20 million film with Akshay Kumar and Kareena Kapoor along with Hollywood stars Sylvester Stallone, Brandon Routh and Denise Richards. Saif Ali Khan's debut as producer in Love Aaj Kal is slated next month where he will be seen in the lead with Deepika Padukone; while next on line is Sujoy Ghosh's Aladin – starring Amitabh Bachchan, Sanjay Dutt and Riteish Deshmukh
Other films that were due to release earlier and will be sen hitting the theatres one by one are Luck starring Kamal Haasan's daughter Shruti Haasan opposite Imraan Khan; Subhash Ghai's Paying Guest; Bipasha Basu-starrer Pankh; director Satish Kaushik's Tere Sang and Phirr, among others.
Update on Big B
Fans of Bollywood megastar Amitabh Bachchan may be in for a double treat since the actor has completed Aladdin and is now working on the last schedule of Paa. He says the two movies might release in close succession.
The dubbing for Aladdin is completed. In this modern day depiction of the famous Arabian Nights tale, Bachhan will be seen with Sanjay Dutt and reteish Desmukh. The film is directed by Sujoy Ghosh. The next in line is R. Balakrishnan's Paa, in which he has teamed up with son Abhishek. The duo were recently spotted shooting in New delhi Metro rail. Incidentally, Amitabh's last release was last year's The Last Lear directed by Rituporno Ghosh. .
But again, there is a huge scoop on the wait for Big B fans. All those fans who had been waiting for years to see the two stalwarts of Bollywood – Amitabh Bachchan & Mithun Chakraborthy once again in the same frame, after they last shared the screen space in Agneepath, here's a piece of good news. Well the 2 powerhouse performers, according to the latest buzz, will soon be seen in director Vivek Sharma's upcoming flick Buddham Sharanam Ghachammi, which is touted to be an intense emotional drama.
Indian American Filmmaker Plans His Next Film in India
Nagendra Karri, an Indian American filmmaker whose debut film Where Are You Sophia? was screened at the recently concluded Cannes Film festival, has announced his new $ 30 Million venture Mobster to be shot in India. Karri plans to cast top Hollywood stars in this crime thriller and also re-make the film in Hindi and Telugu. The 26-year-old filmmaker, who hails from Visakhapatnam in Andhra Pradesh, told reporters in Cannes that he was in talks with Leonardo di Caprio and Eva Greene, the Bond girl in 'Casino Royale' for leading roles in Mobster. The filmmaker, who owns Eternal Mind Production LLC in New York, is also keen to partner with an Indian company for this project. Karri, who plans to start shooting the film simultaneously in English and Hindi in July, is also aiming to rope in the big names of Bollywood for this venture. He also announced that he would set apart 20 percent of his earnings for social work and open an orphanage in Mumbai for 200 children.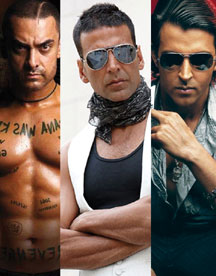 Aamir, Akshay, Hrithik nominated for AXN action awards
Bollywood stars Aamir Khan, Akshay Kumar and Hrithik Roshan are in the race to bag the best actor award at the AXN Action Awards. While Aamir has been nominated for Ghajini, Akshay is in contention for Tashan and Hrithik for 'Jodhaa Akbar. In the best actor in a negative role category, the competition is between Imran Khan for Kidnap, Saif Ali Khan for Race and Kay Kay Menon for Drona. The results will depend on public voting which is now open. The winners will be announced on the channel in June itself.
STAR India PLUS, SET ASIA and Zee TV in Atlanta area through COMCAST
Comcast, the nation's leading provider of entertainment, information and communications today announced the addition of three top South Asian networks to its programming lineup in the Atlanta area. The networks will be available in the greater Atlanta Metro market, but will initially launch in Alpharetta, Milton, Johns Creek, and Roswell. It will be available on a roll out basis throughout the Comcast's footprint as the company migrates to an all digital lineup throughout 2010.
Comcast customers with a digital set-top box can now add any of these channels on an a la carte or package basis via monthly subscription:

STAR India PLUS: As India's number one Hindi cable channel, STAR India PLUS regularly features many of the top programs in the country week in and week out. Programming includes popular drama series, top Bollywood movies, variety shows, game shows and entertainment events. Available on Channel 396. Individual monthly subscription price of $11.99 per month.

SET Asia: Sony Entertainment Television (SET Asia) features a distinctive blend of entertainment programs from India, Pakistan, the UK and the US. Programming includes soap operas, dramas, sitcoms, concerts, game shows, reality shows, talk shows and Bollywood movies. Available on Channel 395. Individual monthly subscription of $14.99 per month.

Zee TV: Zee TV features programming in Hindi, Punjabi and Gujarati from India and the United States. Programming includes the latest blockbusters, daily news, popular soaps, cooking and health shows, game shows, religious shows, cricket and more. Available on Channel 394. Individual monthly subscription of $14.99 per month.
In addition to the individual monthly subscriptions, each of these South Asian networks can be packaged together for $24.99 per month for two channels and $29.99 per month for all three channels. For the best value, customers are encouraged to subscribe to the Desi 3-Pack, offering a savings of $11.98 per month off the individual subscription costs.
Comcast plans to add these channels to communities throughout its Georgia service area in the months to come. Customers will be notified as the channels are available in their area.
"We are constantly evaluating our channel lineup to ensure we provide our customers with high-quality programming that best meets the diverse interests of our customers," said Larry Schweber, Vice President of Marketing for Comcast's Atlanta Region. The improvements we're making better reflect the Greater Atlanta community and we're excited to offer these to our customers."
Comcast also offers Bollywood Hits On Demand throughout the Greater Atlanta Area to all its subscribers with a digital box, via monthly subscription. Bollywood Hits On Demand offers 24/7 access to Bollywood, including exclusive premieres before DVD release, classics and all-time favorites. New titles are available each week with up to 25 movies and 50 music videos each month. Bollywood Hits On Demand is sold individually for $12.99 per month or available at a special discounted price of $9.99 per month for subscribers of STAR India PLUS, SET Asia or Zee TV. To access Bollywood Hits On Demand, Comcast customers can go to Channel 1 On Demand > Premium Channels > Bollywood.
For more information visit www.comcast.com/internationaltv.
Bollywood loses the creator of Angry Young Man
He was the brain behind popular Bollywood coin ages like 'Angry Young Man' and 'Muqaddar Ka Sikandar', and gave Bollywood megastar Amitabh Bachchan his biggest break in Zanjeer. Prolific filmmaker Prakash Mehra, who died in mid of May, will always be remembered for his blockbuster movies and super hit dialogues. Born in Bijnore, Uttar Pradesh in 1939, Mehra started his career in the late 1950s as a production controller. He ventured into filmmaking in 1968 with Shashi Kapoor starrer Haseena Maan Jayegi followed by the 1971 hit Mela, which starred brothers Feroz and Sanjay Khan. His next was Samadhi (1972) with Dharmendra.
But he struck gold at the box office with 1973 action movie Zanjeer, which had Amitabh in the main lead. The success of the film made Mehra a name to reckon with as a director and also established Amitabh in filmdom as the 'angry young man'. Zanjeer laid the foundation for the top director-actor duo team who later teamed up for Hera Pheri (1976), Muqaddar Ka Sikandar (1978), Laawaris (1981), Namak Halal (1982), Sharabi (1984). Their last film together was Jaadugar in 1989.
In 2006 India Motion Picture Directors Association (IMPDA) honoured him with the Lifetime Achievement and in 2008 he was awarded by the Indian Motion Picture Producers Association. Mehra's health is said to have worsened after his wife's death over two years back. He died of pneumonia and multiple organ failure at the age of 69 and is survived by two sons – Sumeet and Amit..
Finally, the producer-multiplex feud ends
The row between Bollywood producers and multiplex owners over revenue sharing came to an end as the two parties reached a deal. After months of negotiations, the two parties reached a consensus over the rationalization of revenue sharing for forthcoming films. While the producers demanded a flat 50 percent share of all film revenues irrespective of the stars, budget and box office collection, the exhibitors stressed on sharing profits based on the earnings of a film.
The final settlement has been reached which is 50, 42, 35 and 30 percent for the first, second, third and fourth week respectively for all movies and 52, 45, 38 and 30 percent respectively for all blockbuster movies that manage to collect more than $3.5 million only at the six leading multiplex chains. The top national multiplex chains in India are PVR, Big, Inox, Fame, Cinemax and Fun. The meeting between the two parties was held at the Yash Raj Studios and the deal was first inked by Big cinemas represented by its chairman Amit Khanna.
The row between producers and multiplex owners over revenue sharing began in February. As a result, producers and distributors decided not to push any new releases in multiplexes after April 4. The two-month-long standoff has led to a whopping $ 60 million loss to the industry. The strike has also affected auxiliary industries like hoardings and advertising. They are said to have suffered an estimated loss of $ 25 million.