Bollywood Today
Bharat Ratna Goes to Dilip Kumar
The Indian film fraternity is trying to seek solidarity comments on a social networking website in order to urge the government to confer the prestigious Bharat Ratna to Bollywood thespian Dilip Kumar. A community titled 'Dilip Kumar for Bharat Ratna' on Facebook that now has over 850 members dedicated to the cause was started at the behest of filmmaker Mahesh Bhatt. According to Bhatt, it is the entire industry's effort. From every region, stalwarts have come out to appeal for Dilip Sa'ab. The group was primarily created to seek solidarity from people so that the administrators of the website can bind all the comments in a book and submit it to the president and the prime minister. Celebrities supporting the cause include actors like Rajeev Khandelwal, Mukul Dev, Shabbir Ahluwalia, Varun Badola, Randeep Hooda and Urvashi Dholakia. Film critic and filmmaker Khalid Mohammed, director Prabhakar Shukla and popular Bangladeshi singer Runa Laila have also joined the effort.
To date no actor has received the Bharat Ratna award. In 1992, acclaimed filmmaker Satyajit Ray was the first person from the entertainment industry to have been conferred the honour. Music greats like Carnatic music vocalist M.S. Subbulakshmi, sitar player Ravi Shankar, singer Lata Mangeshkar, shehnai maestro Bismillah Khan and classical singer Bhimsen Joshi became its proud recipients.
Shahrukh Khan conferred honorary Doctorate.
Bollywood superstar Shah Rukh Khan became Dr. Shah Rukh Khan when he was presented with an honorary doctorate in arts and culture by Bedfordshire University for his contribution to culture. Les Ebdon, vice chancellor of the university, presented the honorary doctorate to Shah Rukh. Dressed in the traditional scholar's robe, the Indian superstar looked slightly bemused as he walked into the hall in a procession of scholars led by Ebdon. Shah Rukh was nominated by Routes 2 Roots, an NGO that works across the SAARC region to bring South Asian people together, for the doctorate 'in recognition of his exceptional achievement as a film actor and producer.' Indian High Commissioner Shiv Shankar Mukherjee and Rakesh Gupta of Routes 2 Roots were also present. Bedfordshire University, whose 29,000 students include 1,300 from India, was ranked second in Britain for dance, sixth for journalism and 11th for marketing accounts in a 2008 national survey.
Several Hindi movies selected for International Film fests
Yash Raj Films' upcoming film Dil Bole Hadippa has been selected for the esteemed Toronto International Film Festival (TIFF) 2009 and will be presented in the prestigious Gala Presentations section of the festival as a world premiere. The film, being produced by Aditya Chopra with debutant director Anurag Singh, stars Shahid Kapoor and Rani Mukherjee in lead roles and releases worldwide on September 18. In a village where girls don't play cricket, Veera (Rani Mukherjee) has to put on a turban and beard and become a man to fulfill her dreams. Her brilliance on the field earns her a place on Rohan's (Shahid Kapoor) team and Veera Kaur becomes Veer Pratap Singh. And then begins a roller-coaster journey of Veera, Rohan and Veer filled with music, romance and comedy through Punjab and beyond. BIG Pictures's Bengali film directed by the maverick Rituparno Ghosh's Shob Charitro Kalponik was selected for the 30th Durban Film Festival 2009. The director traveled to Durban, South Africa for the screening of the film, which took place at the end of July. Written and directed by Rituparno Ghosh, Shob Charitro Kalponik is a story of death and loss with many emotional and romantic moments, stars Bipasha Basu, Prosenjit Chatterjee, Jisshu Sengupta, Pauli Dam and Sohag Sen. The film was screened in the Panorama Section of the festival, alongside films by directors such as Woody Allen, the Dardenne Brothers, Lars von Trier, Laurent Cantet, Steven Soderbergh, Takeshi Kitano and Michael Winterbottom.
Delhi-6 and Dev.D, both films from the UTV Motion Pictures stable, will see a special screening at the prestigious 66th Venice International Film Festival in the 'Out of Competition' section. Organized by La Biennale di Venezia, the Festival will be held on the Venice Lido from September 2 to 12. The Festival has the official recognition of the FIAPF (International Federation of Film Producers Associations). Many of UTV's critically acclaimed titles have been traveling the festival circuit – giving much due recognition to Indian films at the global level.
Anil Ambani, Spielberg announce $825 million funding for Dreamworks
In one of the largest deals in global cinema in recent years, Anil Ambani's Reliance Big Entertainment and noted Hollywood filmmaker Steven Spielberg has announced $825 million in funding for their Los Angeles-based production house Dreamworks Studios to make six films a year for the global audiences. In a joint global conference call, Ambani and Spielberg also said the movies produced by Dreamworks will be distributed by Walt Disney globally, while the exclusive rights for India will be with Reliance Big Entertainment. Spielberg said he was looking forward to films produced by Dreamworks as well as a visit India soon to meet with filmmakers, scriptwriters, and actors to see how they can all collaborate. Some of the films that will be produced first include 39 Clues, Cowboys and Aliens, Dinner For Schmucks, Motorcade and Hereafter in a mix of genres including thrillers, action, comedy and family drama. Last year, Reliance Big also entered into pacts to develop Hollywood projects with firms of such stars as Brad Pitt, Tom Hanks, Julia Roberts, Nicolas Cage, Jim Carrey and George Clooney.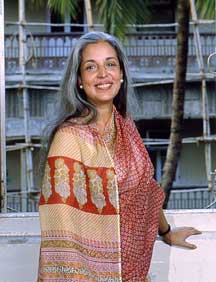 Veteran Actress Leela Naidu is dead
Known as much for her roles in classics like Anuradha and The Householder as for her ageless elegance, Leela Naidu died in Mumbai recently after a prolonged illness. She was 69. Born to an Irish mother and an Indian father, Leela Naidu was crowned Miss India in 1954. Vogue named her as one of the 10 most beautiful women in the world along with Maharani Gayatri Devi. She forayed into films with Hrishikesh Mukherjee's 1960 Anuradha as the bored housewife married to an idealistic doctor played by Balraj Sahni. The film didn't do well at the box office, but got the National Award for best film. Finally, it was her role in Yeh Raaste Hain Pyar Ke (1963) that got her fame and popularity. She teamed up with Sunil Dutt in the movie. Naidu bid adieu to films in 1969 post-marriage.
Mahesh Bhatt plans movie shoot in Pakistan
Filmmaker Mahesh Bhatt is all set to shoot an entire Bollywood film – a Hindu-Muslim love story – in Pakistan's cultural capital of Lahore. According to Bhatt, the film is set during the pre-partition period, and it is an intense story of love between two culturally crossed individuals during times of abject hatred. It is the story of a Muslim boy who saves a Hindu girl from his own people and gives up his life in protecting her. The romance will star Pakistani singing sensation Noumad opposite an Indian girl who is yet to be finalized. This will be the first Bollywood film to be shot entirely in Pakistan.
The untitled film will be directed by Mohit Suri. Bhatt, who has worked with quite a few Pakistani artists including actress Meera in Zeher. The director feels Pakistan can become a leading location for Bollywood. For the film, Bhatt will be using their infrastructure and work force. The cultural secretary and the governor of Punjab have extended whole-hearted support to the film. The shooting of Bhatt's ambitious India-Pakistan venture is set to start early next year.
Filmmakers Corner

With Hollywood studios keeping a close eye on the Hindi film industry, Bollywood filmmakers are growing copyright savvy. Abbas-Mustan say that their Italian Job won't just be a remake of the 2003 con-caper but a 'mix n match' of the original film and its remake. The director-duo was informed that the producer, Studio 18, purchased the rights for the 1969 Michael Caine film and the 2003 remake version of the same film. The making of the Indian film will be done by taking choicest elements from the two Hollywood films and putting them together in the Bollywood perspective. The cast is yet to be decided, but the sources said that the director plans to rope in Saif Ali Khan, Ranbir Kapoor, Imran Khan, Shahid Kapoor and Neil Nitin Mukesh, among others. Italian Job was originally made Peter Collinson in 1969 with Michael Caine in the lead. In 2003, director F. Gary Gray remade it with Mark Wahlberg and Charlize Theron. Both the original and the remake were big hits.
If the buzz is to be believed, Fardeen Khan is stepping into his father's, the late Feroze Khan, shoes to produce the remake of Qurbani. Not only has he planned to produce the film, but is also likely to enact the role his illustrious father played in this bumper hit film. Industry sources say that Fardeen was discussing with his close circle about taking this film on both as a producer and as an actor. He also plans to ask Sanjay Dutt to portray the role of Amjed Khan in the film, while the rest of the cast including the female lead will be decided in due course.
Finally, the ice has been broken as Sunny Deol and Raj Kumar Santoshi have come back together after a long exile of 15 years. The pair is well known for their super hit films Ghayal, Damini and Ghatak. According to sources, they both parted ways and ended up making Bhagat Singh in their own respective versions. Now it seems they both have left the dead behind and joined hands for a couple of projects together. The first one is an emotional drama and is expected to start off from October or November. The film is written by Sridhar Raghavan. The duo is said to be doing a handful of fresh projects and not any remakes. There is a strong buzz in industry circles that Vidya Balan has been signed by Yash Chopra for his next directorial hit. It is the same project in which Aamir Khan is to star along with Preity Zinta. However, Aamir is still being non-committal about being approached for the project, and rumor has it that Vidya Balan has replaced Preity. Sources further claim that Yash Chopra intends to begin this film by early 2010 and make it a grand Diwali 2010 release. He will be finally directing a film after 6 years since he directed Veer Zara (2004).
More Shahrukh Khan news
It was just reported that Shahrukh Khan got an honor ary Doctorate from Bedfordshire University, and he certainly seems to enjoy his association with United Kingdom as he has reportedly bought a 20 million pound apartment in a posh area of London. He had been hunting for a house for a long time and has finally zeroed in on an apartment in the Park Lane area of central London. Shah Rukh, who is currently busy shooting My Name Is Khan, sealed the deal on his recent trip to UK.
Back home, he is set to pair again with Aishwarya Rai after they weaved magic at the box office in Sanjay Leela Bhansali's epic Devdas. The two will be seen in an upcoming film that will be directed by cinematographer-director Rajiv Menon. It is known that Menon flew down to London to narrate his script to SRK, who according to reports has liked the story and agreed to be part of it. Agnipath written by his
Aishwarya going ahead with two mega southern projects

Talking about the Bachchan bahu, well she is elated over snagging the main leads in two South Indian projects, Mani Ratnam's Ravan and Shankar's Endhiran. In Ratnam's Ravan, Ash teams up with her husband Abhishek Bachchan, along with Vikram, Prabhu and Munna among others. Aishwarya was seen earlier in Ratnam's Iruvar and Guru, in which Abhishek was in the main lead.
Aishwarya and Shankar have contemplated working together for a long time, but it is only after 10 years that the film Endhiran is making it happen. Tamil superstar Rajinikant, who is playing the male lead in Endhiran, was also very keen to work with Aishwarya and tried to sign her for his earlier ventures, Padaiyappa and Chandramukhi, but the actress was unavailable.
For Abhishek – it's time to salute the real heroes
To salute the unsung heroes of India who laid down their lives at the heights of Kargil and Drass fighting Pakistani infiltrators, Bollywood star Abhishek Bachchan traveled to some of the locations where Kargil War was fought and interacted with the real heroes of the country. At the famous war spot, Abhishek visited a bunker at Sando top, and even tried his hand at firing a few rounds with them at the training center. He also visited Vijay Gallery and met two people associated with the Kargil War – Colonel YK Joshi, the then commanding officer of 13 KAK rifles and Barkha Dutt, who closely reported on the war from the border.
Abhishek responded to the warm hospitality exhibited by the jawans by offering Gajar Ka Halwa and Aam Ras especially made by Aishwarya Rai and Jaya Bachchan. The day ended on an emotional note as Abhishek recited a beautiful poem Agnipath written by his grandfather Harivansh Rai Bachchan along with a message from his father. The tour was to mark Kargil Vijay Diwas and show solidarity to the soldiers who live in harsh climates and inhospitable conditions under ice capped mountains, lonely and cut off from the outside world as they guard India's