BOLLYWOOD TODAY
Indian Films rock Germany and all set to shine at Toronto Fest ival!
The recently concluded In dian Film Festival held at Stuttgart in Germany was an eye-opener of sorts before the Indians. No one had expected the kind of euphoria that was witnessed among the Germans in response to Indian movies. Members of an Indian delegation led by Minister of State for Defense M. Pallam Raju, who visited the program – held by the Konrad Adenauer Foundation to promote bilateral ties between India and Germany, were surprised to see the heavy crowd that gathered to see Indian films and found the Germans dancing to the lively dance tunes of Bollywood music. It was also noted that local TV channels in south Germany showed Hindi movies with German subtitles every week. During the six-day festival from July 12, at least 20 movies, including Tamil and Malayalam films, were shown.
In the proposed Toronto Festival to be held in September, there would be another heavy palate of Indian films. Fans of Bollywood at Canada will see the much-in-news Karan Johar's "Kabhi Alvida Naa Kehna" (KANK), along with four other titles that will have their world premiere at the festival. Apart from the highly anticipated KANK starring: Amitabh Bachchan, Shah Rukh Khan, Abhishek Bachchan, Rani Mukerji and Preity Zinta; other entries will include "Kabul Express" by Kabir Khan starring John Abraham and Arshad Waarsi; "Maati Maay" (A Grave Keeper's Tale) by Chitra Palekar with Nandita Das as the main protagonist; a Telugu film "Vanaja" by director Rajnesh Domalpalli; and lastly "A Cry In the Dark" by Haobam Paban Kumar – a documentary film about Manipur becoming part of India in 1949.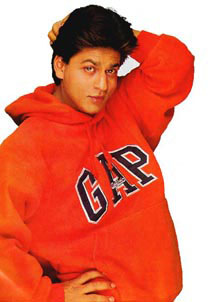 The Khans of Bollywood !
After the unprecedented success of "Rang De Basanti" and "Fanaa", Aamir Khan is again in the news for getting associated with Director Mani Ratnam to do his forthcoming film – "Lajjo", to be produced by Bobby Bedi. The film is supposed to be a love story based in Rajasthan and the music will be done by A R Rahman.
Salman Khan returns to the marquee after a long gap with K.S. Adhiyaman's "Shaadi Karke Phas Gaya Yaar" that will be released very soon. This film, also starring Shilpa Shetty, has been delayed for a pretty long time and as such Salman himself is very sceptic about the success of the movie.
King Khan – Shahrukh, in the meanwhile, is all geared up for his Karan Johar release "Kabhi Alvida na Kehna". Following "Kabhie Alvida" is another highly awaited film – Farhan Akhtar's remake of 1970s blockbuster "Don", where Shahrukh plays the role of Amitabh Bachchan.
Present Trend of Bollywood – "Infidelity", "Sequels" and "multi-starrers" !!
The present crop of movies churning out of Bollywood Studios are showing a distinct trend in their content. They are either based on subjects of infidelity or mistrust or they are sequels and if not one of the two, then they are invariably multi-starrers.
Films like the to-be-released "Omkara" by Vishal Bharadwaj, based on Shakespeare's classic tale of betrayal and disloyalty may be the recent in the lot; but the trend began quite early like "Jism", "Hawas" or "Murder" – all of which broke the convention of a settled marriage and drew the protagonist into an illicit affair. Sex-comedies like "Masti", "No Entry" were some films that treaded the same path. Even the forthcoming production from Karan Johar – "Kabhi Alvida Naa Kehna" is believed to be based on extra-marital relationships.
The other variety found to be dominating the box office is the sequels. Phir Hera Pheri followed Hera Feri ; Krrish came after "Koi Mil gaya" and now, its "Lagey Raho Munnabhai" coming as the part-II of the highly acclaimed and megahit "Munnabhai MBBS". Very soon the sequel to "Dhoom" – "Dhoom-2" will hit the screens. Moreover, it is even being heard that "Krissh" will be going to have a third sequel very soon !
There were never any dearth of multi-starrers in Bollywood and the trend continues unabated. "Omkara" is the first one to be released and it will have an amazing star cast of Ajay Devgan, Kareena Kapoor, Viveik Oberoi, Bipasha Basu, Konkona SenSharma, Naseeruddin Shah and Saif Ali Khan. Coming on its heels are "Kabhi Alvida Naa Kehna" (Amitabh, Shah Rukh, Rani, Preity, Abhishek, Arjun Rampal); "Umrao Jaan" (Aishwarya, Abhishek, Shabana, Suniel Shetty); "Salaam-e-Ishq" (Salman, Priyanka, Govinda, Anil Kapoor, Juhi, John, Vidya Balan) and "Dhoom 2" (Abhishek, Bipasha, Aishwarya, Hrithik).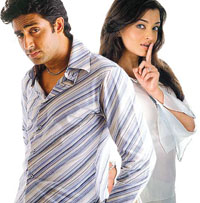 Two Abhi-Ash films jostle for release at same time.
Apart from having both Abhishek Bachchcan and Aishwarya Rai in the leads roles , J.P. Dutta's "Umrao Jaan" and Yash Raj Films' costly caper "Dhoom 2" has something else more in common. Both are schediuled for a Diwali-Eid release in October, and are sure to vie for the numero uno position at the Box Office. Though the films are of separate genre, "Dhoom 2" being a contemporary film about the thief and the cop; "Umrao Jan" is a period drama – a re-enactment of the film immortalized by Rekha in the 80s, yet the industry is abuzz with the prospect of a clash between the films.
Actors don the singers' role
Both Akshaye Khanna and Shahrukh Khan have lend their voices for their forthcoming films. Shahrukh. has just sung a portion of the popular track in Farhan Akhtar's "Don" – originally done by Amitabh Bachchan. This is the second time Shahrukh sings after the song "'Apun Bola' in "Josh" some years back. Akshaye, on the other hand, has vocaled a few Nazms for his upcoming film "Aap Ki Khatir", apparently reminiscent of the yesteryear romantic hit song "Kabhi kabhi" by Amitabh Bachchan. The couplet has been specially composed by Himesh Reshammiya and penned by lyricist Sameer.
BOLLYWOOD TODAY