BOLLYWOOD TODAY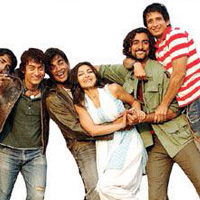 "Rang De BAsanti" chosen as Indian nomination for the Oscars!
The nation awakens to the film Rang De Basanti ! The superhit film, directed by Rakeysh Omprakash Mehra has been selected as India's official entry for best foreign language film at the Oscars. In addition to the coveted category, the film is also competing in seven other main segments. This includes best film, best direction, best cinematography, best screenplay, best editing, best art direction and best sound design.
Bollywood sans frontiérés!
It is the story of another key Bollywood actor starring in a Hollywood movie. Om Puri will soon appear opposite Hollywood superstars Julia Roberts and Tom Hanks in a movie that sees the Indian star cast in the controversial role of Pakistan's former military ruler General Muhammed Zia-Ul-Haq. Puri has bagged the role to play General Zia-Ul-Haq in Hanks' movie 'Charlie Wilson's War', which details the US spy agency CIA's role in arming rebels in Afghanistan. The lure of Bollywood does not only titillate the Indian models and beauty queens, but transcends the national boundaries too. The 20-year old Second Runner-up at Miss World 2006 – Miss Australia Sabrina Houssami says she is not averse to acting in Bollywood films and has already received a few offers. Incidentally, she has distinct Indian roots as her mother is an Indian, while her father is a Lebananese. Sabrina is yet to decide on the offers at hand.
Bandit to be casted in her biographical film!!
After Bandit Queen comes Wounded. Based on the life of the dreaded bandit Seema Parihar – who ruled the Chambal ravines for nearly two decades, the role be essayed by Seema herself to ensure that the portrayal is realistic. Seema, who reigned over Chambal after the surrender of Phoolan Devi, decided to play her part because she did not want the director to take any cinematic liberties. Directed by Krishna Mishra "Wounded" has been exclusively shot on real locations like Seema's ancestral village and the areas ruled by her – Bihad and Bawine.
Awaara regarded as the most successful Hindi film by leading professor of film studies !!
The 1951 Raj Kapoor starrer Awaara has been seen and enjoyed by so many across the globe that it may well be the "most successful film in the history of cinema at large", according to Dina Iordanova, professor at the University of St Andrews. She and other experts cite several texts and anecdotal evidence to state in a special issue of the journal "South Asian Popular Cinema" that Awaara may be a candidate for the title of the "most popular film of all times". A British academic journal devoting a special issue on Indian cinema is the latest in the growing coverage of Indian films in the popular and academic press. This week The Times reported that Indian films had started "to make more money at the box office in Britain than home-grown productions". It said that during 2006, 69 Indians films were released in Britain and several were filmed on locations across Britain.
Bollywood Stars' share of controversy continues…!!
Abhishek Bachchan has been in the news recently for being voted the Sexiest Asian Person along with his Bluffmaster co-star Priyanka Chopra, who got the female title. But Junior B seems to have caught the headlines for a wrong reason this time. It is alleged that the suave actor had asked immigration officials in England if he should "drop his pants" during a customary investigation. He was a part of the unit shooting for Shaad Ali's Jhoom Baraabar Jhoom in London Strongly refuting the charges, Abhishek denied having said such 'cheap words' and placed his support for 'cooperation and patience' with the security officials in the wake of the terrorist threats looming over the world. Back home in Ajmer Sharif, Katrina Kaif created a ruckus of sorts when she was spotted the holy shrine of Khwaja mainuddin Chistie in a skirt. The pilgrims present there as well as the Dargah officials have objected to Katrina wearing western outfits inside the shrine, which did not cover her legs completely. According to tradition, women offering prayers in the shrine must have their head, hands and legs covered. The actor was in the shrine with her co-star Rishi Kapoor to shoot for producer-director Vipul Shah's "Namaste London". Actor Amisha Patel is too, a bothered person these days. Canara bank has recently issued a legal notice to Amisha and her family members seeking recovery of dues amounting to Rs 11.75 crore, loaned to them for financing their business firm. The notice has been sent to Amisha Patel, her mother Asha, father Amit and actor-brother Ashmit – who are directors of the family business firm M/s Jai Electronics.