Bollywood Wedding: Natasha Dalal and Varun Dhawan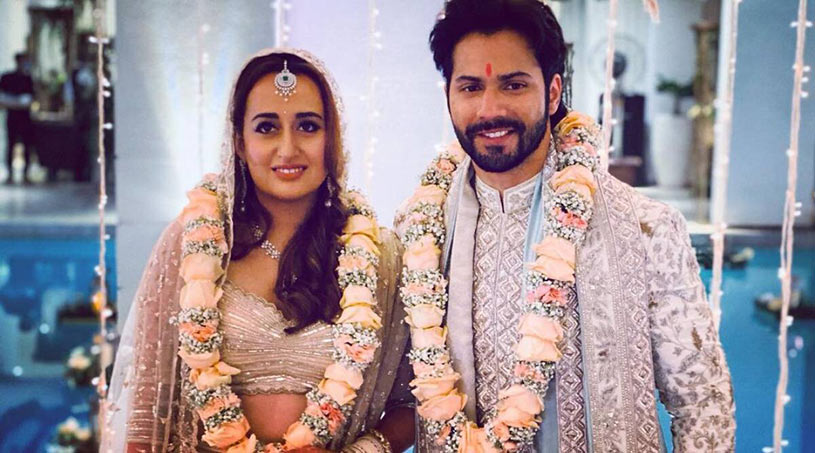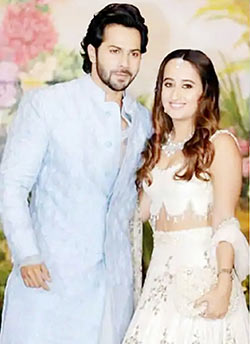 Natasha Dalal and Varun Dhawan are two childhood sweethearts that tied the knot in the hopes of growing old together while still staying young at heart. 
The couple grew up together as classmates and their deep bond made them the best of friends. Theirs was not a love at first sight. Rather, their love bloomed from friendship during a later phase of life when the two realized they were falling in love with each other. 
Early on, Natasha was like family to Varun, the blue-eyed boy of Bollywood, and he admits that she is the rock-solid support system behind him. They started dating before Varun's film career launched and with great success, fantastic reviews and a series of rumors about his affairs with heroines like Shraddha Kapoor and Disha Patani, Natasha remained lady love for him.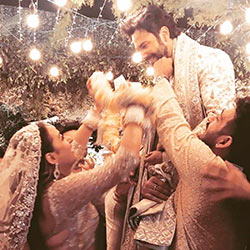 Natasha, a fashion designer, studied fashion technology at the Fashion Institute of Technology in New York. After that, she launched her brand, Natasha Dalal Label, which specializes in bridal wear. Natasha prefers to remain out of the limelight. Though recently, her marriage with the superstar has moved the focus of the spotlight on her.
In 2019, there were several rumors and speculations on the couple's wedding date. Finally, the two sealed their vows on January 24, 2021. The couple's parents met and finalized the date. Pandemic restrictions and personal preferences made the wedding ceremony a very personal and intimate one with very few invitees from B-Town.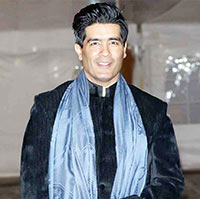 The marriage ceremony represented a different side than the celebrity profile of Varun. Both the bride and groom wanted theirs to be a "Gharki Shaadi," an intimate affair at home with few guests from both families and their closest friends. Celebrity wedding planner Shaadi Squad, well-known for organizing weddings for Anushka Sharma and Viraat Kohli as well as Priyanka Chopra and Nick Jonas, also did the planning for this wedding.
The Mansion House at Alibaug, a luxury resort famous for its local coastal cuisine, was the chosen venue. Both Natasha and Varun wanted a memorable wedding ceremony amidst nature with blessings and wishes from those who matter most to them. 
The couple opted for matching bridal wear in ivory white. Since Natasha is a fashion designer, she designed her own outfit, while the groom's outfit was designed by Manish Malhotra. Celebrity guests included Karan Johar who launched Varun in Student of the Year, Manish Malhotra, Alia Bhatt, Arjun Kapoor, Zoa Morani, and Shashank Khaitan among others.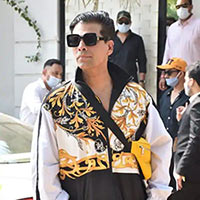 Karan Johar choreographed Varun's Sangeet ceremony. There was an elaborate menu of continental, Asian, Middle Eastern and Indian food for guests. The Mansion House along with Intercontinental Mumbai were the caterers.
The couple chose to have a sunset wedding. "Humpty Sharma" made a unique entrance – rather than the traditional 'ghodi' (horse), he arrived on a quad bike to marry his "dulhaniya" (bride). He entered to the song "Heeriye Sehra Bandi Main Toh Aaya Re" from the film Salaam E-Ishqfor.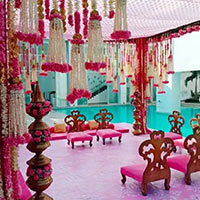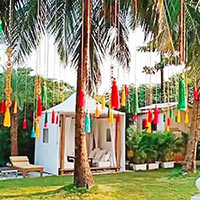 At the wedding, there was a total ban on photography. However, after the marriage ceremony, the couple came out and posed for the paparazzi. Soon after the marriage, Varun shared a picture of the two of them on Instagram with the caption 'Life long love just became official.'

Natasha Dalal
Varun Dhawan
Two childhood sweethearts
Marriage ceremony represented
Manish Malhotra
Alia Bhatt
Arjun Kapoor
sunset Indian wedding
Shraddha Kapoor
Disha Patani
Celebrity wedding planner Shaadi Squad
Anushka Sharma and Viraat Kohli
Priyanka Chopra and Nick Jonas
Planning for the wedding, Zoa Morani
Shashank Khaitan
Humpty Sharma
Heeriye Sehra Bandi Main Toh Aaya Re
The film Salaam E-Ishqfor