Bollywood Weddings: Neil Nitin Mukesh and Rukmini Sahay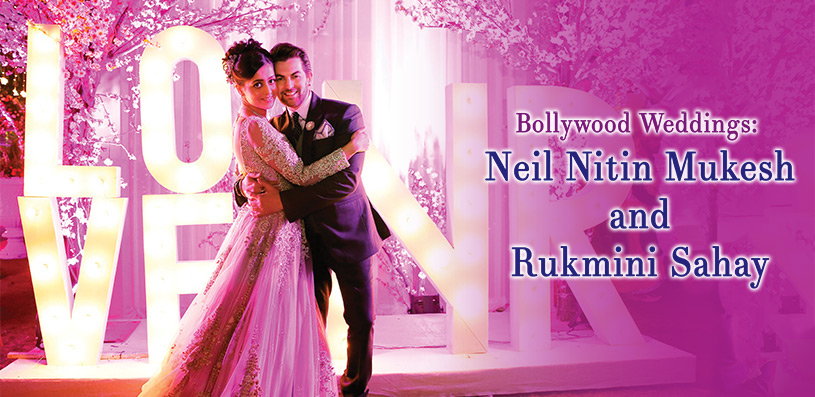 Bollywood actor Neil Nitin Mukesh married Rukmini Sahay in a magical ceremony held in Udaipur on February 9. The celebration was nothing short of a royal affair. The couple tied the knot in accordance with traditional Hindu rituals, and all events were spread over the course of three days.
Wedding celebrations began on Tuesday, February 9, with the ring ceremony and continued for more than three days with various events, celebrations and programs like the mehndi, haldi, sangeet functions, chudachadai, nuptial ceremony, cocktail party, and many like these. The ceremony was program-packed until Thursday.

From the first day, the highly anticipated wedding took over print, digital, and social media. Eminent personalities and celebrities from their friend and family circles attended the momentous occasion to bask in the warmth of what was truly a grand celebration. With the presence of prominent celebs such as Rishi Kapoor and Pamela Chopra raised the bar of excellence. The groom looked regal in his cream and maroon Sherwani, while the bride appeared gorgeously in her red and orange lehenga. Both bride and groom wore designs by Sarath Krishnan.
The ceremony took place at the five-star hotel, City of Lakes, which was transformed with an abundance of light and melodious music. Carried by six attendants, the bride arrived on a flower-bedecked modern palanquin decorated in royal Rajasthani style. Musical troops and all wedding attendants surrounded her adding to the splendor of the event. Lighting and colorful fireworks all around added a different dimension to it. The groom's naughty wink to his bride in "jaimala" was captured by numerous cameras, which was a favorite moment for fans and followers of Neil Nitin Mukesh and Rukmini Sahay. Every moment became a magical one just like in films.

Needless to say, Neil Nitin Mukesh chose the most traditional dress for his memorable day. He appeared as a real prince in his special traditional wedding attire, a Sherwani with complex golden embroidery that demonstrated authentic handicraft by an expert hand. Dressed in an orange-tone silk lehenga, the bride was the center of attention, as she should be! The golden jewelry that adorned her neck enhanced her natural beauty. For their engagement, Nitin appeared dapper in a purple suit jacket, while Rukmini shone in a gorgeous lavender gown with beaded bauble.

No one could turn their eyes away from Rukmini. The

New York actor Neil Nitin Mukesh got rid of his deep-rooted bachelor tag from his shoulder, while getting the right girl in his sights.

All images by The Wedding Story.