Bollywood Weddings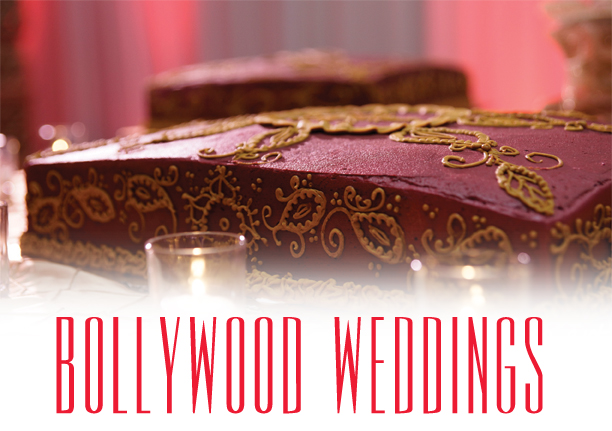 Arpita Khan and Aayush Sharma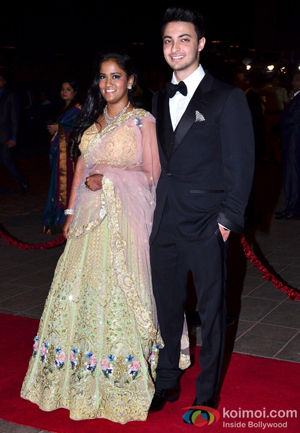 Salman Khan left no stone unturned for his youngest sister Arpita's wedding. Celebrities from all industries flew all the way to Falaknuma Palace situated in Hyderabad to attend Aayush and Arpita's fairy-tale wedding celebrations. Beginning from the venue to the decorations to the cuisines being dished out, everything was lavish.
Falaknuma, one of the most beautiful palaces of the Nizam, was picked as the majestic site for the Khan wedding celebrations. Falaknuma or "mirror of the sky" is an all-marble palace, which once was the residence of the sixth Nizam Mir Mahboob Ali Khan. The palace is now a luxury hotel owned by the Taj Group. The scorpion-shaped palace has 220 lavishly decorated guest rooms, 22 spacious hallways, and a stunning 101 seat dining room. Also, Falaknuma houses an exquisite collection of treasures including priceless paintings, statues, manuscripts, and much more.
The famed 108-foot-long dining table has been adorned with treasurable gold and crystal tableware and features green leather upholstered rosewood dining chairs. The reception room is bedecked with frescoes and gilded reliefs. The state of the art ballroom features a one-of-a- kind two ton manual organ. This rare blend of Tudor and Italian architecture gives the rooms an incredibly royal feel. It is only natural that the palace was chosen as the perfect place to host the extravagant Khan wedding.
Pink and white dominated as the wedding colors. The entire venue was draped in these shades, and the flowers, statues and other decor brightened the wedding celebrations. The Khans chose a Victorian theme for the reception. The entire arena was draped in white, and filled with an exquisite collection of flowers and European decorations making sister Arpita feel like Queen Victoria herself.
Soha Ali Khan and Kunal Khemu
Soha Ali Khan tied the knot to Kunal Khemu late January 2015 at the Khans' Mumbai residence in an intimate ceremony. Wedding preparations began when Soha's boyfriend Kunal Khemu proposed to her in Paris last July.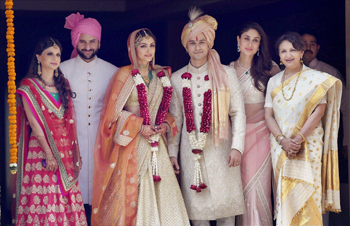 The marriage ceremony was strictly a "family only" affair, after which Soha and Kunal were seen waving to the crowd with sister-in-law Kareena and brother Saif. The Pataudi princess looked gorgeous in a gold-dusted Sabyasachi lehenga, while Kunal looked dapper in a gold embroidered sherwani. Next to them were Kareena Kapoor Khan, in a champagne pink sari and Nawab Saif Ali Khan, adorned in a crisp white gala bandh with a pink turban. Mother of the bride Sharmila Tagore looked elegant in a white and golden Assamese Chador.
While the wedding was attended by just family, Soha and Kunal's closest friends – Karan Johar, Amrita Arora, Malaika Arora Khan, Neha Dhupia, Sophia Chaudary, Yuvraj Singh, Arshad Warsi, and Arpita Khan among others were spotted at the wedding reception. For the receptionparty, the newly wed bride wore a fuchsia pink lehenga designed by Sanjay Garg, while Kunal sported a charcoal black Nehru Jacket with a relaxed blue kurta. The Kapoor sisters were fully clad in Manish Malhotra's designer collection. The mehendi, wedding and wedding reception décor of the Khans' Bandra residence looked perfectly royal and lavish.
Shreya Ghoshal and Shiladitya Mukhopadhyaya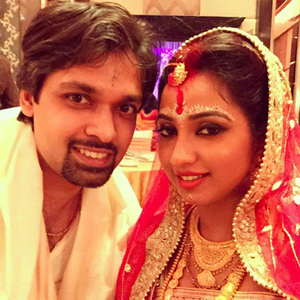 Singer Shreya Ghoshal married her beau Shiladitya Mukhopadhyaya in an intimate ceremony in Mumbai in early February 2015. Although, the excited songstress tweeted late January, "Don't know if I am super nervous or excited… Never felt like this before. Whatever I am up to I will let you know soon 😉 but need ur wishes (sic)", her fans did not know at that time that she was referring to her marriage. The following Thursday, the couple tied the knot and the next morning, she broke the good news by tweeting a stunning selfie with her techie husband on Twitter.
Except for their close friends and family, not many were aware about their relationship. It was kept well under wraps. Shiladitya, a tech entrepreneur by profession met Shreya when she moved to Mumbai nearly a decade ago. They were friends for about 10 years and became open about their relationship just four years ago. Shreya used to often introduce Shiladitya as a friend, but not as her fiancé even to her close ones. But, it was their sizzling chemistry that made it pretty obvious.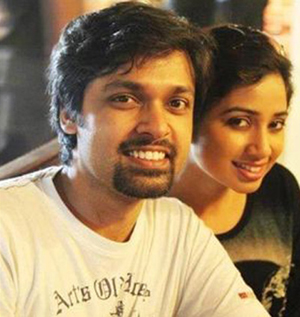 At the start of the New Year they decided to get married and about ten days before the wedding, they sent invites asking friends and family members to block the date for their wedding ceremony. For the wedding, Shreya wore an elegant Banarasi sari with a golden border, and Shiladitya wore a traditional white dhoti. Per Bengali rituals, the wedding began with Gaye Holud followed by Subho Drishti and the Mala Bodol. At around 10:30 pm, her friends lifted the peedi, and the couple took wedding vows. Apart from family members and friends, composer Shantanu Moitra, Joy Sarkar and Jeet Ganguli were also spotted at the wedding.