Priya weds Kunal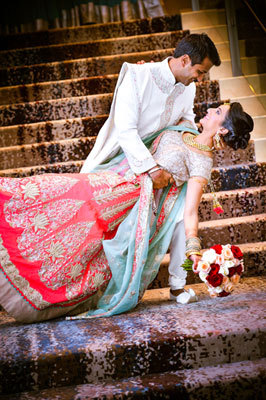 At 27-years-old, Priya Patel was enjoying being a Physician's Assistant and never thought that she would find the love of her life in the realm of banking and finance. But, destiny had other plans, and Priya ended up marrying 31-year-old Kunal Shah, a CPA. When the two met in 2013 in Chicago, little did they know that the interaction would go beyond casual conversations. After nine months of dating, Kunal asked the million dollar question, and Priya was more than happy to agree to be his life partner.
The couple set the wedding date a few months from the engagement. While most of the job of securing the vendors and planning the events was done by them, they did hire the services of Envi Event Planning to coordinate tasks.
With the lake as its backdrop and a beautifully manicured landscape, the Westin Atlanta Perimeter Hotel was the perfect place to formalize their romance and host a stellar wedding. Finally, the wedding day was close, and the first function, the sangeet ceremony, took place. Occasions by Shangri-la was in-charge of the decoration. From the lotus-shaped centrepiece with Lord Ganesh as the focus to the beautiful rangoli patterns, everything was beautifully detailed to make the evening a memorable affair. Live musicians were placed against a colourful backdrop and set the mood for the evening with their mesmerizing beats.
The wedding took place in the ballroom of the hotel with live music from the Pandya family to make the occasion even more special. Set amidst the background of crystal chandeliers and beautiful drapes, the couple took their wedding vows in traditional manner with all their loved ones present to be a part of the celebration.
The wedding reception was a beautiful affair, and the couple's table was decorated with various heights of floating candles to contribute to the elegant stage using orchids and candles as centrepieces. The stage was set up against the backdrop of three crystal columns with crystal floating candles to make it look amazing. Needless to say, there was a lot of dance-inducing music that comprised of popular Bollywood songs as well as some American hits to set the mood for the evening. To top it all, guests enjoyed the mouth-watering delicacies prepared by Café Bombay Catering in Atlanta.
Thanks to the bond of trust that the couple shared and their ability to plan in detail, their wedding was a dream come true and a memory they can cherish for a lifetime to come.
Photos Courtesy:
Zamana Photo & Videography
678-860-2921
www.zamanaphoto.com
Vendors

BANQUET HALLS
Westin Atlanta Perimeter North
770-395-3933
www.westin.com/atlantanorthBEAUTICIANS/COSMETICIAN
Belladev Hair & Makeup Artistry
980-475-1364
belladevhairstudio.com

BOUTIQUES
Anokhi Ada
770-760-8565
ronaksona@bellsouth.net

CAKE
Buckhead Bakehouse
404-660-9365
www.buckheadbakehouse.com

DECORATOR
Occasions By Shangri-La
407-394-4244
www.occasionsbyshangrila.com

ENTERTAINMENT
The Pandya Family
859-221-3921
thepandyafamily@yahoo.com

FLORIST
Santosh Gupta
404-232-0825
santoshg4690@gmail.com

JEWELERS
5th Season-Designing Studio
770-248-3000
www.sushmadesigner.comMEHNDI
Manishas Mehendi Designs
678-900-7846
www.facebook.com/pages/maishasmehendi-
designs

PHOTOGRAPHER
Zamana Photo & Videography
678-860-2921
www.zamanaphoto.com

PRIEST/WORSHIP SERVICES
Ravindra Dave
770-840-0390
www.panditravindradave.com

RESTAURANT/CATERING
Cafe Bombay
404-320-0229
www.cafebombayatlanta.com

WEDDING INVITATIONS
Xhd Invites
404-890-0309
www.xhdinvites.com

WEDDING PLANNER
Envi Event Planning
864-907-2003
www.envieventplanning.com