Book Review
AStories from My Heart: A Cardiologist's Reflections on the Gift of Life
By Dr. M. P. Ravindra Nathan
Stories from My Heart is a collection of stories and essays that come straight from the author's heart. Dr. M. P. Ravindra Nathan has had a remarkable journey in medicine under different conditions in many parts of the world. His real life experiences capture the fascinating details, challenges, drama and at times, humor, while working through three different countries in three different continents in the world – India, England, and USA.
Through forty-six well-crafted stories, Dr. Nathan captures the drama, challenges, tragedies and triumphs with great compassion, sensitivity and humor where it can be found. An amazing storyteller, he writes with fervor and inimitable fascination for the human spirit and has a natural gift for interweaving cutting edge medical technology with lucid and concise literary finesse.
The book also gives readers a peek into the medicine of the 21st century America as well as a preview of the art of medicine that is as old as human history itself. All these are compelling stories touching on various aspects of human lives. As Hippocrates said, "Wherever the art of medicine is loved, there is also love of humanity.
Empathy and compassion are not often words equated with the doctor profession. They are in the business of saving lives; however, their scientific minds and busy schedules can lead to hurried, non-sugar coated conversations. In the following excerpt, Dr. Nathan takes the concept of bedside manner a bit further by suggesting doctors use hopeful statements rather than blunt truths. Using the former can lead to better outcomes and cooperative patients. A small ounce of empathy and hopefulness can truly go a long way to giving the patient just the right amount of motivation.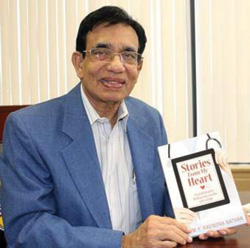 [excerpt from Chapter 8: Prescribing Hope]
"It is often quoted in United States that heart failure is the single most frequent cause of hospitalization in older people and that the death rate from heart failure exceeds all forms of cancers combined. When not treated and monitored very carefully, heart failure progresses inexorably, shortening the ultimate life expectancy. Therefore, it is important to teach patients (and their relatives) how to take good care of themselves, follow a strict regimen of treatment, and modify life-styles. The new treatments certainly have helped halt the progression of the disease and in some cases even reverse it.
As scientists, physicians generally put much emphasis on the technologic data of a patient while trying to gauge the prognosis. But medicine is also an art, and many other factors must be considered. The attending physician's words and body language are important when communicating with seriously ill patients. Along with the body, the mind also has boundless potential, and when used properly, can aid in the healing process. We must find time to dispense compassion, sympathy, and understanding when treating seriously ill patients. Instead of saying, "You have only six months to live," a better statement would be, "You have a serious illness, but we will do everything possible to control your illness and make you feel better." None of us can predict the future."
A small ounce of empathy and hopefulness can truly go a long way to giving patients just the right amount of motivation. Dr. Nathan's collection of essays demonstrates that some doctors have blended science with just the right amount of compassion and humor.
About the Author
Dr. M.P. Ravindra Nathan is a physician with fifty years of experience in the practice of medicine and cardiology. Currently, Dr. Nathan practices cardiology in Hernando County, Florida. He was the Director of Hernando Heart Clinic in Brooksville, FL for thirty years. An author, speaker and humanitarian, Dr. Nathan was born in India and graduated from Trivandrum Medical College, India, and then received his post-graduate medical training in England. Practicing in the United States since 1972, Dr. Nathan is Board Certified in Internal Medicine and Cardiovascular Diseases. He has published more than 180 articles and stories including research papers in scientific journals and lay press. He has been a frequent contributor to Medical Economics, Cortlandt Forum, Journal of Florida Medical Association, Tampa Bay Times, and Hernando Today.