Nurture a Healthy Heart
Nurture a Healthy Heart
Heart disease is fast emerging as a threat to Indians, both here in the United States and those in India. Despite the fact that many Indians follow a vegetarian diet, many still eat diets rich in fats, sweets, and cholesterol. While Indian food might not be synonymous with healthy eating, there are simple ways to "healthify" your favorite everyday recipes.
Embrace a heart-healthy lifestyle by becoming more active in addition to eating right. Reduce intake of fats and sweets and instead incorporate more fiber and colorful vegetables and fruits into your diets. Making a few healthy swaps in your recipes – using grapeseed or olive oil sparingly, swapping quiona for rice, and adding protein with soy – can make a world of difference.
Carrot Lentil Soup
Tired of the traditional dals every night? Spice up your next meal with this savory soup. Tasty and a great way to increase fiber and folate intake.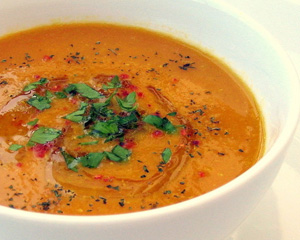 1 tablespoon grapeseed oil
2 teaspoon cumin seeds
pinch crushed red pepper flakes
2 onions, chopped
2 cloves garlic, minced
1 tablespoon ginger, minced
3 carrots, sliced
1 teaspoon ground cumin
½ teaspoon salt
¼ teaspoon pepper
6 cups vegetable broth
¾ cup red lentils (masoor dal)
2 tablespoons chopped fresh cilantro
½ cup nonfat plain yogurt
1. In large saucepan, heat oil over medium heat. Add cumin seeds and crushed red pepper. Next add onions and sauté until soft. Stir in garlic, ginger, and carrots and cook 5 minutes.
2. Add the vegetable broth and lentils. Bring to a boil. Reduce heat, cover and simmer until carrots and lentils are tender, 15 to 20 minutes.
3. Using an immersion blender, puree soup to desired consistency.
4. Prepare garnish by stir cilantro into yogurt. To serve, ladle soup into bowls and top with a dollop of the yogurt garnish.
Spiced Grilled Tofu
Think of tofu as tasteless and spongy? Use your favorite marinade recipe to add flavor. Grilling marinated tofu makes for a delicious appetizer or snack.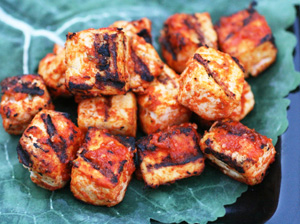 Marinade
4 tablespoons extra-virgin olive oil
1 tablespoon lime juice
1 tablespoon minced garlic
1 tablespoon grated onion
½ teaspoon salt
½ teaspoon ground cumin
½ teaspoon ground coriander
¼ teaspoon ground turmeric
¼ teaspoon garam masala
1 14-ounce package extra-firm tofu, drained
Garnish
2/3 cup nonfat plain yogurt
6 tablespoons sliced scallions
chopped fresh cilantro for garnish
1. Prepare by whisking all marinade ingredients in a bowl.
2. Slice each tofu block crosswise into 6 slices; pat dry. Reserve about 1 tablespoon of marinade. Use remaining to liberally coat the cut tofu. Let tofu marinate for at least 30 minutes.
3. Heal and oil your grill rack. Grill the marinated tofu on each side for 2-3 minutes until heated through and grill marks show.
4. Prepare garnish by combining the yogurt with the reserved spiced oil. Garnish grilled tofu with scallions and cilantro and serve with the yogurt dipping sauce.
Kale Channa
Introduce dark leafy greens into your diet by replacing spinach in some of your favorite recipes.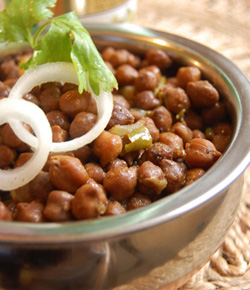 1 tablespoon extra-virgin olive oil
1 small onion, diced
3 cloves garlic, minced
1 tablespoon ginger, minced
1-1 ½ pounds kale, ribs removed, coarsely chopped
1 12 ounce can whole peeled tomatoes, no salt added
1 cup reduced-sodium vegetable broth
1 15-ounce can chickpeas, rinsed
1 teaspoon coriander
½ teaspoon cumin
½ teaspoon coriander
½ teaspoon garam masala
½ teaspoon red chili powder
½ teaspoon turmeric
1. Heat oil in large pan and saute onions until soft. Add garlic and cook until fragrant, about 30 seconds. Add kale and cook for about 1 minute.
2. Add tomatoes with the juice, vegetable broth, chickpeas, spices and salt. Cover and cook, stirring occasionally until the kale is tender, 8 to 10 minutes.
3. Serve over brown rice or quinoa.
Curried Quinoa Casserole
Don't be scared of quinoa! It's a complete protein and a great replacement for rice. Also try incorporating this superfood into your favorite biriyani recipe.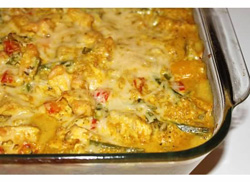 2 large tomatoes, coarsely chopped
½ large red onion, chopped
3-5 fresh serrano chilies, chopped
2 tablespoons grapeseed oil
½ cup golden raisins
¼ cup raw cashews
1 teaspoon cumin seeds
4 cardamom pods
2 bay leaves
2 3-inch cinnamon sticks
1 teaspoon garam masala
1 teaspoon salt
½ teaspoon ground turmeric
1 cup quinoa, rinsed and drained
8 ounces spinach or kale, tough ribs removed,
leaves finely chopped
8 ounces cauliflower, cut into 1/2-inch florets
2 cups water
½ teaspoon saffron
1. Puree tomatoes, chopped onion, and chilies in a food processor to make a smooth paste. Set aside.
2. Heat 2 tablespoons oil in a large skillet over medium heat. Add raisins and cashews and cook until the raisins are plump and the nuts are lightly brown, 1 to 3 minutes. Transfer to a plate with a slotted spoon.
3. Add cumin seeds, cardamom pods, bay leaves and cinnamon sticks to the pan and cook, stirring, until fragrant, about 1 minute.
4. Next add the pureed tomato mixture and reduce heat. Stir in salt and spices. Simmer until most of the liquid evaporates.
5. Stir in quinoa, spinach, cauliflower, and 2 cups water into the tomato sauce. Cover and cook until half of the water has evaporated. Stir saffron into the mixture.
6. While the quinoa cooks, preheat oven to 350°F. Lightly coat a 9-by-13-inch baking dish with cooking spray.
7. Spread the quinoa mixture evenly in the baking dish. Sprinkle the reserved raisins and cashews on top. Cover with foil and bake until the quinoa is tender, about 25-30 minutes.