Book Review
 Anjana Appachana and Arvind Sharma
A Tribute to Hinduism: Thoughts and Wisdom spanning continents and time about India and her culture
by Sushama Londhe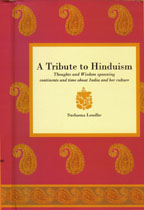 Since time immemorial, India has been synonymous with spiritual knowledge, and people have been drawn to her sacred land. Some were philosophers, poets, writers, historians, scientists, and travelers. Some came to India; others read translations about her rich and imaginative literature and felt genuine enthusiasm for her. The fourth Caliph in the 7th century is reported to have said, "The land where books were first written and from where wisdom and knowledge sprang is India." Despite the wars and imperialism, ancient India's spiritual influence and wisdom has had considerable impact on the West, especially on its imagination, science, and literature: English Romantic poetry in particular. Scientists, scholars, poets, writers, and philosophers all have paid the highest compliment to India's wonderful metaphysical, religious, artistic, linguistic, and cultural genius by imitating and incorporating some of these ideas and theories into their own work.
Hinduism has been like the rainforest of the spirit, always rejuvenating, evolving, and transforming over the millennia. With an ever expanding globalization today there is a growing disquiet in the rich countries of the West, a feeling that Western way of life is itself no longer morally or practically supportable because of environmentally destructive activities. It was India which taught us long ago that the lust for possession and control will destroy and that all life is sacred. In a world of finite resources, India and her ancient religious traditions speak to us with great urgency about our destructive 20th century. It is imperative and critical for the health of our planet that Hinduism should not only survive but flourish. Like an elegance of an exquisite seamless sari which unfolds with supreme grace to showcase its intricate pattern, so does A Tribute to Hinduism. This book is a collection of positive and inspired gems of thoughts and wisdom from the writings of eminent philosophers, scientists, thinkers, historians, and authors from the West and the East on Hinduism and India. It catalogs their thoughts and the inspiration that they have drawn from Hinduism's rich philosophy.
ABOUT THE AUTHOR 
Sushama Londhe is an Indian American who came to the US as a graduate student in the mid-1970s. She holds Masters degrees in Regional Planning and Urban Affairs. After working as an Urban Planner with the State of Connecticut, she decided to devote her time as a mother and a homemaker. Subsequently, she began a website, Hindu Wisdom, as a personal quest for her own spiritual heritage. The inception of the website began in the fall of 1996 as a small non-commercial web page and has grown over the years as a major resource on the Internet. Ms. Londhe currently resides in the Greater Philadelphia area with her husband, their two children, and a cat. Her hobbies include art, gardening, and traveling.
Incantations And Other Stories 
By Anjana Appachana
Anjana Appachana's free- flowing style makes this collection of short stories a delight to read as she writes about a multitude of topics that touch the Indian reader's heart. Sharmaji, that delightfully appealing scoundrel, albeit a loving family man, makes a double appearance in the book and although it sometimes seems as though he deserves some sort of come-uppance, one cannot help but be amused by his antics. Readers would certainly appreciate Appachana developing him further, possibly in future volumes of her work, so as to regale them with more anecdotes. Many of the stories are uplifting although their themes are serious and, in at least one case, end on a sad note.
Incredible India: Classical Dances 
by Sonal Mansingh
A concise journey through Indian classical dance his tory, the book, Incredible India Classical Dances, is a short but comprehensive anthology of Indian classical dances The book takes a look at eight different forms-Bharatanatyam, Odissi, Kathak, Kathakali, Manipuri, Kuchipudi, Sattriya and Mohiniattam-with a brief description about the basic concepts of Indian dances. Written by one of India's most celebrated dancers, Sonal Mansingh, it also describes the historical journey of these dance forms from the time they enjoyed royal patronage to their depiction in temple architecture.
The different dance forms are neatly divided into separate chapters, making it an easy read. The photographs, shot by Avmash Pasrtcha, are colourful and stunning and supplement the text very well.
All in all, this coffee table book is a good source of information for anyone who is interested in classical dances.
A Guide to Hindu Spirituality 
by Arvind Sharma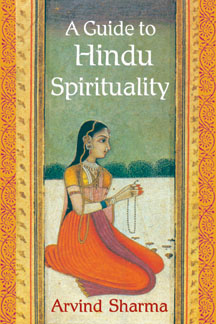 There is more to life than our ordinary experience of it, and A Guide to Hindu Spirituality is intended to serve as a guide to help us explore that missing dimension. Spirituality is often viewed as something mysterious and Hindu spirituality even more so. But its central claim is really quite simple: that our normal life does not exhaust the experience of reality. The word spirituality is simply a signpost pointing to this unexplored religion. The various religions of the world provide their own roadmaps for exploring this region. A Guide to Hindu Spirituality, by Arvind Sharma, shows presents one such roadmap based on a well-known philosophical system of the Hindu tradition.
EXCERPTS 
"It should be made clear at the outset that one does not have to be a Hindu to avail oneself of Hindu spirituality. Perhaps it is worth pointing out here that Hinduism actually discourages conversion from one religion to another. It does so not because it has some special gifts it will not share with non-Hindus, but because for it every religion is an occasion for universal hope. So one answer to the question: Who is a Hindu? Given within Hinduism is: A Hindu is like anyone else, only more so."
"Then, does one need a guru? This raises the question: who is a guru? We normally tend to associate a guru with a person. This is taking too narrow a view according to some. Anything which sets one off on the spiritual path could qualify as a guru: an event, a conversation, even a book."
"… So there are no preconditions for embarking on Hindu spirituality."
ABOUT THE AUTHOR 
Arvind Sharma was born in Varanasi, India. He earned a B.A. in History, Economics, and Sanskrit from Allahabad University in 1958 and continued his interests in economics at Syracuse University, earning an M.A. in 1970. Pursuing a life-long interest in comparative religion, Dr. Sharma gained an M.T.S. in 1974 and then a Ph.D. in Sanskrit and Indian Studies from Harvard University in 1978. He was the first Infinity Foundation Visiting Professor of Indic Studies at Harvard University and succeeded Wilfred Cantwell Smith to the Birks Chair of Comparative Religion at McGill University in Montreal, Canada. He has published over fifty books and five hundred articles in the fields of comparative religion, Hinduism, Indian philosophy and ethics, and the role of women in religion. Often cited as an authority on Hinduism, amongst his most noteworthy publications are The Hindu Gita: Ancient and Classical Interpretations of the Bhagavadgita (1986), The Experiential Dimension of Advaita Vedanta (1993), Our Religions: The Seven World Religions Introduced by Preeminent Scholars from Each Tradition (1994), and The Study of Hinduism (2003).