Bollywood Today
Things not working well for Aaja Nachle
Madhuri Dixit-Nene's much touted come back film Aaja Nachle is in the news, no doubt, but not for the best reasons. Post release, while Madhuri's performance has been lauded everywhere, the film has not received a good response at the box office due to poor story-telling and an excessive focus on Madhuri. In fact, the film opened poorly and hasn't set the cash registers ringing yet. Moreover, the temporary ban imposed on the film by the Government of Uttar Pradesh, Punjab, and Haryana over the allegation that the title song made derogatory insinuations about the Dalit community had also made matters worse. Though the ban was revoked after producer Yash Chopra tendered an apology and removed the objectionable line from the title song, the film has continued to fare poorly, at least until this point.
Relief for the film industry – Sanjay Dutt comes back home
Hundreds of fans and onlook ers who waited for hours outside Sanjay Dutt's residence in Pali Hills in Bandra burst firecrackers and distributed sweets Thursday when the 48 year old actor returned home after 22 days in Pune's Yerawada Jail. Our very own Munna Bhai, who was sentenced to six years in jail for possessing illegal arms, flew to Mumbai from Pune in a chopper, after being granted bail by the Supreme Court on Tuesday while his lawyers challenged the conviction. The temporary release has come as a great relief not only to the beleaguered Dutt and his family, but also to the film industry given that crores of rupees have been invested in Dutt by way of unfinished films in which he plays the main lead. Since it was expected that the hearing and subsequent ruling could take some time, maybe even years, Dutt now time to get back to what he does best – acting!
Rituparno Ghosh bags a prestigious Italian Government award
In an interesting piece of news, noted filmmaker Rituparno Ghosh won the prestigious Premio Arca D'Oro awarded by the Italian government. There is one catch – the award will only be given to him at the end of 2008 in Turin. Rituparno is extremely amused and said that "They've even fixed a date, Friday, 5th December, 2008, for the award. While I'm very impressed by their meticulous planning, who knows where I'd be a year from now?" Seems that Ghosh too needs to plan a year in advance to be present in Turin to accept the award physically!
It's records galore for Om Shanti Om
Om Shanti Om, starring Shahrukh Khan and Deepika Padukone, continues to sizzle at the box office and is filling up cash registers everywhere. Om Shanti Om has set a new first week record in India, surpassing the 35 crores netted by the Hrithik, Aishwarya and Abhishek film, 2006 blockbuster Dhoom 2 (in its first week). Om Shanti Om was released across over 1,400 screens globally, and for the first time, the film saw screenings as early as 7:45 in the morning at certain multiplexes in India, making it one of the most anticipated films in recent times. The film is performing well in overseas market as well and has been impressive. After resetting the first weekend Bollywood record in the US, the film grossed an astonishing $2,892,773 in just ten days and is now certain to dethrone the top grosser Kabhi Alvida Naa Kehna's (2006) at $3,275,444. Moving on to UK, Om Shanti Om is now the top grossing film of 2007 having earned $1,997,013. It surpassed the previous record holder, Namastey London's $1,730,000.
London Mayor salutes Subhash Ghai's Whistling Woods
Just as we mentioned Subhas Ghai, London Mayor Ken Livingstone applauded Ghai's Whistling Woods for maintaining international standards in the field of film and media. He was accompanied by Bollywood superstar Amitabh Bachchan who also congratulated Subhash Ghai for creating such a world class film and media institute in India with the best of facilities for students to excel in film making and animation. It was Mr. Bachchan's first visit to Whistling Woods International. Later, he also visited the animation department of the institute. The institute also hosted the Producer's Guild of India historic treaty signing with the Mayor of London for globalization in film production and as partners at all levels including co-productions
Now, Brett Lee to act in Hindi movie
Australian paceman Brett Lee is just not satisfied taking scalps of opponent batsmen. After having been featured in a music album You're the One for Me with none other than melody queen, Asha Bhonsle, Lee is planning to make a foray into the dream world of Bollywood. Interestingly, the tear away fast bowler will be joined by fellow cricketers Mike Hussey and Jason Gillespie as well as former Test Captain Allan Border, in the movie which, not surprisingly, is about cricket. The film, titled Victory, will begin production in Australia in January with shooting during the India-Australia Test series. The cricketers are heard to be playing themselves in the film. In other breaking news, the fearsome fast bowler of the touring Pakistan team, Shoaib Akhtar has also been offered a Hindi film. Akhtar will be discussing the script during the upcoming third test match at Bangalore. Indian actors beware – fast bowlers are trying to bowl you out!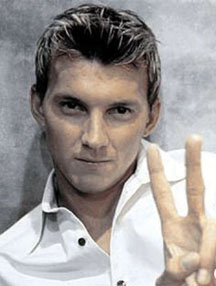 Kajol, Tanishaa, and other celebrities celebrate World Disabled Day with kids
World Disability Day cel ebrations got a special touch when superstar Kajol and sister Tanishaa inaugurated and interacted in a special exhibition which included various hand-made products made by the children of Punarvas Schools for the Disabled at Goregaon Sports Complex. Kajol and sister Tanishaa inaugurated the special exhibition and spoke at length about the talent and bravery of the children. They also spread great cheer and warmth all around, applauding the efforts of the children and were also seen admiring the products on display. Also present at the exhibition were actress Raima Sen, cricketer Vinod Kambli, and Bhojpuri actress Sambhavana Seth. It was indeed a heartwarming gesture by the talented actresses to render their support for such a noble cause.