Book Review: INDIA In Word and Image Revised, Expanded, and Updated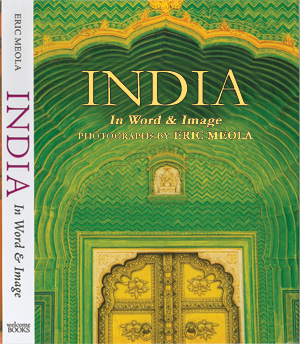 INDIA: A KINGDOM OF COLOR where every turn dazzles more than theturn before. Where every nuance speaks of pageantry and celebration, of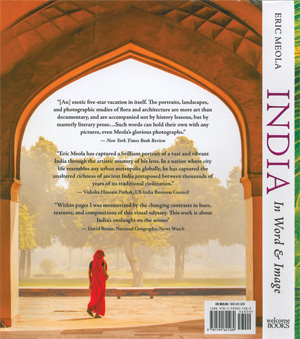 gods within gods, of maharajahs and past glory, of a sense of life and wonder unlike any other place on earth. For more than a decade, Eric Meola has returned repeatedly to India, photographing the people, landscapes, architecture, celebrations, and art in this uniquely exuberant and incredibly diverse country. Meola's journeys took him from the Himalayas and monasteries in the North to the temples of Tamil Nadu in the South, from the color and pageantry of Rajasthan in the West to the tea plantations of Darjeeling in the East. More than 200 photographs fill this stunning, ambitious book. Camels in the dust at the Pushkar fair; a young boy crossing the Yamuna river on the back of a water buffalo; the spectacular celebration of Holi near Mathura; a lone gypsy in the stark desert near Jaipur. each and every one ofMeola's images is a work of art that speaks of India's myriad colors and wonders. This visual celebration is accompanied with words from major writers whose works derive inspiration from Indian themes. Salman Rush-die speaks of a mythical land with a new dream; Anita Desai gives life to relationships; R. K. Narayan shares the legends of India; Jhumpa Lahiri explores the possibility of love among ancient ruins. More than 30 literary passages capture and immerse readers in the compelling story that is India. Graced by Mukherjee's startling and loving introduction, INDIA: In Word & Image captures and reveals this mysterious and dazzling country.
ERIC MEOLA'S graphic use of color has informed his photographs for more than four decades. In 2004, Graphics Editions published his first book The Last Places on Earth. An exhibition in England of his photographs of Bruce Springs teen, which coincided with the publication of his second book Born to Run: The Unseen Photos (Insight Editions, 2006), was followed in 2008 by the first edition of INDIA: In Word & Image (Welcome Books, NY), and an exhibit in 2009 at the Art Directors Club of New York, In 2011, Ormond Yard Press of London published his most unusual book, an oversize (18″x 24″ 14 lbs+) edition of photographs of Bruce Springs teen—Born to Run Revisited—that was limited to 500 copies. Streets of Fire, his fifth book, was published by Harper Collins in 2012. Winner of numerous awards, with prints in several private collections and museums, including the National Portrait Gallery, he is a Canon "Explorer of Light.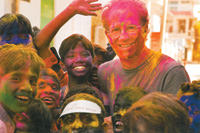 BHARATI MUKHERJEE, award-winning author and professor of English at the University of California, Berkeley, is well known both as a writer of fiction and as a social commentator. Her most recent novel is Miss New India, the third novel in a trilogy that bridges modern America and historical India. Her other novels include Jasmine, Leave It to Me, Desirable Daughters, The Tree Bride, and The Holder of the World. Her short stories are found in The Middleman and Other Stories, and Darkness.
FRONT COVER: A beautifully enameled door of the City Palace in Jaipur, Rajasthan, home to the rulers of Jaipur since the first half of the 18th century.
BACK COVER: Sandstone archways and serene gardens of Sikandra, the Mughal architectural masterpiece built by the emperor Akbar the Great near the city of Agra, at the beginning of the 17th century.
Copyright © 2013 Welcome Enterprises, Inc.
Photographs copyright © 2013 Eric Meola
Published by Welcome Books*
An imprint of Welcome
Enterprises, Inc.
6 West 18th Street,
New York, NY 10011
Tel (212) 989-3200;
Fax (212) 989-3205
www.welcomebooks.com
Printed in China through Asia Pacific Offset Inc
For more information, please visit www.welcomebooks.com/india
Pushkar fair
Yamuna river
bharati mukherjee
eric meola
Bruce Springs teen
R. K. Narayan
Salman Rush
Jhumpa Lahiri
Welcome Books
Ormond Yard Press of London
University of California
Akbar the Great
Welcome Enterprises, Inc.
National Portrait Gallery