Book Review


Written by Raj Shah
Illustrated by Kamlesh M. & Natasha S.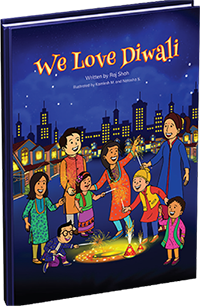 Review by Faren Rajkumar
Creative Writing MFA candidate, University of South Florida
A joy to read and share, and makes a perfect Diwali present for young ones! This colorful story is a simply charming learning experience for children unfamiliar with the traditions of Diwali, and also a valuable way to help celebrate the old traditions with a new generation of Hindu children. It's rare to find a well-done children's book featuring authentically ethnic characters, and this one delivers. Sharing this book with minority children is an important way to empower remind them that they have a place on bookshelves, in the classroom, and in the imagination of writers and artists.
Highly recommend as a gift for children during the Diwali holiday, and for teachers as a classroom learning tool.
We Love Diwali published by Desh-Videsh Publishing
(www.deshvideshpublishing.com)
Price:    $10.00