Bridal Makeup – What not to do
You are the star on your wedding day. Sadly, many girls complain of looking overworked and tired in their wedding pictures due to heavy makeup. Their most precious moment turns into a nightmare. Find a flawless look that suits your style, trousseau and the event.
What if the camera catches your unflattering paleness, and makes you, the star of the evening, look like a ghost on your wedding day. Don't leave all the decisions to your makeup artist! You need to be involved in the process and ensure that you wear the look you want for your wedding day. To start, make sure the colors used for makeup go well with your wedding trousseau, jewelry and complexion. Avoid bright and neon colors as they make your skin look ashy. The best bet for your makeup in the big day is to choose a neutral or true color.
The best way to ensure that your makeup neither looks overdone nor underdone is to go for a trial makeup session a few weeks before your wedding. This will help you and your makeup person gain insight into various cosmetic possibilities and experiment with the look you may finally decide on – be it ultra-glamorous, demure and dignified, lush and vibrant or cool and composed.
Care for your skin
If your skin type is normal, skin rejuvenation treatments a few weeks before the wedding will help remove dead skin cells and give your face a radiant glow. If your skin is oily, avoid harsh skin treatments as these can cause over activity of the sebaceous glands, leaving the skin oilier. Using mild cleansers and balancers, made specifically for your skin type, is a better bet. Make sure you get your facials done one week before the wedding.
Face
For a glowing complexion, apply moisturizer and a bit of oil-based under-eye concealer about twenty minutes before applying makeup. Blend it towards the nose and use downward strokes. Light wearing foundation with a dusting of face powder on top sets the makeup. To live up to the ideal of a blushing bride, add a bit of powder blush, which is longer lasting than its creamy counterparts. Use a heavy-pigmented cream foundation and layer it with powder foundation to make the skin look smoother. Use powder foundation on the neck, ears and chest to minimize the "painted face" look. If you have combination skin, use a water-based foundation and a dry sponge. While applying make-up, blend it well. Make sure there are no visible lines. If you use translucent powder, for long-lasting make-up avoid patting too much as it will make your skin look dry and flaky. Avoid pink toned foundations as this color can make your face appear pale in photographs.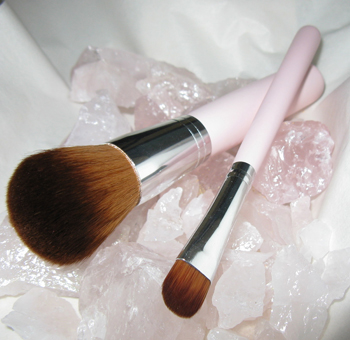 Eyes
An eyelash perm will help to lighten up the eyes, and it lasts about nine weeks. For a less permanent option, use an eye shadow primer followed by a neutral shadow over the eye, and finally prep the eyelids with a little face powder for an equally lush effect. An off-white pencil lining the inside of the lower rims of the eyes can brighten them up. Use a concealer in a shade similar to your foundation and blend both well. Learn some camouflage makeup tricks and buy its products to use on your big day. For a more natural look, avoid applying any makeup to your brows. Apply the eye color and a neutral shadow after putting on shadow primer. For a perfect eye shape, use a small brush to blend a medium tone color from just below the brow arch downwards in a semi-circle motion. Apply two layers of waterproof mascara, having few seconds pause between, to avoid smudging. Apply a double coat of waterproof mascara is the final touch for the eyes. Eye shadow should compliment your skin tone and the outfit your wear.
Lips
For those oh-so luscious lips on your big day, apply some lip base or balm first. Next, outline with a lip liner, fill with an extra layer of long-wearing matte-color, and last apply a hint of gloss to help the lipstick stay in place. Choose lip liner that blends easily with your lipstick for that soft glossy look that pops in photographs. Place the focus on either the eyes or the lips by underplaying the other with neutral pink or brown shades. Thin and small lips look more sensuous with light lip colors while fuller lips can pull off deep shades.
When choosing a fragrance for your wedding day, wear one of your favorites. This is no time for surprises! Layer the perfume to create a magical aura of scented pleasure.
It's your day! Go, mesmerize the world!