Choosing a venue for you Indian Wedding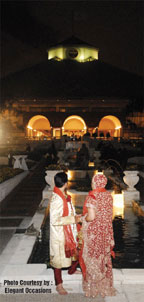 The success of your wedding day relies heavily on your venue selection. Asking the right questions and planning far in advance ensures you do not have any last-minute surprises.
You start by creating a list of requirements that your perfect venue should match, and then research the potential locations you are considering. Remember your wedding day only happens once, so the more you plan, the better the result.
I started off with every bride's new best friend, Google. I researched all I could on "Indian weddings." To my dismay, not much exists out there for the Indian-American bride; however, I did find some inspiration on a few scattered websites. Some of my favorite wedding websites included www.weddingsutra.com, www.myshadi.com, and a few articles on www.theknot.com.

Starting the Venue Search
A recommendation from friends and family who may have been through a similar search for their weddings is a great starting point. They may have brochures of venues that they have visited previously and may already have key contacts within the venues. Indian weddings are typically large affairs so starting your venue search earlier, possibly a year in advance, is highly recommended.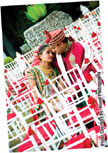 Contacting Venues
When you have narrowed down the list of venues, contact the person in charge at venue location-normally the Event Manager or Banquet Manager. Make a general inquiry about hosting your wedding and ask them to send you full details of the venue. If you have left a message, make a note of how quickly they respond as this is important and determines whether you should go for the venue or not. You should expect a quick, friendly and helpful response, as that person will be managing your wedding. Any delays are just not acceptable.
Catering
Most Indians and Pakistanis families prefer food from Indian or Pakistani restaurants. A few venues do not allow outside catering. If that is important for you and your family, you want to find this out in your initial conversation. For some families this is make or break situation. Some venue places may meet you halfway and make you buy a certain amount of food from their vendor and allow the rest of the food from outside. The venue management may require that your caterer has liability insurance, and you might have to supply the proof of that insurance.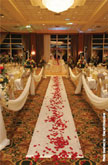 Costs
Make sure you find out the costs upfront, and more importantly, find out exactly what does this cost include. For example, the package cost may include complimentary rooms, decoration, waiters and staff to manage your wedding, and dishes/place settings. Hidden costs need to be taken into consideration-and known about before deciding to book the venue.
You may want to go for a hotel where they will give you a complete package for the event, which includes hotel rooms for guests to rest and change clothes as well as a honeymoon suite for the bride and groom. Many of the major hotels have signed contracts with Indian wedding caterers, which must be used in preference to other caterers. These caterers are normally vetted for quality and health checks-and this will remove the uncertainty associated with some of the suppliers.
Signing on the Dotted Line
Make sure that you read the fine print. Before deciding, review the logistics. This is where an event coordinator or wedding planner will be useful, as she/he will be able to negotiate with the venue and manage the whole event. Your venue will be the most important factor in your wedding, so make sure everything is in writing.
Booking a Venue – Questions and Dilemmas
Once you have booked your venue, you need to ask many questions of the venue manager. No matter how small, silly or trivial the questions and dilemmas are, don't hold back, just ask. You are paying a lot of money for the venue, so you need to be completely happy with the service and have complete confidence.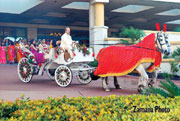 – Few Sample Questions you should ask
What time will the venue be available for your event? Make sure your decorators, florists, mandap supplier, and caterers have ample set-up time.
Are there any restrictions to what we can do in the hall at the wedding ceremony?
Are there restrictions on décor, flower petals, or fire restrictions for the mandap? For Hindu weddings, explain about the fire at the wedding time. Most pujaris bring smokeless charcoal, but it will be advisable to clear the issue.
What does the venue provide for table décor? For example, tea lights, candles, ornaments, etc. What type of table settings are available, e.g. white tablecloths or are there other choices? How will the tables be arranged? Do you have sample table plans? If you have your own centerpiece for the dinner table, will the hotel staff set it up on each table?
Are there options for the lights to be adjusted at certain times during the wedding? Find out the name of the person in charge.
We require A/V capabilities on the day, how can your staff members help? Find out the name of the person in charge.
If the cost includes alcoholic and non-alcoholic drinks, then you want to find how long the bar is going to be open. If the cost does not include alcoholic and non-alcoholic drinks, can you pre-purchase the drinks and serve them using the venue's staff?
How many staff members will be assigned to your event? Find out the name of the person in charge.
Is valet parking available at no cost or discounted price? Can guests use the parking facilities at no cost or discounted price?
If we decide to have the wedding in the morning and the reception in the evening, are there changing rooms that can be used for our guests?
Tips from Area Vendors
For me, the most important element to look for is commitment. How long did it take for the Catering Manager to call you back? Did they offer you let you see the ballroom? Will they be there the night of your event? You should feel that your business is important to the hotel and you will be well taken care of. I see time and again a "no-care" attitude, which is unacceptable in the hospitality industry. If you do not feel like your event will be a complete success and if you don't' have total confidence in the Catering Manager, it is time to look elsewhere.
Anthony Flynn, Catering Sales & Banquet Management
Sheraton Safari Hotel & Suites
---

"When selecting a venue for your special occasion, it is important to verify that additional set-up time can be accommodated should your decorator need additional time. Another imperative factor to look into when choosing a location is to see if there are additional rooms on-site should a space be required for prayer during the function. Be sure to make certain there are no fire code restrictions when planning a ceremony in a private venue."
Amy Ames
Holy Trinity Reception & Conference Center
---
Pick a Venue where the Catering Staff is very familiar with all of the different Indian religions and regions and knows how all of the sequential events go, so that you feel comfortable and confident, and don't have to oversee everything yourself.
Pick a venue where there are several different banquet rooms so you do not have to do the Mehndi and reception in the same room
Make sure the venue has a large covered area such as a Port du Cochere so that when the families meet outside, you are covered from the hot sun or the rain.
Pick a hotel if you have lots of out-of-town guests so you do not have to worry about transportation, travel time and the comfort of your guests and family.
Pick a hotel with plenty of parking and free self-parking. With valet and garage parking, long lines will form as guests leave and disappoint them at the end of your fabulous event.
Pick a venue where the Catering Director or Manager is familiar with Indian vendors and has a good relationship with them so there is a seamless transition of service and products
Lesley Bliss
Director of Catering
Hilton Deerfield Beach/Boca Raton
---
When selecting a venue to host your most important day, some key components will assist in ensuring a flawless event. Asking for verification of the venue's service quality reputation, and the longevity of staff that will lend a helping hand. This will make you feel secure that the same people you have booked your event with will be the same people that will be there for you the day of the event. It is imperative to request a very detailed contract agreement with no hidden costs-mapping out, in writing, each and every detail of your event that you expect to occur the day of the wedding. This leaves little room for error the day of the event, and accounts for mutual knowledge and agreement between you as the client and the venue. With any cultural function, it is important that the venue and the ethnic caterer work well together, so make sure you give the caterer's name and contact information to the venue as soon as caterer is contracted. This allows the caterer and the venue time to consult, thus ensuring a seamless event.
Maxine Groves
Director of Catering
Sheraton Suites Plantation, FL