The Art and Soul of finding your Wedding Photographer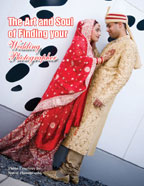 Most people think that pictures are important; however, when it comes to weddings, often emphasis is placed more on other details of planning, while underestimating the most lasting artifacts from your wedding: the photographs.
While looking for the photographer that is right for you, and after all of your questions have been answered, in the end go with your heart, because you may not know why you like a photographer's work, but you will know that you like it.
STYLE defines a photographer's work and is also a "genre"/kind of photography.

A photographer's style can be determined by composition, angles and the moods that they capture. Wedding photography styles can include traditional, photojournalistic, and artistic.
Photographers shooting in a photojournalistic style usually document the wedding as it is happening, telling your story, capturing the moments candidly, without too much interference and direction. Staying unobtrusive and departing from posed shots of people smiling and looking into the camera, though some might also include a few formal and posed shots.
A photographer shooting traditionally usually gives direction requiring staging, posing and cooperation from those that will be included in your formal shots. Time needs to be allotted to take the formal pictures. There may be a list advising the traditional photographer specific people that you want included in the formals and in what groupings, and an appointed contact person helping the photographer gather those intended for the formals. Traditional photographers usually shoot candids too.
Artistic shots can include techniques and tricks that can seem dated, but also include many of the detail shots such as closeups of jewelry, flowers, hands, faces, and pictures in black and white. Usually professional wedding photographers have wide-ranging skills and abilities that can accommodate several shooting styles without compromising their unique artistry.
Many photographers are well versed in photojournalistic and traditional, giving you a nice mix.
If your ceremony requires that the photographer has knowledge of the significance and importance of a ritual and tradition, and that the photographer is unfamiliar with them, and if there are taboos or restrictions that the photographer does not know about-be sure that you communicate them to the photographer.
PERSONA AND PERSONALITY of your photographer should resonate well with yours because if you do not like your photographer, chances are you will not like your pictures.
Finding the Right Photographer

Reputation is a good place to begin your search, asking friends for references and about their experiences with photographers they know and have used.

Some photographers can get a bad rap for being too aggressive or bossy, when in fact they are being assertive and have to direct in order to get the shots that the bride has requested, especially if they are staged. Photographers use a certain measure of crowd control, especially when taking formal pictures with a hundred guests standing behind them armed with cameras trying to get the same shot. Bottom line, the photographer has to get the shot and sometimes they have to use their best people skills, tactfully navigating through coordinators, planners, contact persons, parents, and guests to accommodate the expressed wishes of the bride and groom. Be clear exactly who your photographer is to take orders from-or else you may have guests pulling your photographer in many different directions.
Professional and Experience matters in wedding photography because of the unexpected variables that often occur during a wedding, and because wedding photography is a physically and emotionally demanding art requiring specific skills, technique, stamina and endurance.
Weddings can be chaotic and experienced, professional wedding photographers usually can handle the problems, finding solutions, without involving the bride with the details. A professional and experienced wedding photographer will have back-up equipment ready when their camera malfunctions, their flash breaks, and their batteries die, and back-up photographers in case of emergency at the time of your wedding. This should be included in your contract.An inexperienced novice or a student can also achieve greatness when shooting their first wedding-however, if you can afford a professional, get a professional. After all, you will most likely be hiring professionals when choosing your other vendors.
Contract-get it in writing. Need I say more, yes, read it carefully before you sign it.
Packages and Ala Carte is a couple of ways a photographer may price their goods and services.
Packages can include a combination of pricing for a photographer's time and what is offered as the final product.
Ala carte can be individual line items of products that you can purchase separately or add to existing packages. Most photographers that want to work are willing to negotiate, especially if you love their work and you really want their style.
Book early and be prepared to give a deposit to hold the photographer for your wedding day.
You may be required to pay half before the wedding and half on the day of the wedding, some might charge in thirds, so be sure you know what you are signing, how long you will have the photographer and what will be your finished product. Professional photographers edit mistakes and unflattering images, and may take several takes of the same shot to compensate for blinks and other glitches. If you thought your photographer took 10,000 shots and you are only seeing several hundred, remember that editing is a vital component to good photography, and a good photographer does not show their mistakes, understanding that often "less is more."
IMPORTANT: It is not the camera taking the pictures, it is the photographer and the one that you choose is an artist painting in light, illuminating the essence of your union that begins the journey of your marriage, and the joining together of your families. Your photographer is recording the celebration of your life and love in your wedding, so carefully consider their work. Like a mirror returning to us our reflection, the photographer is providing the still frames in time revealing to us who we all were in that moment.